Emily and the Spider Cakes & Giveaway!
UPDATE – Winners Announced
Thankyou for all your kind comments and entries, 3 numbers were chosen at random shown below and the winners have been emailed! Hope you enjoy your goodies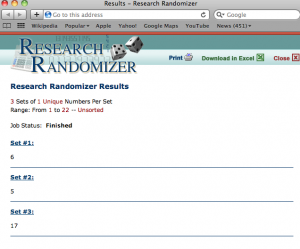 Winner: Number 6 – Louise Mason
Runner Up: Number 5 – Nick Averkiou
Runner Up: Number 17 – Samantha Molyneux
__________________________________
The first Iced Jems giveaway is here! A very big thanks to author of children's book "Emily and the Spider" John Dony for sponsoring it!
Simply comment on this blog post for your chance to win a copy of Emily and the Spider along with the other prizes shown at the bottom of this post!
In this tutorial I'll be showing you how to make these super cute cupcakes in the theme of the fantastic children's book: Emily and the Spider with the help of my very special assistant Shauna!
When we decided to make cupcakes in the theme of his book, John Dony was kind enough to donate three copies of his book for you lucky readers! This is a fantastic childrens book about Emily, who lives on the edge of the jungle and her adventures.
You can get your copy of Emily and the Spider here!

First we made one of the characters, a large spider called Goliath! First to make the web, cover a cupcake in blue glace icing and before it sets pipe a swirl of grey icing on top (as shown above).

Then simply get a cocktail stick and drag it through the icing in straight lines starting from the middle to the outer edge…and you have a simple spiders web!
To make the spider, we used black fondant icing and liquorice laces.

Simple rol a ball of black fondant icing and cut 6 thin strips of liquorice for the legs – inserting them into the fondant. Place the spider on top of the cupcake and you're done!

Next it's time to make Emily and Bes the spider! We wanted to make her sitting in grass so we covered a cupcake in green buttercream and dipped this into green desiccated coconut. We then made Emily from different coloured fondant icing.

Pop your fondant character onto the cupcake and add the details like eyes and mouth (and a very small spider). Here's our final Emily next to the book!

There was also a very sneaky tiger in the story, so we covered a cupcake in orange buttercream and used leftover black fondant to create tiger stripes along with a claw!
So do you want to win some goodies?!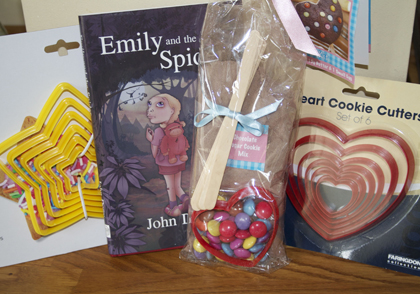 First Prize – A Copy of Emily and the Spider, an exclusive Iced Jems Cookie Pop Kit and two sets of Cookie Cutters!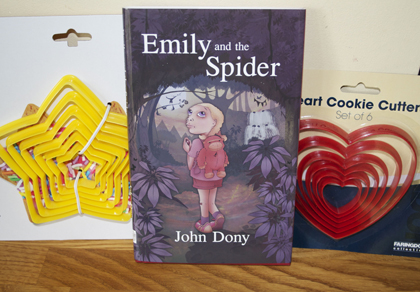 Runners Up Prizes: A copy of Emily and the Spider with two cookie cutter sets!
So what are you waiting for? Just comment on this post below for your chance to win! Make sure to use your correct email address as this is how the winners will be contacted!
The competition closes this Sunday 26th June at 5:00pm GMT.