Another awesome theme for our Monthly Cake Club Subscription Box – Under the Sea theme! The Under the Sea contains 8 items! Every item is new and is not sold in store yet. The box includes:
A Shells Mould (for chocolate, fondant, jelly and more)
A Waves Pattern Rolling Pin
A Mermaid Scales Stencil
A Glitter Mermaid Tail Cake Topper
Under the Sea Iridescent Paper Straws with Toppers
Under The Sea Sprinkle Shapes Mix
Mermaid Scales Ribbon
A Kraft presentation box perfect for homemade chocolates or biscuits
If you are lucky enough to have one of these awesome boxes then I've included tonnes of ideas for you below! I know you are a super creative bunch and can probably think of a million more ideas than me, so please tag: #IcedJemsCakeClub on Social Media when you create anything using goodies from the box so I can see!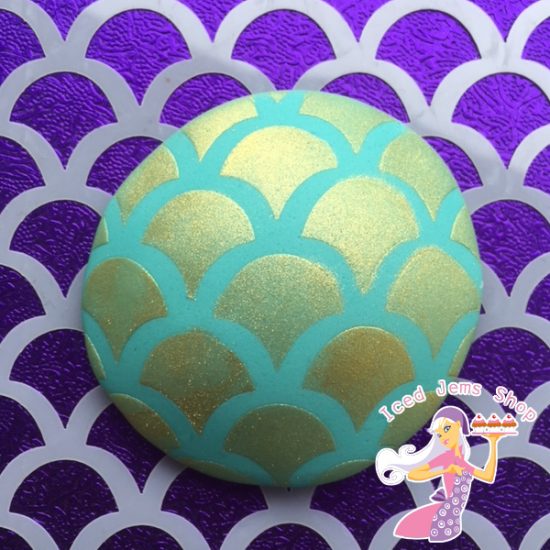 The Mermaid Scales Stencil is my favourite item in this months box! We got this designed and made especially for this box and it won't be on sale in the shop for a few weeks after the box is released. I've use the stencil here on some teal coloured sugar paste and used the Pure Gold Edible Dust. I think it would also look amazing on ice cookies, chocolate covered Oreos and on the side of a cake! If you get using it, be sure to share you pictures with us!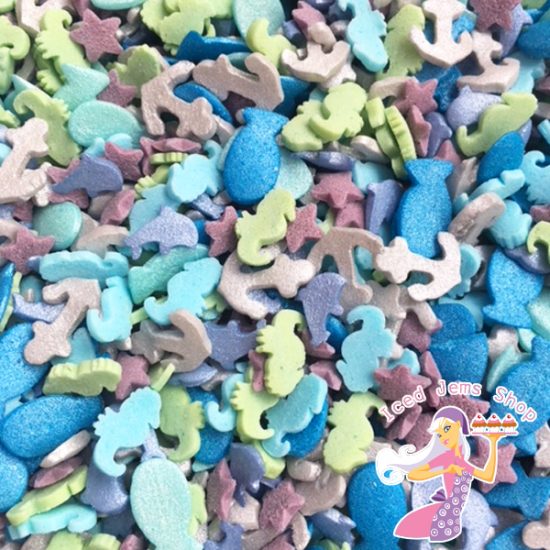 Another item created for this box – our new Under the Sea Sprinkle Shapes Mix! There could not be a more perfect mix for this box, packed with cute little; seahorses, fish, dolphins, stars and even anchors!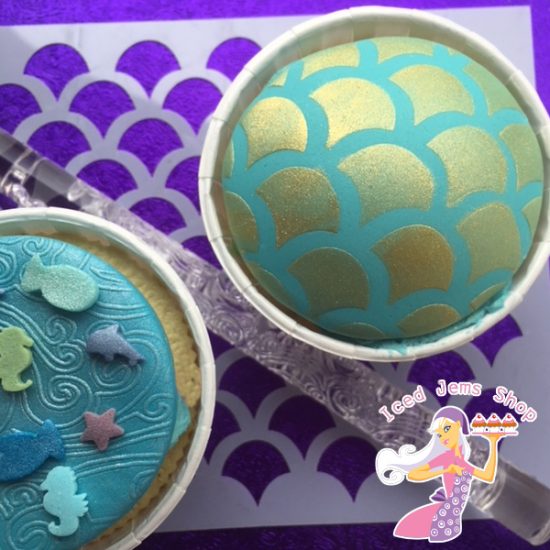 You can get so creative combining the goodies in this box for awesome under the sea designs! Here I have used the waves pattern rolling pin on some turquoise fondant for a water effect cupcake topper. Then using a tiny amount of edible glue, I've attached some of the sprinkles for a simple yet effective underwater scene topper!
The shells mould is another versatile and fantastic product you will be sure to use again and again! I've used it with both sugar paste and chocolate in this post. When using with sugar paste / fondant, spray a little cake release spray into the mould and push your paste in firmly. Then flip the mould over face down onto a flat surface and the shapes will fall right out. You can use coloured paste in the moulds or even paint the shapes afterwards or dust them.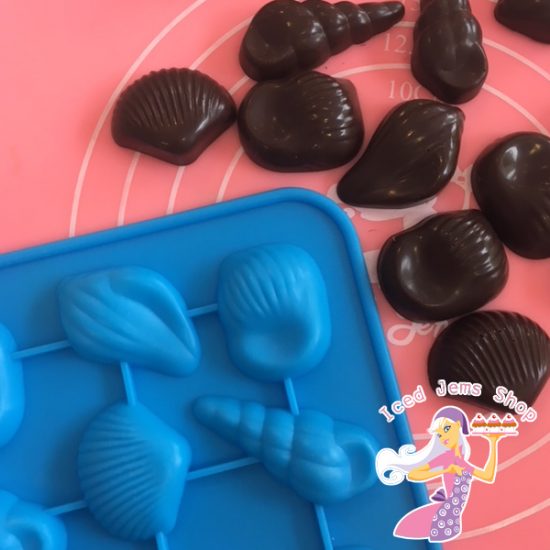 When using the mould for chocolate (or even jelly, candy melts etc), you won't need any cake release spray. Simply melt your chocolate and pour into the mould. If its a thick chocolate, you'll need to tap the mould on a work surface a few times to make sure the chocolate goes right down to the bottom and gets rid of any air bubbles. Pop into the fridge to set and then stretch the mould to pop the chocolates out once set.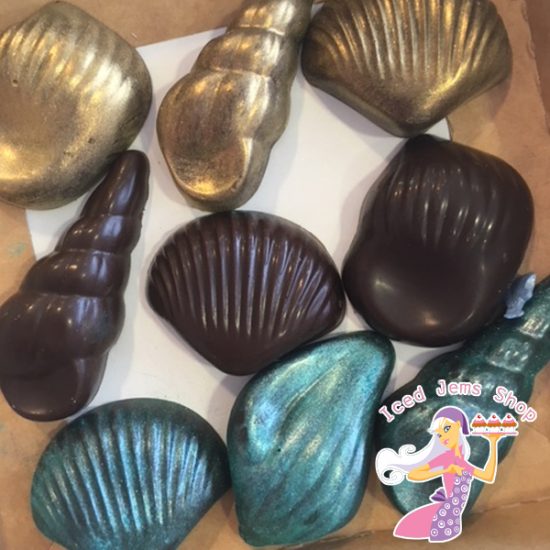 You can also the dust the chocolates with edible lustre dust for an extra special finish! Here' I've used pure gold and teal to add a gorgeous finish. These chocolates are also in the kraft presentation box with clear lid that comes in the Cake Club Box! The box is perfect for giving homemade chocolates or cookies as a gift, you could even finish it all off by decorating it with the mermaid scales ribbon that's also included.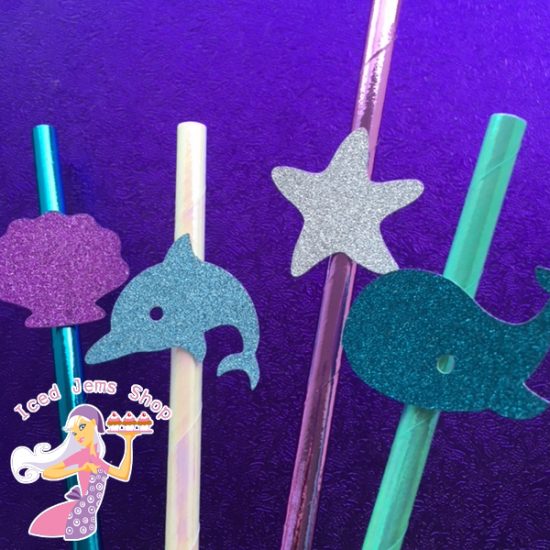 These stunning Under the Sea Themed straws make the cutest addition to the box. The iridescent straws are so unusual and the cute glitter decorations really finish them off. Use in drinks, on party tables, even sticking into the top of big cakes!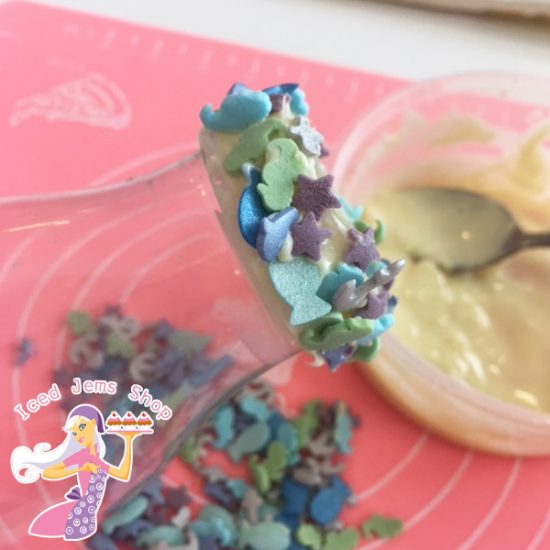 If you want to get really creative then you can have a lot of fun decorating mini milk bottles and disposable cups by dipping them in white chocolate and then into sprinkles!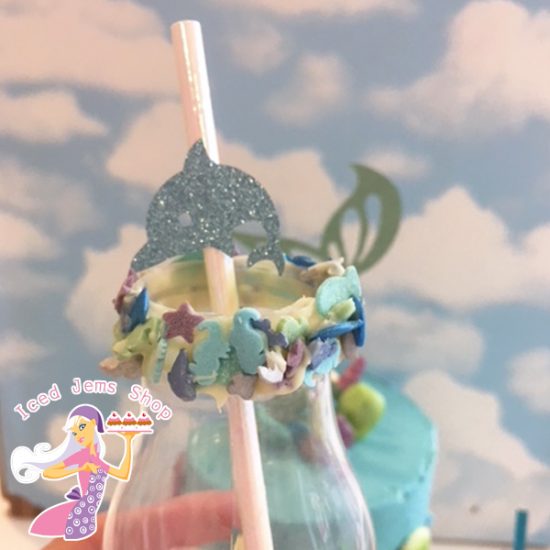 A super easy way to brighten up a drink, they look so cute with the matching straws too!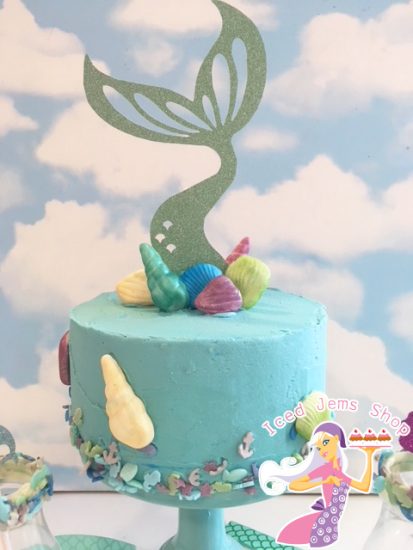 The Mermaid tail glitter cake topper is a fantastic showpiece for a cake, here a simple round cake covered in blue buttercream is transformed with some sprinkles, fondant shells and the mermaid tail topper!
I hope you love your boxes this month!
Jem x