Welcome back to our blog! Kicking off Christmas with this easy no-bake Rocky Road which will go down a real treat at home to be enjoyed with the family and will be fun to make with the kids too 🙂
The great thing about Rocky Road is that it's so versatile – you can switch out any of the ingredients below for another treat of the same quantity. I.e. Swap out the Oreos for Maryland Cookies or Gingernut biscuits.
This recipe fits perfectly into 1 of our large foil disposable trays but would make 2 in our medium trays! Both sizes come with matching boxes and you can find them here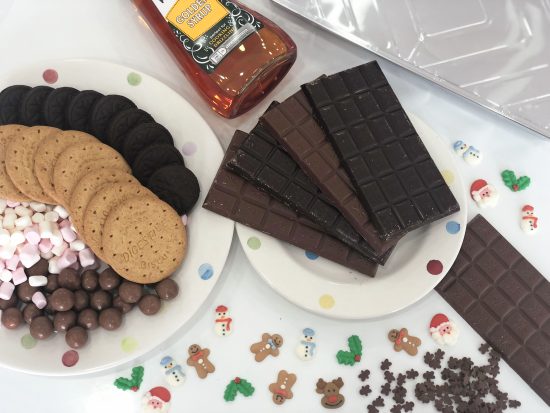 For the Rocky Road filling (Serves 12-18):
200g Dark Chocolate
200g Milk Chocolate
150g Butter (either salted or unsalted is fine!)
4tbsp/60g Golden Syrup
150g Digestives
100g Cookies & Cream Biscuits
68g Maltesers
130g Mini Marshmallows (can easily be swapped for vegetarian/vegan alternatives)
For the decoration:

To make your filling, roughly chop your dark and milk chocolate into small pieces and pop into a saucepan. Add your butter and golden syrup into the mix and melt over the hob on a gentle heat until fully melted, stirring constantly to avoid the chocolate catching at the bottom of the pan. Set aside to cool for a few minutes.
Alternatively, you could melt this together in the microwave (ensure you're using a microwave safe bowl!), in 30 second bursts until mostly melted and then continue to melt in 10 second bursts, stirring between each interval.
No real instructions for this bit, just sharing a photo of the molten goodness for your viewing pleasure! 😀

While your chocolate mixture is cooling, crush the biscuits slightly and be sure to leave large chunks – you don't want to be adding finely crushed biscuits into your rock road! For the Maltesers, I decided to crush a few into smaller pieces but left the majority whole – totally up to you how you break these down.
Add the crushed biscuits, Maltesers and mini marshmallows into the chocolate mixture and mix throughly, making sure everything is well coated.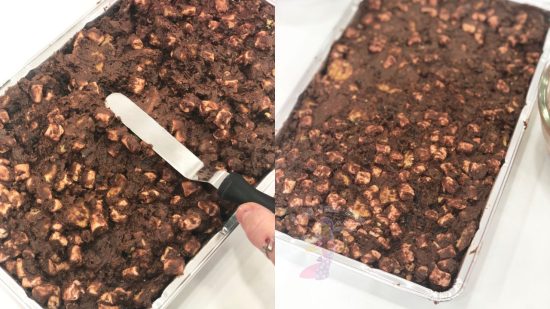 Pour your rocky road mixture into your foil tray and spread it out using an angled palette knife to give you a nice flat surface. You can leave as it is and set in the fridge for an hour or so before cutting up and serving. For those of you who wish to festive up your rocky road, continue reading!

To decorate this, fully melt 200g milk chocolate (in the microwave in short 20 second bursts is fine) and pour straight over your rocky road, spreading it out with a palette knife to ensure the entire surface is covered.

Before the chocolate has the chance to set, lightly dust over some Diamond dust to give the effect of snow and for some general festive shine, because why not? I can't even explain how magic this stuff is! I've used it on cupcakes, biscuits and larger cakes too – it's so much finer than icing sugar and also has no taste so you're not over sweetening your bakes (if there is such a thing!).
Add some sprinkles over the top of this – for this particular recipe, I used our Candy Cane Mix and our little Gingerbread Men sprinkles because they're so cute! Place on some Christmas sugar pipings and then pop into the fridge for about an hour or so to set.
I cut mine into 18 pieces using a serrated knife but you can cut this rocky road into as many or few pieces as you like!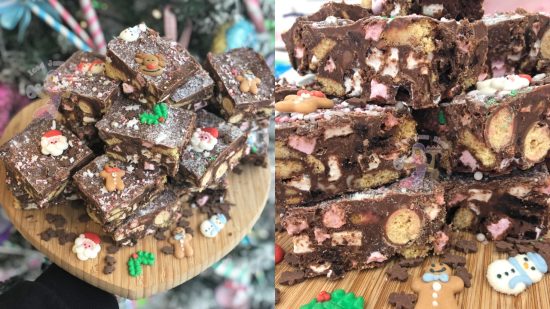 We hope you enjoy this recipe and can't wait to see your festive baking over the next few weeks!
Iced Jems Team x