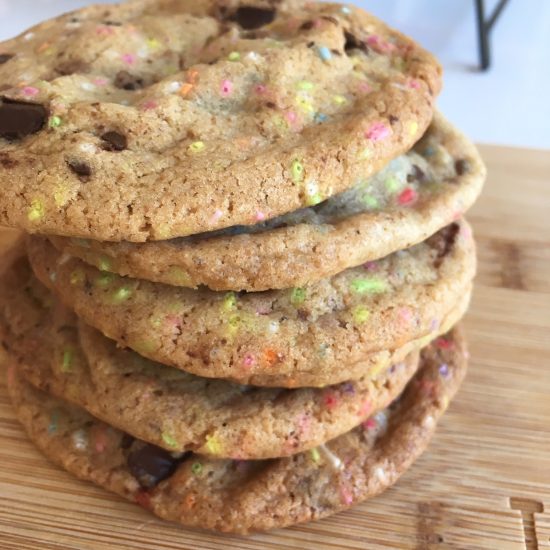 A delicious and easy recipe for funfetti cookies, full or colour and with an amazing chewy centre!
You will need (makes approx 30 cookies):
175g Unsalted Butter
100g Light Muscavado Sugar
200g Caster Sugar
2 Eggs
1 Tsp Vanilla or other flavour
300g Plain Flour
1/2 Tsp Bicarbonate of Soda
200g Chocolate Chunks or Chips
50g Super Bright Sprinkle Strands or Funfetti Discs
Start by creaming together the unsalted butter, light muscavado sugar and caster sugar. The addition of muscavado sugar gives the cookies a lovely light brown colour and a slightly chewier more caramelised texture.
Once well combined, add the 2 eggs and mix again until you have a sloppy batter.
Add 1 Tsp Vanilla, 300g Plain Flour and 1/2 Tsp Bicarbonate of Soda and mix until you have a thick dough.
Now add in 200g Chocolate Chunks or Chips and 50g Super Bright Sprinkle Strands and mix until well combined and the sprinkles are showing throughout.
Split the dough into 3 or 4 sausage shapes and wrap in cling film. Transfer to the fridge for 20 minutes to firm up.
Once firmed, removed from the fridge, unwrap from cling film and slice into disc shapes using a sharp knife.
Place the cookies onto a baking tray, I used the non-stick silicone trays we sell in store as they are so non stick and easy to use. Bake in the oven for 8-10 minutes on approx 150 degrees (for fan assisted). The important thing to remember with baking cookies, is that they will still be soft when you take them out of the oven, but will firm upon cooling. Remove from the oven when the edges just start going a golden brown.
Once baked, place on a wire rack to cool and then enjoy! They will have a lovely crispy outside with a delicious chewy middle.
Enjoy!
Jem x