I am so excited to launch the first seasonal themed boxes since starting Iced Jems Cake Club! After talking to a few of you we realised it was best to send out our Halloween Box in September, it should arrive between the 14th and 21st of September giving you lots of time to plan your Halloween Bakes and treats! Sending out in October was just too late for a lot of you and didn't give you a chance to really use your goodies!
There are loads of goodies as always inside this month's box, I really wanted to give you lots of ideas so you can make simple but effective treats that are also cheap to make for trick or treaters!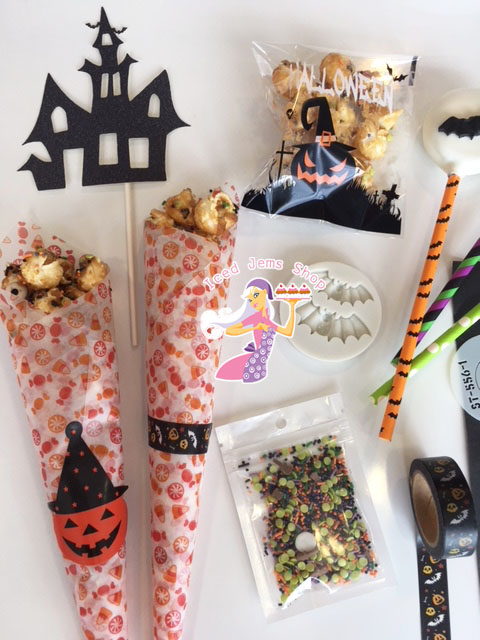 Above is a little sneak peak of the goodies and some ideas for treats! One thing I love in this box is the amazing Haunted House Cake Topper! Simply push it into any plain cake and you've got an instant Halloween centrepiece!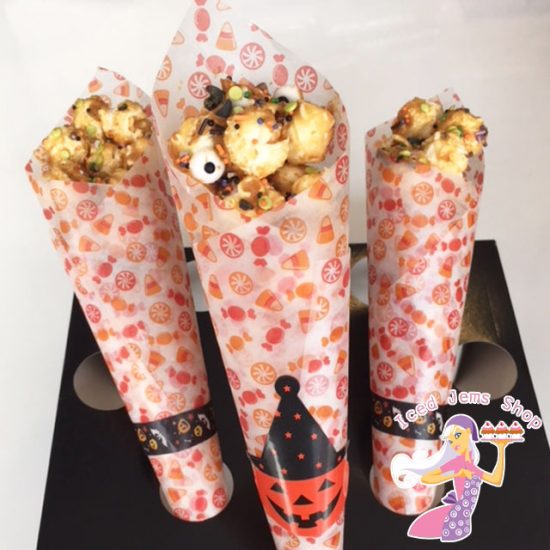 The first mini tutorial for you are these super quick and easy Halloween Popcorn cones! I love how simple these are to make but how effective they are, perfect for a party or trick'or'treaters! Your box come with 5 sheets of this amazing candy corn pattern wax paper, it's great for lining cake boxes or for making cones. Simply roll a sheet of the paper into a cone, secure with the Halloween Theme Washi Tape included in the box or the Halloween Stickers included in the box.
For the popcorn, I filled a bowl with plain popcorn, filled a bag with biscoff spread, microwaved the bag until the spread was soft, then poured over the popcorn for a sticky and delicious coating. I then sprinkled in the spooky mix sprinkles included in the box, gave it a good mix and poured into the cones!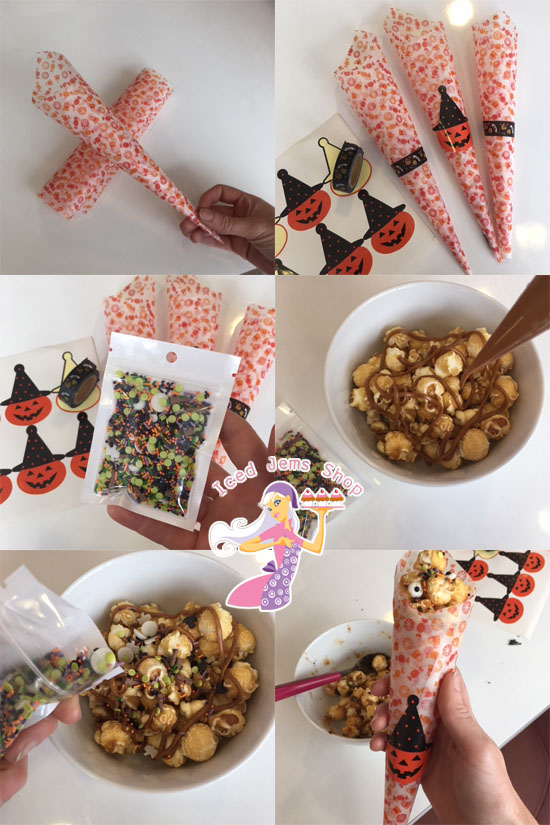 I love the finished effect and how tasty and easy they are to make! You can go crazy with flavour combos and different sprinkles.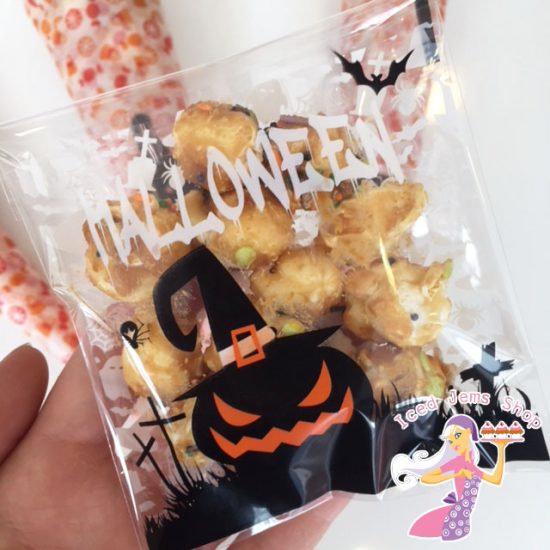 There are also 10 Halloween Themed Cello Bags in your Spooky Box, perfect for filling with the popcorn or other treats! I tried to include lots of goodies in this months box that for make little treats to give out with hardly any effort. You could also fill these Halloween Cello Bags with cookies, truffles, sweets and more.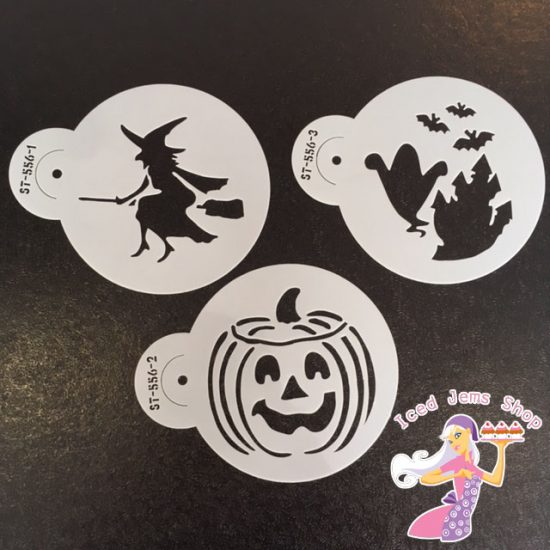 This box has a whopping three Halloween Themed Stencils included in it for you! You can use these on cupcakes, cookies, big cakes, even on your coffee or hot chocolate! We have lots of tutorials for stencils in our past posts if you are unsure how to use them, but I can't wait to see you all get creative with them!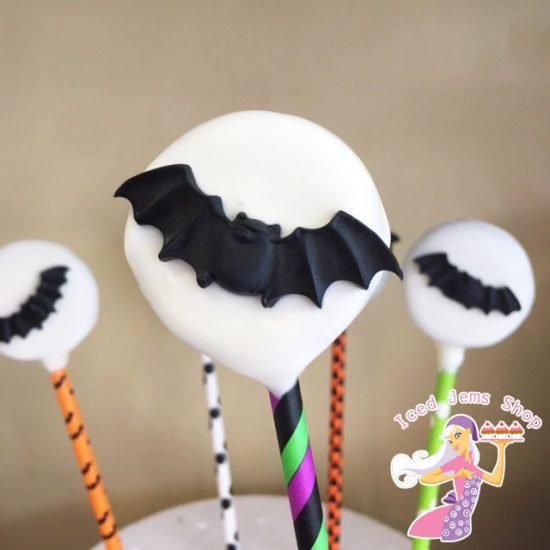 Following on with our theme of quick and simple Halloween Treats, these Halloween Oreo Pops are quick, easy and tasty! Using the paper straws and Bats Mould included in your box, they can be whipped up in no time.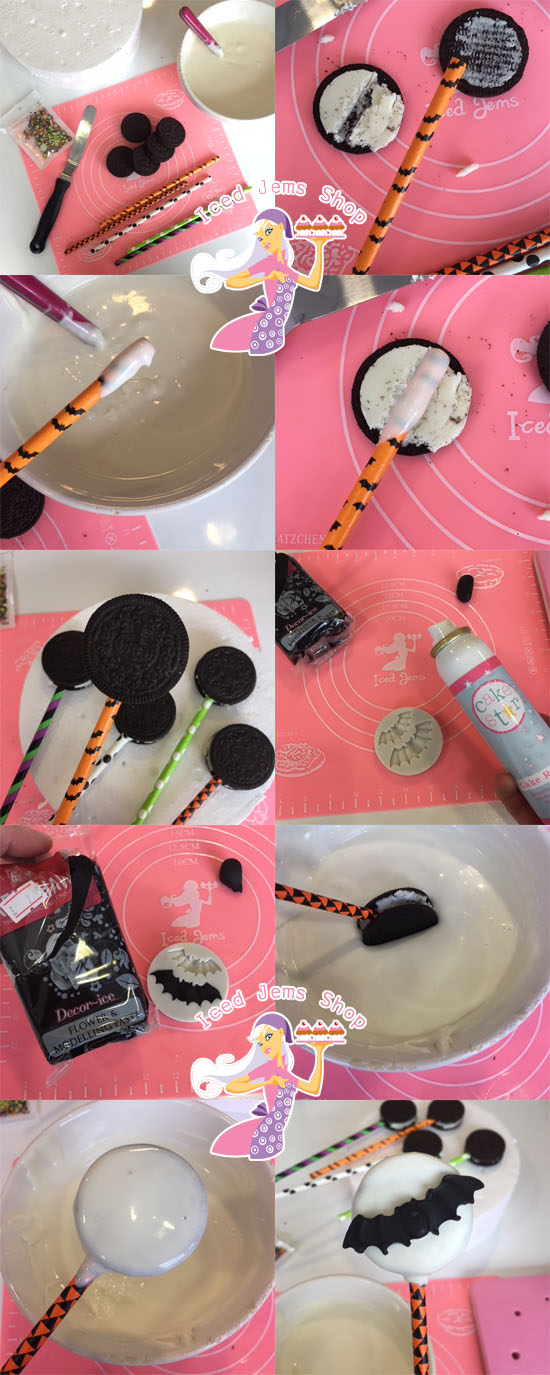 To make these you will need some Oreos (or other cookie) and some White Candy Melts. Twist open an Oreo and scrape all the filling off one side, along with scraping off a gap for the paper straw on the other side.
Melt some white candy melts, adding some vegetable oil until they are thin and smooth. Dip a paper straw into the candy melts, then place it onto your open oreo, placing the one side back on top of the straw and leaving to set.
Once set, you should be able to pick up the straw and the Oreo not fall off, dip it into the candy melts until fully coated, then gently tap the straw on the side of the bowl to get rid of any excess. You can push into a cake dummy to set (to save you holding it for ages).
For the cute Bat decorations, I used Black Modelling paste in the Bat Mould, simply spray the mould with a little cake release spray before use, push in the paste, then flip the mould over face down on a flat surface and peel away to reveal your bats. Attach the bats to your oreo pops using a little of the melted candy melts.
This design can also work on cake pops or home baked cookie pops!
I hope you enjoy this box!
Jem x