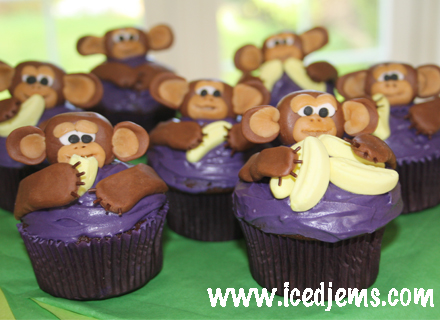 I had so much fun making these, they are so simple and yummy – the Monkeys are made from modelling chocolate instead of Fondant icing, so taste amazing!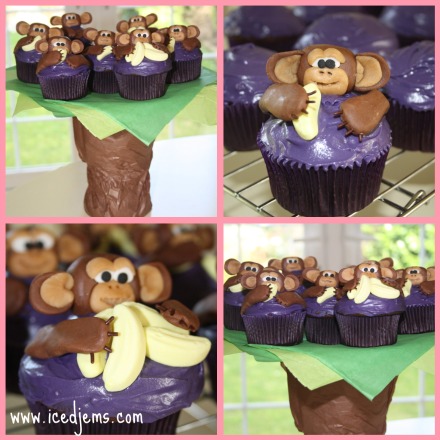 I even made the cute tree stand, I'll show you how to make it below, so easy!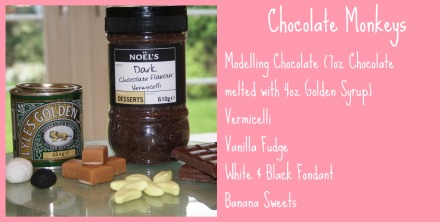 Grab everything you need as listed above, to make the modelling chocolate just melt the chocolate and then stir in the golden syrup. Pop in the fridge until it has set!

Create an oval shape from modelling chocolate for the Monkey's head. Then break off a piece of fudge and shape into a smaller oval for the face.

Grab a cocktail stick and poke to holes into the fudge for nostrils. Then cut through the fudge with the cocktail stick to make a mouth shape. Use a tiny bit of white fondant icing for the eyes.

Then a tiny bit of black fondant icing for the pupils. I also used a little extra fudge for eyelids as shown above. Now the ears – make two circles from the modelling chocolate.

Then two smaller circles of fudge on top of the chocolate. Squeeze one side of the ear, then pop onto the side of the head.

The arms are quite simple to make, just mould a long oval shape and stick in individual vermicelli for claws! Monkey done – now add to your cupcakes!

Someone asked for Chocolate Flavour Purple Monkey Cupcakes – think I fit the theme pretty well personally! 🙂

Place a monkey head on top of the cake, then the arms! I just stuck mine to the buttercream. Want to see how I made the cute stand?

All you need is a vase, plate and brown & green tissue paper. Wrap the vase in the brown tissue paper, then lay squares of the green tissue on the plate – simples!
Hope you enjoy making these yummy chocolate monkeys!
Jem x
[fblike layout="box_count" show_faces="false" action="like" font="trebuchet+ms" colorscheme="light"][tweet username="icedjemsltd" layout="vertical"]