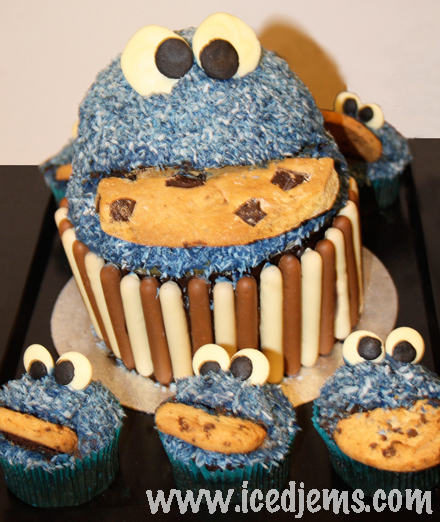 Everyone loved my Cookie Monster Cupcake Tutorial so much, I thought I'd show you how to make a giant one! You will need yourself a giant cupcake pan or silicone mould!
From humble beginnings! My top half didn't rise as much as I wanted to, so I made an extra layer from an ordinary pan! I covered the bottom half in chocolate ganache (mmmmmmmm).

I made the cake for a friend who is an absolute chocolate fiend, so naturally I then covered the bottom half in chocolate fingers! Ok the top half, slightly trickier than the mini cupcakes!

First cover the top half in blue buttercream (I used cream cheese buttercream as it is much smoother and doesn't taste too sickly). Then you will need to colour desiccated coconut blue, full technique in my original post. Sprinkle the coconut over the cake, it might take a while it's so big!

Lift the top half up and shake gently to remove any excess coconut. Then place it on top of your bottom half. Cut a mouth out, use a very sharp knife, if you use a blunt one you will end up having to hold the back of the cake, and ruining the fur effect!

Unless you know a shop that sells Giant Cookies, you will probably need to make your own! I made mine with a flat edge, much easier than having to cut one after baking. Insert in the cake, it should stay in fine without having to stick it in with buttercream.
Again with the eyes, unless you can buy giant chocolate buttons, you will need to make your own by melting white chocolate onto greaseproof paper.

Use a bit of black fondant icing to make pupils for the eyes. Then dip a finished eye in any leftover icing and place on top of the cake to finish!
Hate to toot my own trumpet, but I think it looks awesome!
Happy Baking!
Jem x
[fblike layout="box_count" show_faces="false" action="like" font="trebuchet+ms" colorscheme="light"][tweet username="icedjemsltd" layout="vertical"]