Happy St Patrick's Day all! I hope you liked my post yesterday on how to make a pint sized Guinness Cake – as I mentioned, todays post will show you what to do with those leftover cake bits!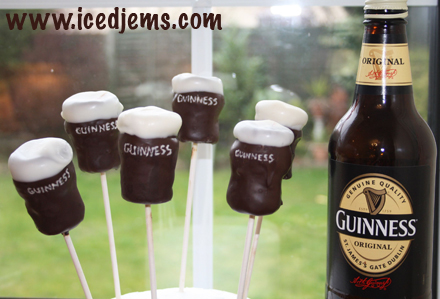 So cute! I don't even like beer, but I can appreciate these.
Along with your cake bits, you will need some dark and white chocolate (or candy melts) and lollipop sticks.

Nom nom nom, Chocolate Guinness cake. Pop the leftovers in a mixer and blend to make cake cake crumbs.

Add your icing – I used the leftover icing from the original recipe as it tastes so incredible. Mix it up until you have an almost dough-like mix.

Now grab a ball of the mixture and mould into a mini pint shape! If your mixture crumbles, you may need to add more icing, you can also pop your shapes into the fridge to firm – but don't dip straight out of the fridge or the chocolate will crack!

Ok turn the pints upside down, poke a hole into the bottom so it goes halfway through the shape. Then dip your lollipop stick in the chocolate and poke into the pint.

Wait for that to set, then you can get dipping. Once you have dipped your pop, you will need to shake off the excess chocolate – just do it gently or you might lose the whole cake!

Let the chocolate dry – it should dry a nice dark colour similar to the colour of Guinness. Now melt your white chocolate or white candy melts.

Simply dip the top of the cake pop into the white chocolate and you have one cute looking pint of beer! I also wrote "Guinness" in white chocolate – I just dipped a cocktail stick in the chocolate and dabbed it on.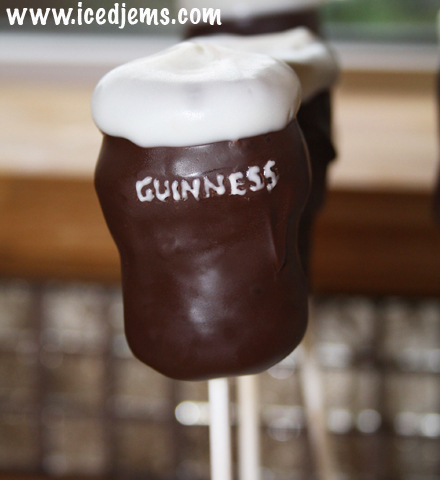 Ok so the writing isn't perfect, but I'm no artist and I was working with a cocktail stick!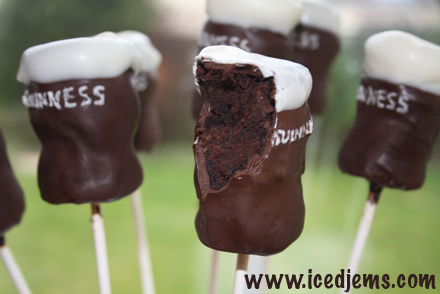 The inside! I think of all the cake pops I have done, these have tasted the best!
Enjoy baking and be sure to upload your St Patricks Day creations to the Facebook Group!
Jem x
[fblike layout="box_count" show_faces="false" action="like" font="trebuchet+ms" colorscheme="light"][tweet username="icedjemsltd" layout="vertical"]