[fblike layout="box_count" show_faces="false" action="like" font="trebuchet+ms" colorscheme="light"][tweet username="icedjemsltd" layout="vertical"][stumbleupon layout="5″]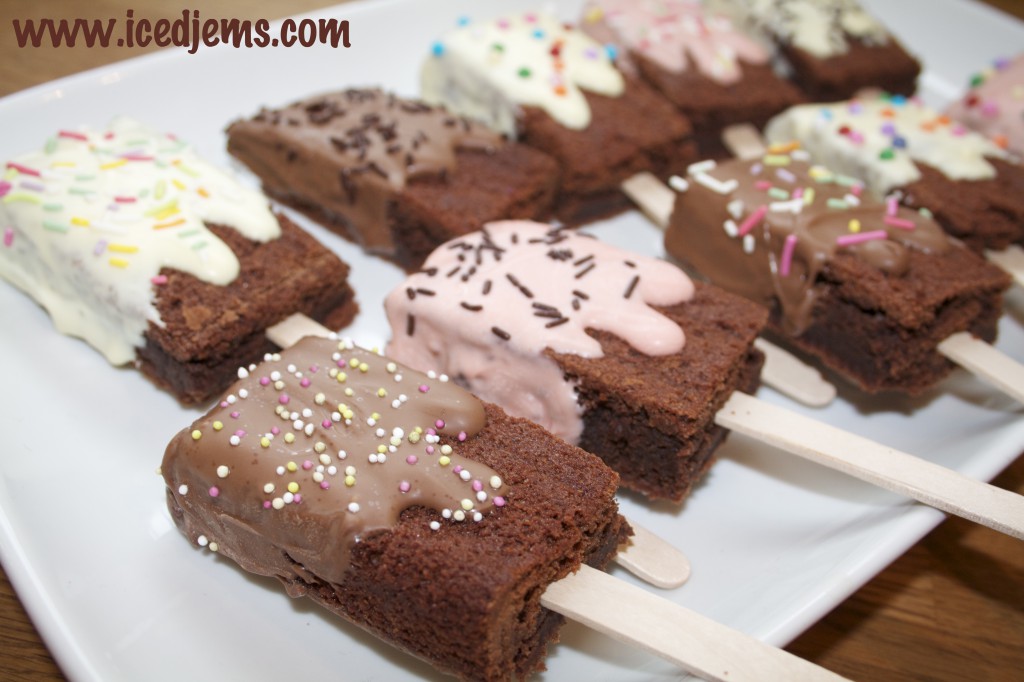 How adorable are these Chocolate Fudge Brownie Pops?
They are so simple and so yummy! So here is the full tutorial, starting with the extremely delicious brownie recipe!
Ingredients:
175g Dark / Plain Chocolate
125g Unsalted Butter
225g Caster Sugar
2 Tsp Vanilla Essence
2 Medium Eggs
150g Plain Flour
150g Milk & White Chocolate to coat (or coloured candy melts if you prefer)
Sprinkles
Lollipop Sticks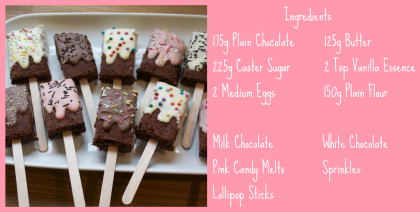 Make sure you have all of your ingredients ready and preheat your oven to 180oC/350oF/Gas Mark 4!

Melt together the butter and plain chocolate over a saucepan of boiling water until you get a runny consistency as shown above.

Remove from heat then stir in the sugar. Once this is fully mixed in, add the Vanilla essence and Eggs.

Mix until you have a sticky consistency. Finally add in the flour and mix well.

Add the mixture to a lined and greased baking tin (this recipe will fill an 8 Inch square tin).
*Top Tip*
Don't transfer to the oven just yet, let the mixture sit in the tin for about 30 minutes which will allow it to develop a skin – this gives you a perfect brownie topping once cooked.
Once the skin is present, transfer to the oven and bake for approx. 30 minutes.

Transfer the brownie to a wire rack and leave to cool. Once cooled, turn over and mark out the cuts for your popsicle shapes before cutting them with a sharp knife.

Now insert a lollipop stick into each brownie – they will stick well in the fudgey centre.
Melt chocolate and spoon onto the brownie about 2/3 of the way down and over the sides.

Before the chocolate sets, add an assortment of sprinkles and then leave to dry!
So simple but so perfect for kids parties this summer (or grown up parties too!)
Happy Baking,
Jem x
[fblike layout="box_count" show_faces="false" action="like" font="trebuchet+ms" colorscheme="light"][tweet username="icedjemsltd" layout="vertical"][stumbleupon layout="5″]