[fblike layout="box_count" show_faces="false" action="like" font="trebuchet+ms" colorscheme="light"][tweet username="icedjemsltd" layout="vertical"][stumbleupon layout="5″]
Mojito Cupcakes! My favourite cocktail combined with a cupcake – heaven! I got the inspiration for these from Beverley at Something about Cupcakes. Beverley's cupcakes are actually in a competition to win Cake of the Month over at Cake of the Day so make sure you vote for them on this voting page! Good Luck Beverley! 🙂
[fancy_header]You will need (Makes 12 Cupcakes):[/fancy_header]
115g Unsalted Butter or Margarine
195g Caster Sugar
2 Eggs
195g Plain Flour
1 Tsp Baking Powder
1/2 Tsp Salt
120ml Milk
75ml White Rum
2 Tbsp Light Brown Sugar
2 Limes (or Lemons)
1 Packet Lime Jelly
Fresh Mint Leaves
1 Bowl of Buttercream / Frosting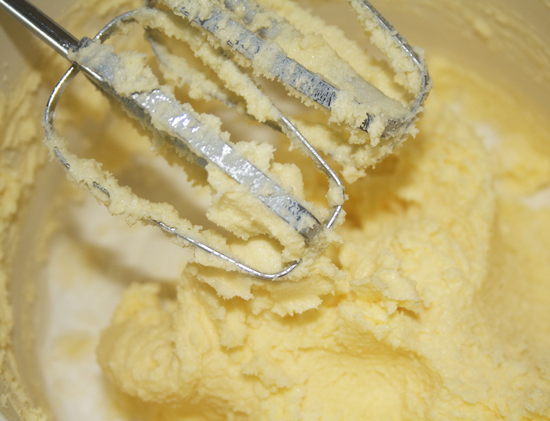 Preheat your oven to 180 degrees and mix together your Butter, Caster Sugar and Eggs.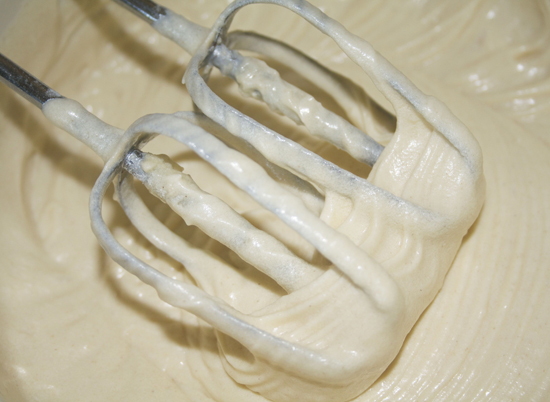 Now add the Flour, Baking Powder, Salt and Milk and mix thoroughly. These are just plain flavoured cupcakes at the moment, I like to add the flavours after they have cooked, as cooking tends to lose a lot of it. Spoon into cupcake cases and bake in the centre of the oven for about 15 minutes (or until they spring back when you press them down).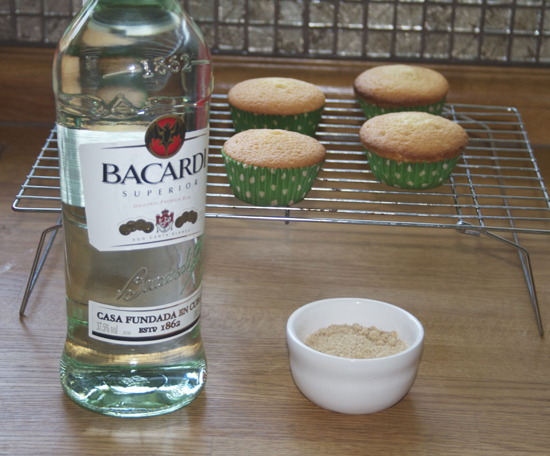 Remove from the oven and allow to cool on a cooling rack and get ready to add your flavours! To the top of the cupcakes I added Bacardi White Rum, Light Brown Sugar and Lime Juice.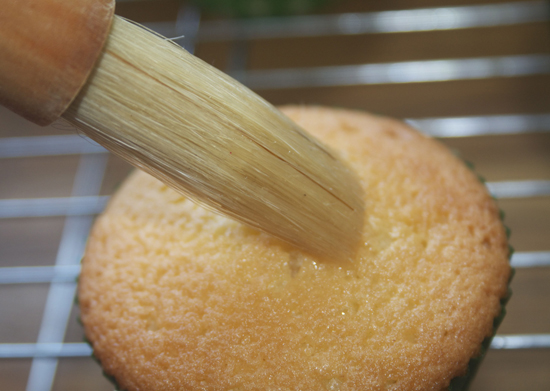 Start by brushing White Rum onto the top of the cupcakes with a pastry brush and allowing the flavour to soak through the sponge.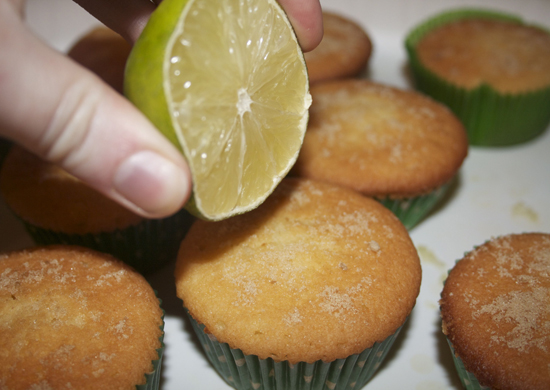 Next squeeze fresh Lime Juice onto each cupcake, again allowing the flavour to soak through the sponge, then sprinkle the tops with crunchy light brown sugar. Leave the flavours to infuse while you make your Jelly Slices and Frosting.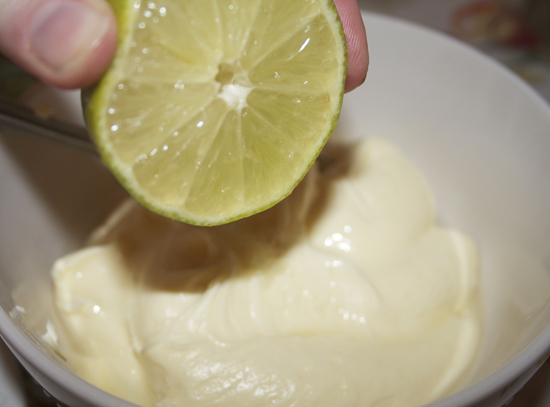 To flavour your frosting, add the remaining White Rum and the Juice of half a lime. Stir together and add additional Icing Sugar if it is too runny to pipe.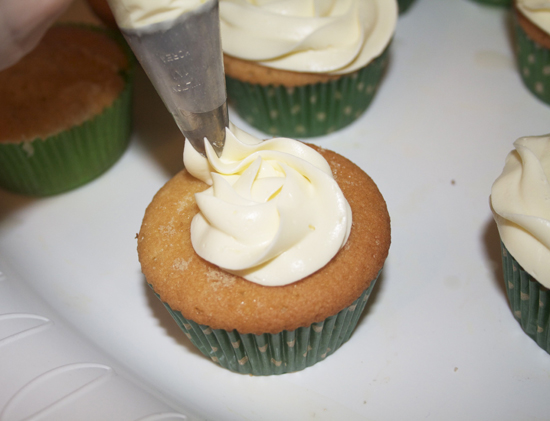 Using a Star Piping Tip, pipe the buttercream onto your cupcakes covering the tops completely.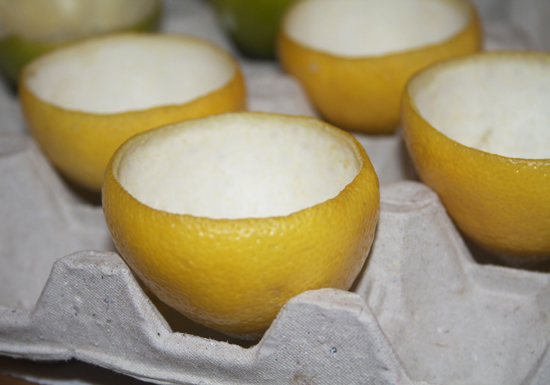 Now you just need to make the Jelly Slices! The reason I waited until the end to do this is because I used the Lime / Lemon Juice in other parts of the recipe. Scoop out the remaining Lime / Lemon until you have empty shells. I got 6 slices from each Lime / Lemon so you should only need 2 for 12 cupcakes (I was making more which is why you can see lots).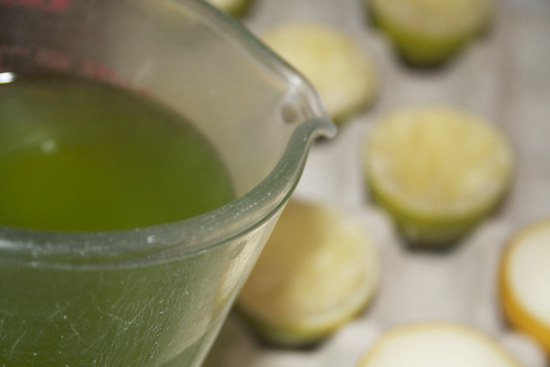 Make your Lime Jelly as packet instructions (but use a little less water than instructed to make a thicker jelly which is easier to slice). Pour the Jelly into the Lime / Lemon shells and leave to set.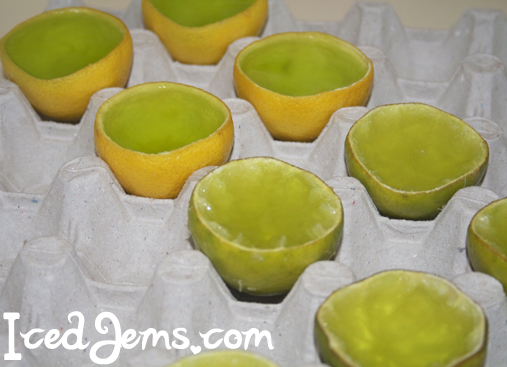 They should look like this, the Limes are a lot harder to scoop out than the Lemons which simply peel out, so you may find there is a bit of leftover pulp stuck to the sides of the Limes.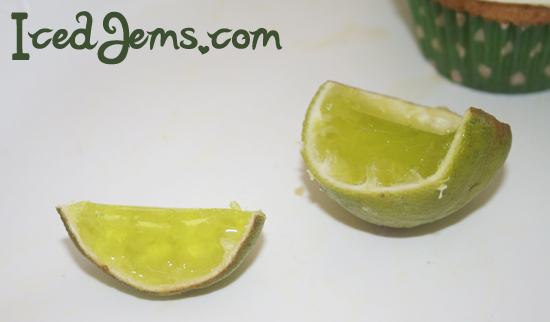 Now for the slicing, the longer you leave the Lemon and Lime Peels – the harder they are to cut. My boyfriend had the clever idea of freezing them which would work perfectly when cutting, or you could use an electric knife for perfectly smooth slicing.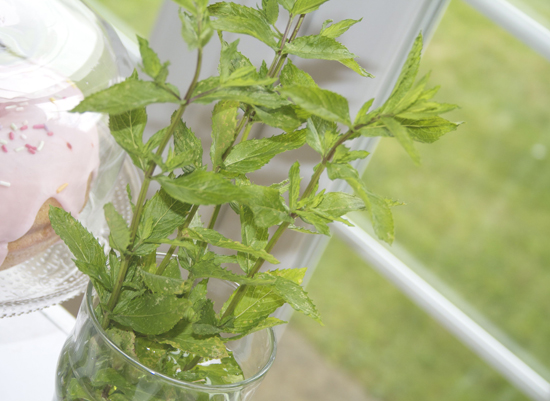 Now to finish the decoration for your Mojito Cupcakes! Simply decorate each cake with a fresh mint leaf and Jelly Slice.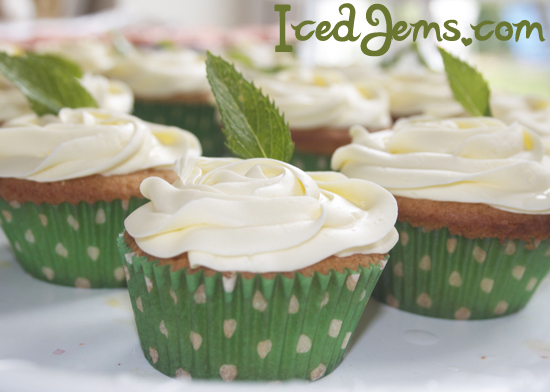 I simply poked a mint leaf into each cupcake as shown above – they look so pretty already they probably don't even need the Lime Jelly Slice!
Now simply place a Jelly slice on top of each Cupcake and push into the frosting to secure.
Enjoy eating these yummy cakes!
Jem x
[fblike layout="box_count" show_faces="false" action="like" font="trebuchet+ms" colorscheme="light"][tweet username="icedjemsltd" layout="vertical"][stumbleupon layout="5″]