[fblike layout="box_count" show_faces="false" action="like" font="trebuchet+ms" colorscheme="light"][tweet username="icedjemsltd" layout="vertical"]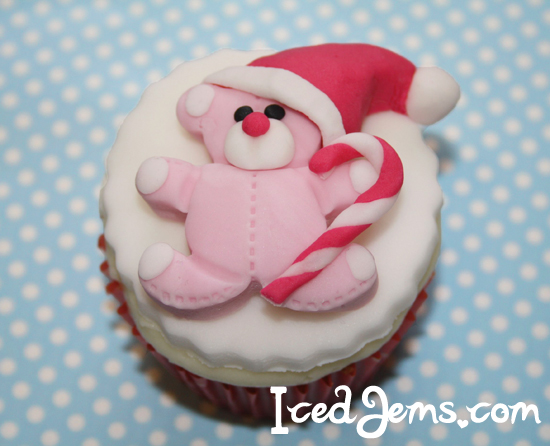 These cute Teddy Bear Cupcakes are really easy to make and the full step by step picture tutorial is below! All the special tools you can get from my online shop at bargain prices too! 🙂
[fancy_header]You will need (Makes 12 Cupcakes):[/fancy_header]
12 x Vanilla Cupcakes
1 Tub Frosting / Buttercream
250g White Fondant Icing / Sugarpaste
250g Pastel Pink Fondant Icing / Sugarpaste
125g Fuchsia Pink Fondant Icing / Sugarpaste
Tiny amount of Black Fondant Icing / Sugarpaste
Special Tools: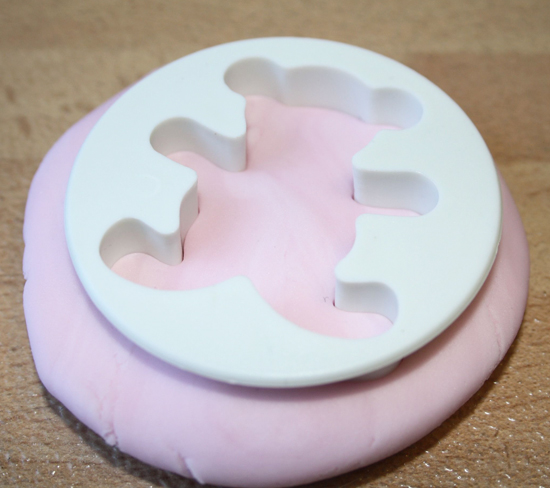 Start by rolling out your Pastel Pink Icing to approx 7mm thickness, using a medium sized Teddy Bear Cutter cut out a Teddy Bear Shape.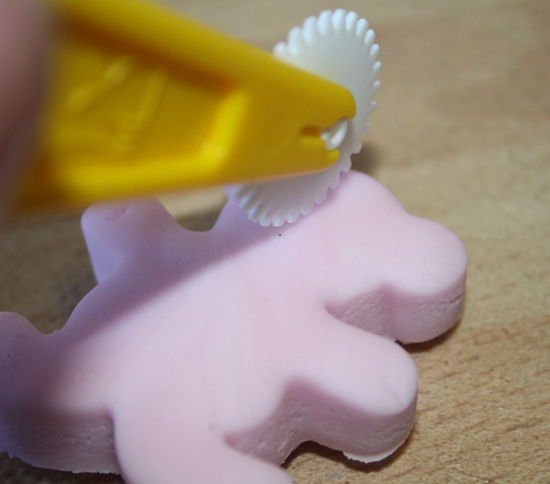 Using a Fondant Cutter and Embossing Tool, use the 'stiching' effect wheel to run a line down the centre of your Teddy Bear, and along the Legs and Arms.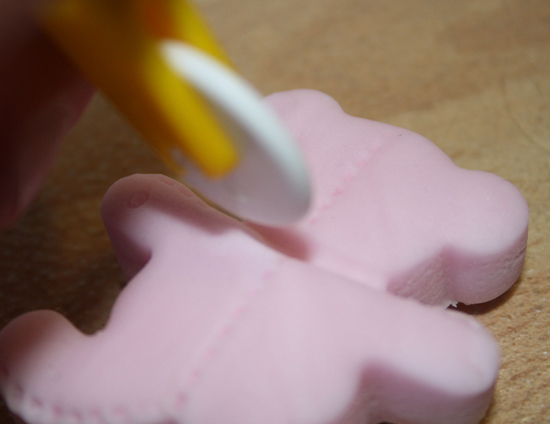 Next use the embossing wheel to make small indents underneath the head and between the arms, legs and body.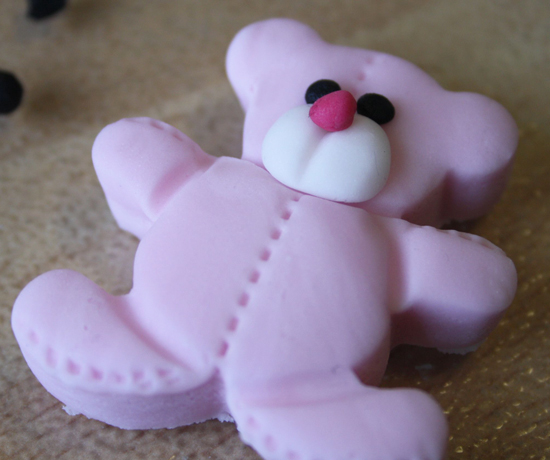 To make the face, use a small amount of white fondant / sugarpaste for the mouth, running the embossing wheel halfway through it. Next use a tiny amount of Fuchsia fondant for the nose, pressing it on top of the white fondant. Then two tiny dots of black fondant for the eyes.
You can now add small white oval shapes to the ears, hands and feet, pressing down gently to secure.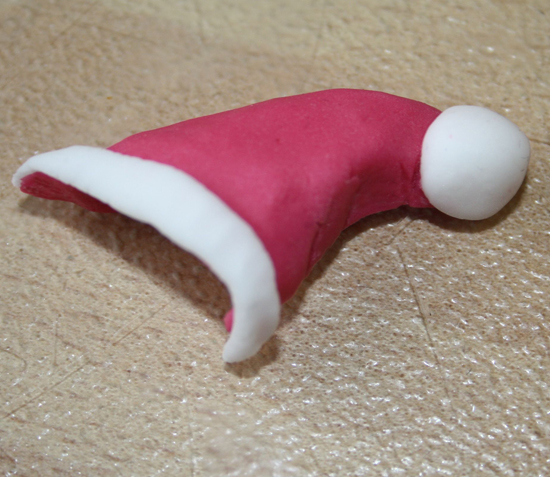 To make the Santa Hat, use the Fuchsia Fondant to make thick triangle shape. Cover the large flat edge with a strip of white fondant, and the tip with a white fondant ball. To make it fit on the Teddy Bear, flatten the inside of the Hat on the right hand side, so it will fit over the Teddy Bear eat.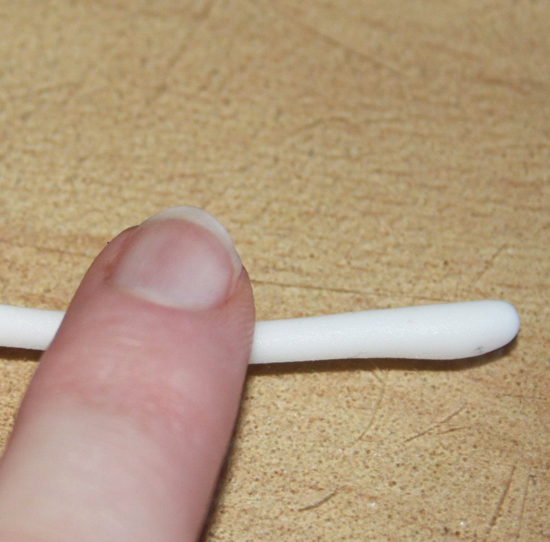 To make the Candy Cane, roll out two strips of fondant (one white and one fuchsia).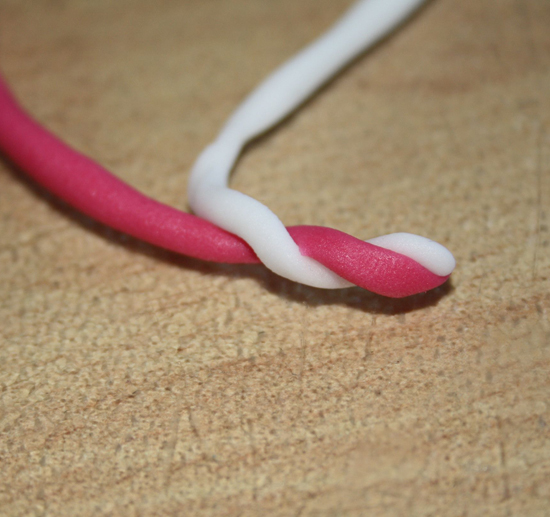 Twist the fondant strips around each other tightly until you reach the end, wrap them tightly and once finished press down slightly so you have a smooth finish.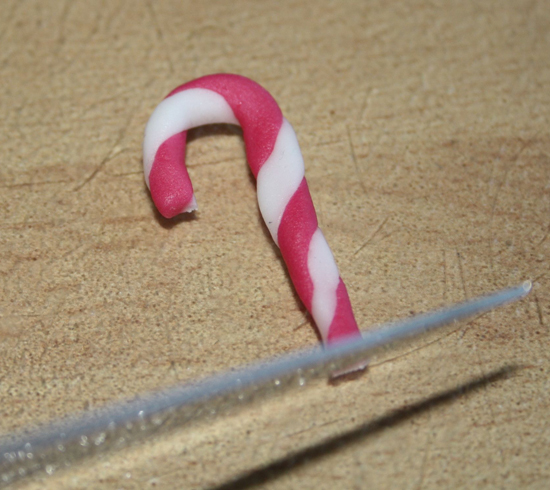 Curl over one edge of the fondant into a candy cane shape, then cut off any excess.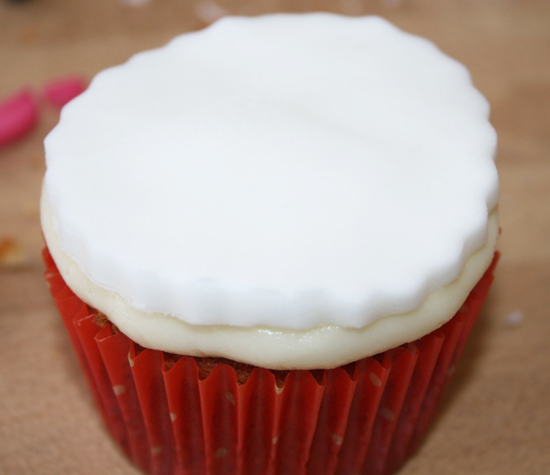 All your fondant decorations are finished, so now all you need to do is put them on your cupcake. Pipe a thick layer of frosting onto your cupcake, then cut out a topper using the fluted pastry cutter, place onto the frosting and press down gently.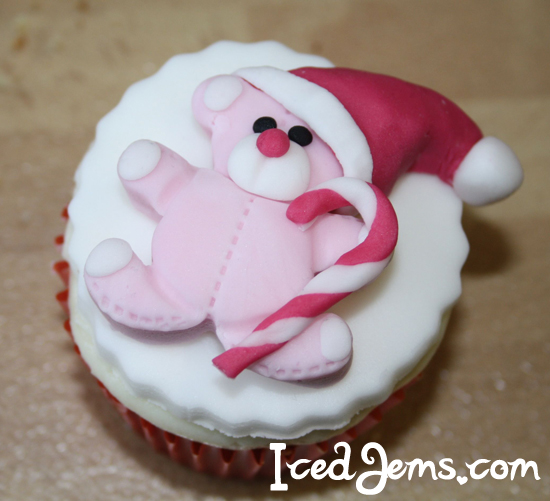 Now simply place your Teddy Bear and Candy Cane onto the Cupcake, wet your fondant a little if you want it to stick. And there you have it, a cute Christmas Cupcake!
Jem x
[fblike layout="box_count" show_faces="false" action="like" font="trebuchet+ms" colorscheme="light"][tweet username="icedjemsltd" layout="vertical"]