[fblike layout="box_count" show_faces="false" action="like" font="trebuchet+ms" colorscheme="light"][tweet username="icedjemsltd" layout="vertical"][stumbleupon layout="5″]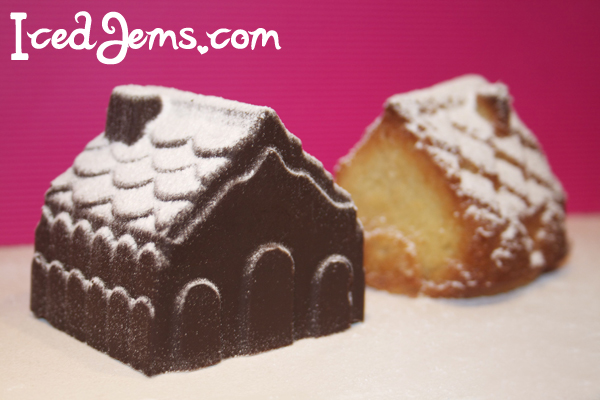 So many of your purchased the Christmas Village Mould from my shop that it sold out twice!! I thought I'd upload an easy recipe to follow for you all, with step-by-step instructions on how to use it!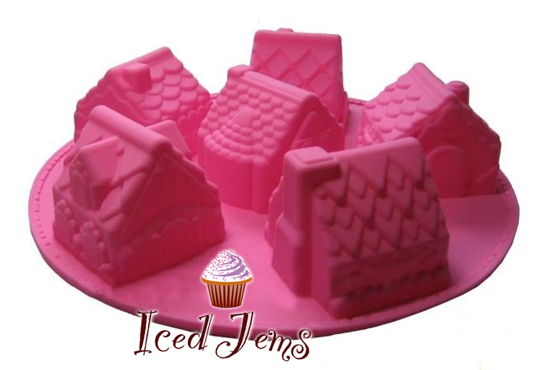 Here is the pretty mould, its just £9.99 from my shop! Buy it here.
[fancy_header]You will need:[/fancy_header]
390g Plain Flour
2 Tsp Baking Powder
1 1/2 Tsp Salt
235ml Milk
1 1/2 Tsp vanilla extract
225g Unsalted Butter or Margarine
390g Caster Sugar
4 Eggs
Icing Sugar to decorate
Plain / Dark Chocolate to make Chocolate Shell Houses (Optional)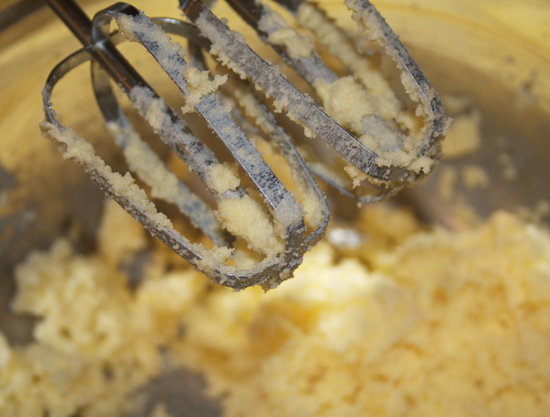 Preheat your oven to 180 degrees. Start by mixing your Butter and Sugar until fluffy. Next, add your eggs one a time until well combined.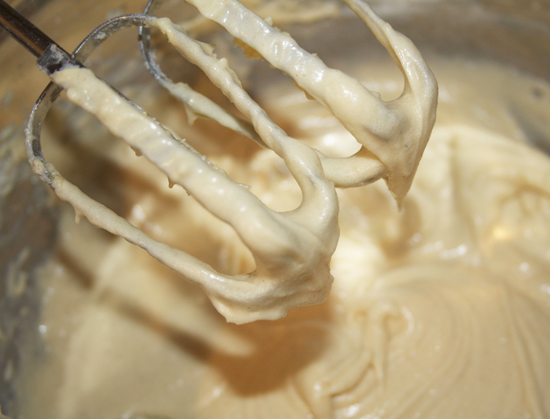 Next add a little milk and a little flour and mix well, repeat this until all of the milk and flour are in the mixed in. To finish, add the Vanilla Essence, Salt and Baking Powder and mix a final time until you have a smooth batter.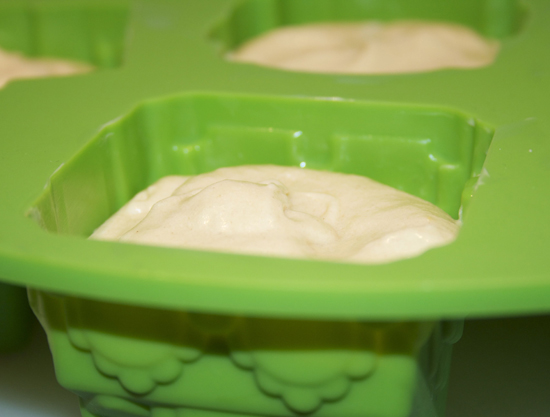 Grease the Cake Mould and pour the cake batter in (I was using a green mould for this tutorial)! Fill it nearly to the top, the mixture will rise so it doesn't need to be completely full. Bake in the oven for approx 20-25 mins.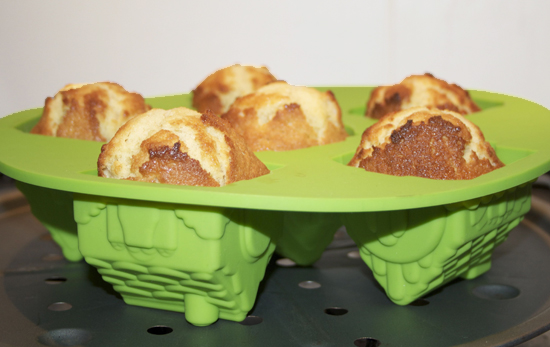 Remove from the oven once cooked, don't worry about any excess cake, as this can be trimmed off! Now heres an important tip: don't remove the cakes from the mould until they are completely cooled! Why? Because the cakes are much firmer once cooled, and thus less likely to break when removing them from the mould!
Once completely cooled, you can remove the cakes from the silicone mould. Simply stretch each cavity and push the cake out from the bottom. Trim the excess off, so your mini houses have a flat bottom.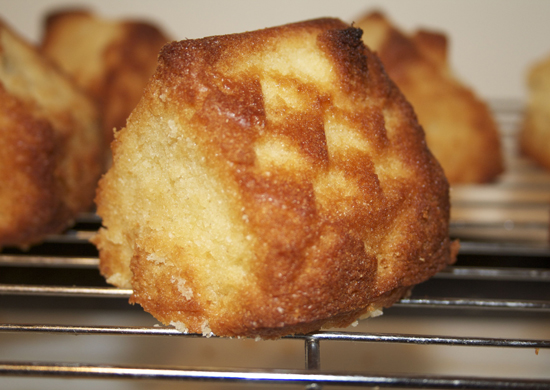 The cakes are done! You can see here that the details are there, but will stand out much more with a little piping detail or icing sugar.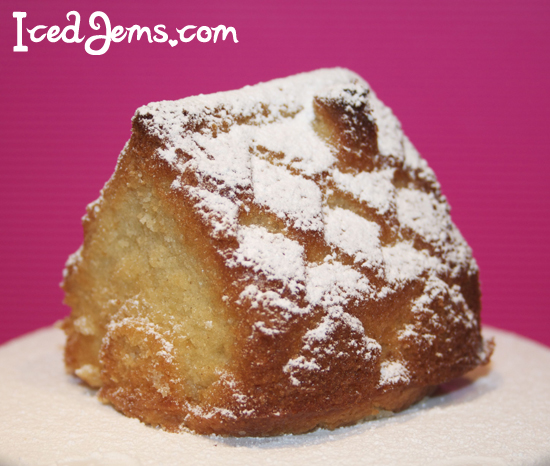 Sprinkle Icing sugar over the cakes and the details will pop out immediately! Alternatively you could decorate with piping details and sweets!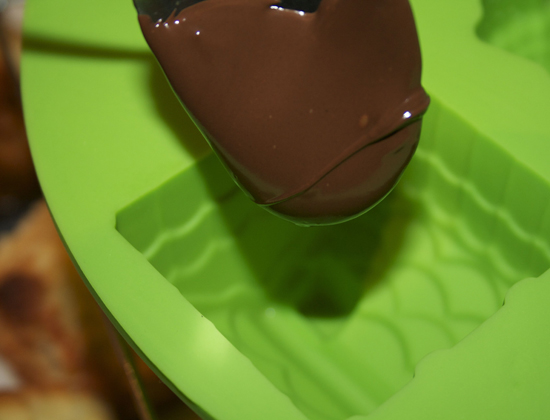 If you wanted to make a Chocolate Christmas Village instead (or as well as), simply pour dark chocolate into the cavity, and smooth up the edges of the mould using the back of a spoon to make a chocolate shell.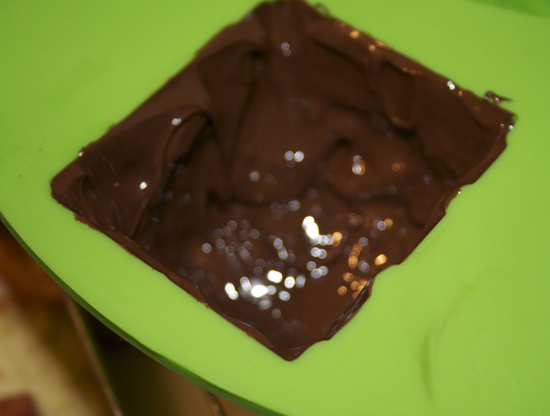 Tap the mould on the work surface to release any air bubbles and push the chocolate into any gaps there might be, then allow to set in a cool room or the fridge.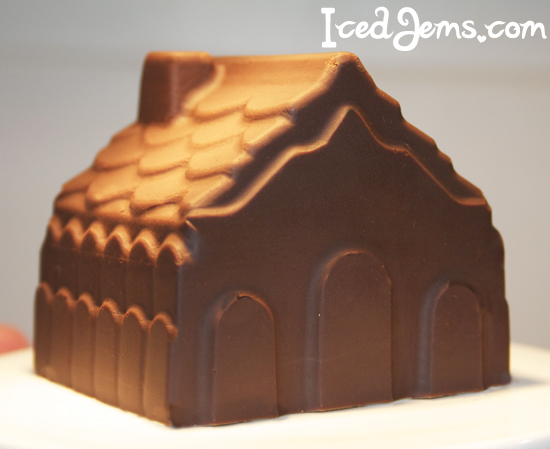 Remove from the mould by gently stretching the silicone and pushing the chocolate upwards, if the chocolate breaks, it may be that the chocolate layer was not thick enough.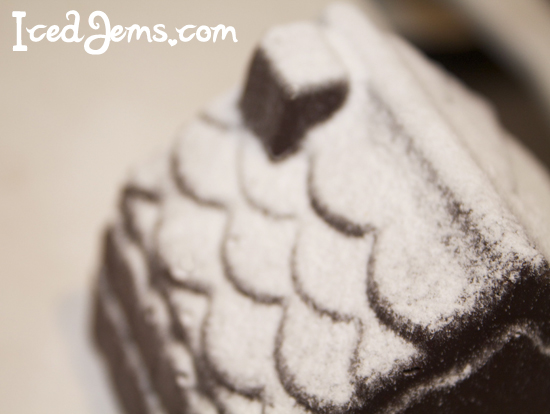 Now simply sprinkle with Icing Sugar to finish! It's as simple as that!
Merry Christmas!
Jem x
[fblike layout="box_count" show_faces="false" action="like" font="trebuchet+ms" colorscheme="light"][tweet username="icedjemsltd" layout="vertical"][stumbleupon layout="5″]