[fblike layout="box_count" show_faces="false" action="like" font="trebuchet+ms" colorscheme="light"][tweet username="icedjemsltd" layout="vertical"][stumbleupon layout="5″]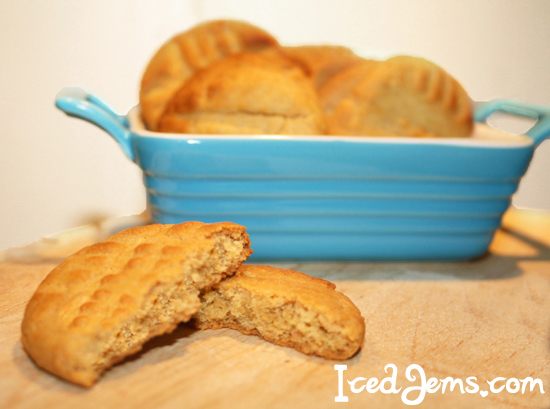 This Peanut Butter Cookie recipe is so quick and easy! I had a craving for something Peanut Butter Flavoured last night, so I whipped these up in 25 minutes (and that includes baking time)!
[fancy_header]You will need (makes 20 cookies):[/fancy_header]
4oz / 100g Butter or Margarine
4oz / 100g Caster Sugar
4oz / 100g Peanut Butter (Crunchy or Smooth is fine)
4Tbsp / 60ml Golden Syrup
1 Tbsp Milk
8oz / 200g Plain Flour
1/2 Tsp Bicarbonate of Soda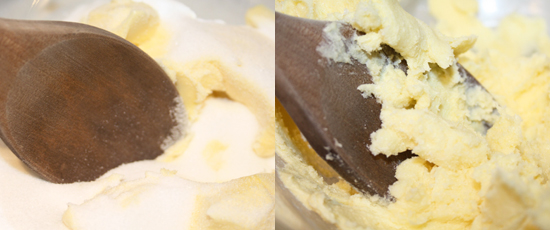 Preheat your oven to 180degrees. Start by creaming together your butter and sugar, no need to get a mixer out for this recipe, I just used a traditional wooden spoon!

You can now add the Peanut Butter (yum, just looking at it makes me hungry), Golden Syrup and Milk. Give it another good mix, I found a metal spoon more helpful at this stage.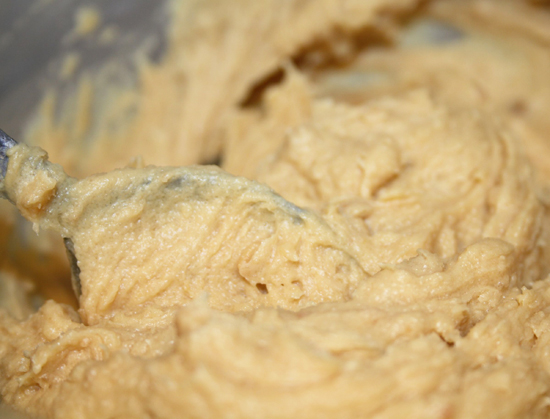 Keep mixing until you have a creamy soft mix, light brown in colour.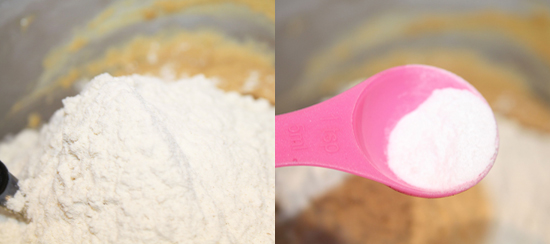 Finally add the Plain Flour and Bicarbonate of soda, mix again with your wooden spoon until a thick dough starts to form. Then knead with your hands until the dough forms into a large ball.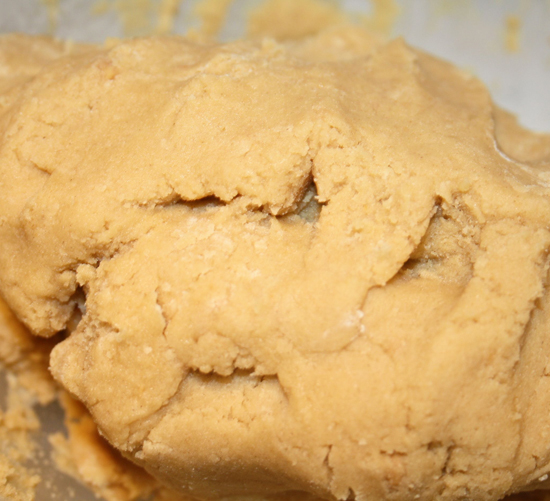 Your dough is now ready to bake, how quick and simple was that?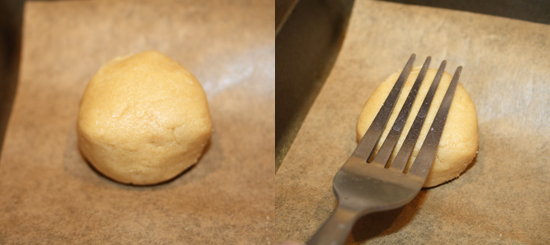 Grab small amounts of the dough and roll into balls in your hand. Place on a lined baking sheet and flatten down with the back of a fork, making a criss cross pattern in the cookie.
This recipe makes about 20 of these sized cookies, simply place in the oven and bake for approx 8-10 minutes. When you take the cookies out of the oven, they will still be really soft and you may be worried they are not cooked, but a few minutes on the cooling rack will harden them up, given a crispy outside and chewy centre!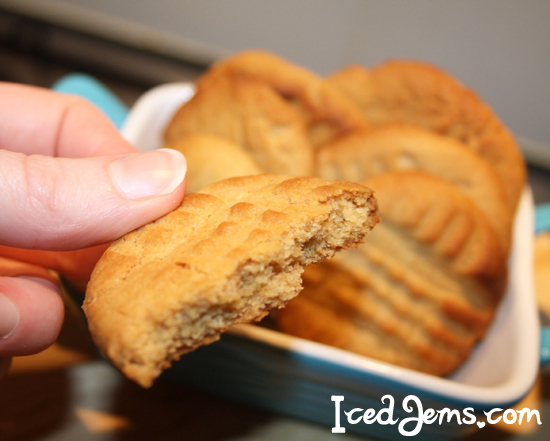 Leave to cool for a few minutes and enjoy! These go down particularly well with a cup of tea of glass of milk!
Enjoy!
Jem x
[fblike layout="box_count" show_faces="false" action="like" font="trebuchet+ms" colorscheme="light"][tweet username="icedjemsltd" layout="vertical"][stumbleupon layout="5″]