[fblike layout="box_count" show_faces="false" action="like" font="trebuchet+ms" colorscheme="light"][tweet username="icedjemsltd" layout="vertical"][stumbleupon layout="5″]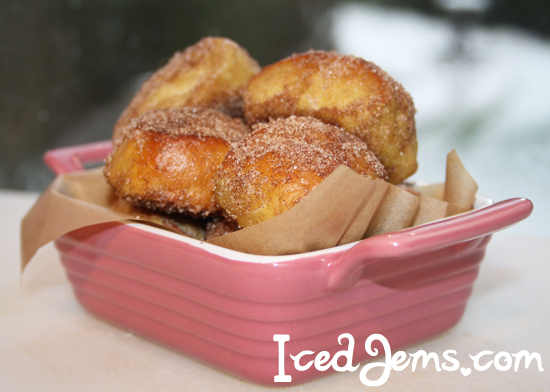 So it was snowing over the weekend, and rather than venture out to the shops I made these Cinnamon Pretzel Bites and filled the house with an amazing warming homely smell! They really did taste amazing, the shelf life isn't too long and I'd recommend you eat them al on the day of baking – but they're pretty addictive so that shouldn't be too hard!
[fancy_header]You will need (Makes approx 25 bites):[/fancy_header]
1.5 Cups (375ml) Warm Water
1 Tbsp Sugar (Brown, Caster or Granulated is fine)
2 Tsp Rock Salt
1 Packet Dry Yeast
20oz (550g) Plain Flour
2oz (55g) Unsalted Butter
Sunflower or Vegetable Oil for greasing bowl
10 Cups (2.5 Litres) Water
2/3 Cup (70g) Bicarbonate of Soda
1 Beaten Egg Yolk (mixed with 1 Tbsp Water)
1oz (22g) Melted Unsalted Butter
1Tbsp Ground Cinnamon
1/2 Cup (100g) Caster or Granulated Sugar

Start by popping the 2 Tsp Salt, 1 Tbsp Sugar and 1.5 Cups of Warm Water into a large mixing bowl, giving it a light stir.

You now need to sprinkle your packet of dry yeast over the watery mixture, do not stir or move the mixture, but instead leave for 5 minutes and allow the yeast to create a foamy layer on top.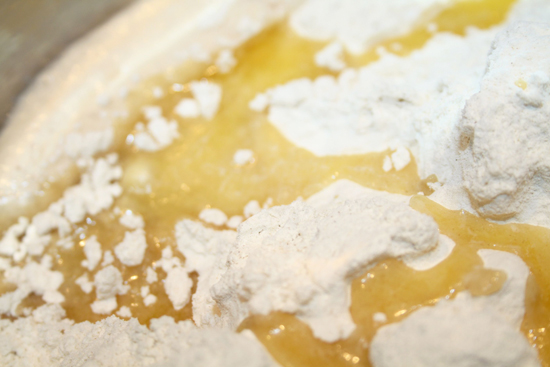 Melt the 2oz of Unsalted Butter, then pour onto the yeast mixture along with the flour. Mix well with a dough hook (if you have one) or with a spoon and then knead with your hands.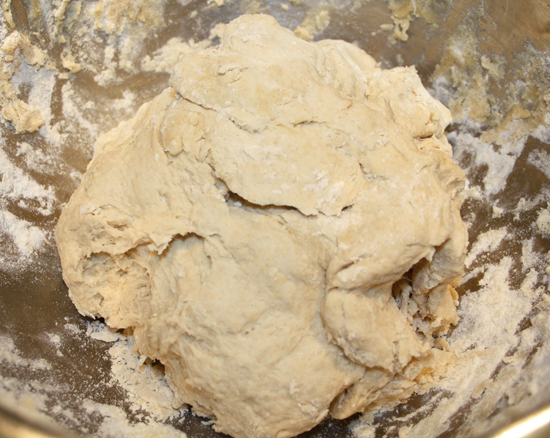 You should have a thick, slightly sticky dough than can be rolled into a ball. Remove it from the bowl onto a clean surface, then clean out the bowl and grease the sides with the sunflower or vegetable oil.

Place the Pretzel Dough back into the greased bowl and cover for cling film. You now need to leave the dough in a warm place for approx 50 minutes until it doubles in size – however, I made this on a very cold day and it took about 1 hour 15 mins!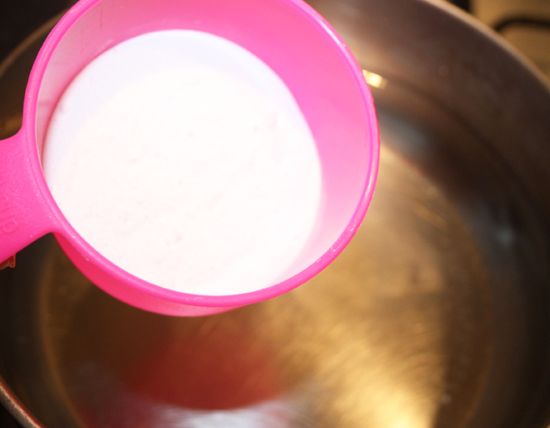 In order to prepare for baking your pretzel bites, preheat the oven to about 200degrees, then put your 10cups water and baking soda in a large pan and bring to the boil.

Grab a handful of your Pretzel dough and roll a thick rope shape out using your hands, each rope should be about 1.5 inches thick. Cut the rope into bite size shapes, I tried to make mine with the same width and thickness.

Once you have used all your dough and the Bicarbonate of Soda Water is boiling, you can dip your pretzel bites before baking. Using a large spoon or similar, drop the pretzel bite dough into the boiling water for approx 15 seconds, before removing and placing on a lined baking tray.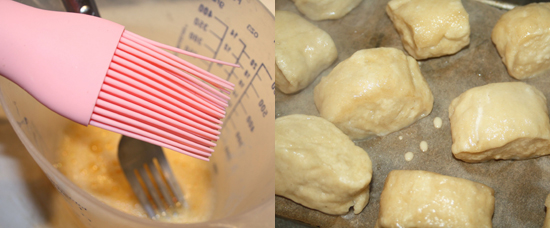 Lightly beat your Egg Yolk and Tbsp of Water in a jug, then brush the mixture over the boiled pretzel bites before transferring to the oven to bake. The pretzel bites are small, so depending on your oven should only take about 8-10 minutes to cook and turn golden brown.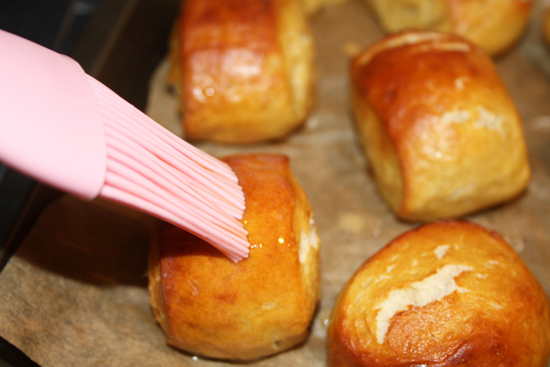 Your Pretzels Bites should be similar in colour to the ones above, not burnt but a nice golden brown. Brush them with melted butter while they are still warm from the oven.

Make your Cinnamon Sugar coating by mixing the 1 Tbsp of Cinnamon and 1/2 Cup Sugar in a bowl, then dip the Butter Coated Pretzel Bites into the mixture, rolling around to ensure they get a good coating.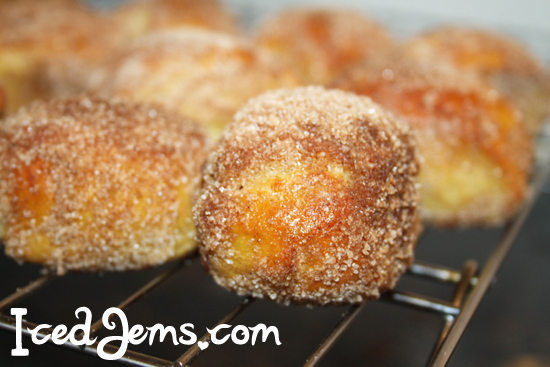 Pop onto a cooling rack for a few minutes to cool down slightly, then eat straight away! They really are best fresh from the oven, still slightly warm! If you don't like cinnamon, I also made some Vanilla Sugar ones that tasted just as great!
Enjoy!
Jem x
[fblike layout="box_count" show_faces="false" action="like" font="trebuchet+ms" colorscheme="light"][tweet username="icedjemsltd" layout="vertical"][stumbleupon layout="5″]