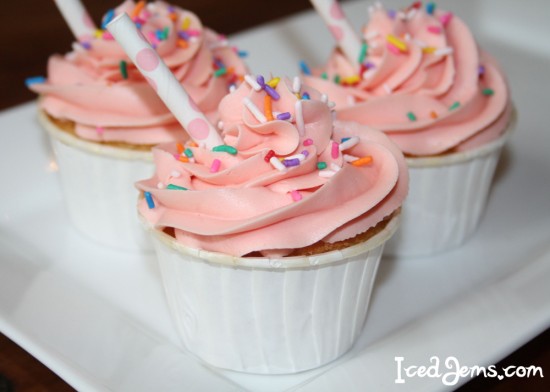 These mouthwatering strawberry milkshake cupcakes are so easy to make and taste divine!
[fancy_header]You will need (makes approx 12 cupcakes):[/fancy_header]
175g Butter
175g Caster Sugar
3 Eggs
75g Icing Sugar
1.5 Tbsp Strawberry Nesquik
4 Tbsp Milk or Single Cream
175g Self-Raising Flour
For the frosting:
175g Unsalted Butter
150g Icing Sugar
150g Icing Sugar
1 Tbsp Strawberry Nesquik
Start by preheating your oven to approx 170 degrees and placing your baking cups onto a metal tray.
Cream together your butter and sugar in a large bowl, then add the eggs and mix on a high speed until there are no lumps of butter.
Next add the Self-Raising Flour, Icing Sugar, Nesquik and Milk and mix a final time until you have a smooth cupcake batter.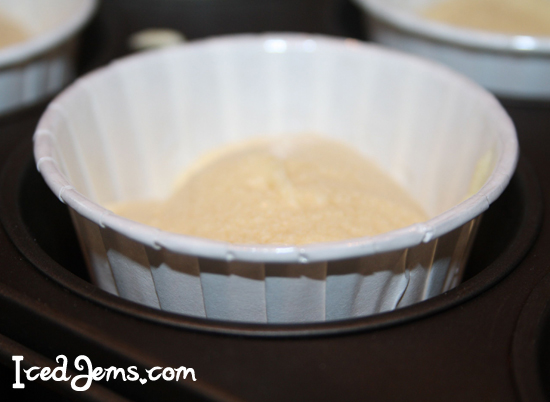 Spoon the batter between your Baking Cups until they are approx 2/3 full, then transfer to the oven for about 15 minutes or until golden.
Transfer to a wire rack to cool and make your delicious frosting!
To make your frosting, first mix together the plain icing sugar and the butter. Once well combined, add the Icing Sugar and Nesquik and a small amount of the Baby Pink Colour Food Paste and mix a final time until you have a smooth pink frosting!
Once mixed in well and tasting delicious, spoon your frosting into a disposable piping bag fitted with a 2D Piping Tip.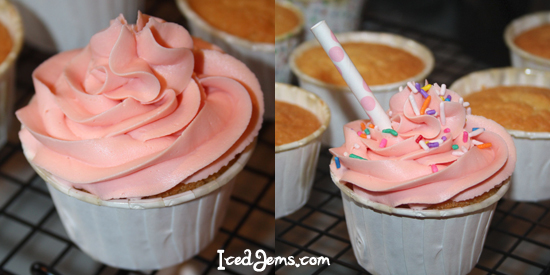 Pipe a swirl of frosting onto each cupcake, starting from the outer edge and swirling inwards in circular motions until you reach the centre.
Finish with sprinkles and half a paper straw to complete the milkshake look!
Now simply enjoy! You won't be disappointed by the wonderful taste of these cupcakes.
Jem x