[fblike layout="box_count" show_faces="false" action="like" font="trebuchet+ms" colorscheme="light"][tweet username="icedjemsltd" layout="vertical"][stumbleupon layout="5″]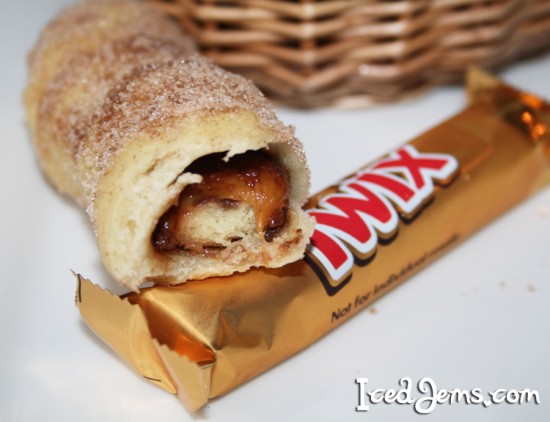 When life hands you a Twix bar, wrap it in pretzel dough and then roll it in Cinnamon – that's my motto anyway!
These are crazy good. From the soft pretzel dough covered in delicious cinnamon sugar, to the gooey and crunchy Twix centre if you eat them still warm from the oven.
I don't think I need to convince you further, so here's the recipe…
[fancy_header]You will need (Makes approx 14):[/fancy_header]
1.5 Cups (375ml) Warm Water
1 Tbsp Sugar (Brown, Caster or Granulated is fine)
2 Tsp Rock Salt
1 Packet Dry Yeast (my packet was 7g)
20oz (550g) Plain Flour (plus extra for rolling)
2oz (55g) Unsalted Butter
Sunflower or Vegetable Oil for greasing bowl
14 Single Frozen Twix Bars
2oz (22g) Melted Unsalted Butter
1.5Tbsp Ground Cinnamon
1/2 Cup (100g) Caster or Granulated Sugar

Start by popping the 2 Tsp Salt, 1 Tbsp Sugar and 1.5 Cups of Warm Water into a large mixing bowl, giving it a light stir.

You now need to sprinkle your packet of dry yeast over the watery mixture, do not stir or move the mixture, but instead leave for 5 minutes and allow the yeast to create a foamy layer on top.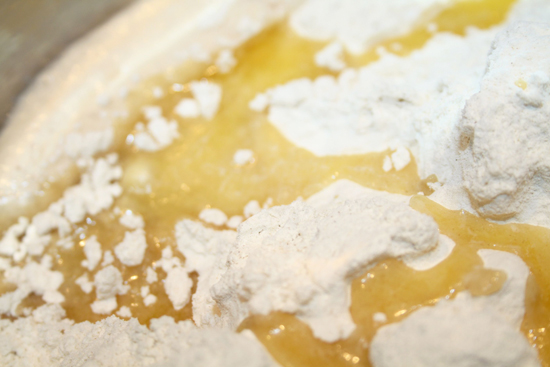 Melt the 2oz of Unsalted Butter, then pour onto the yeast mixture along with the flour. Mix well with a dough hook (if you have one) or with a spoon and then knead with your hands.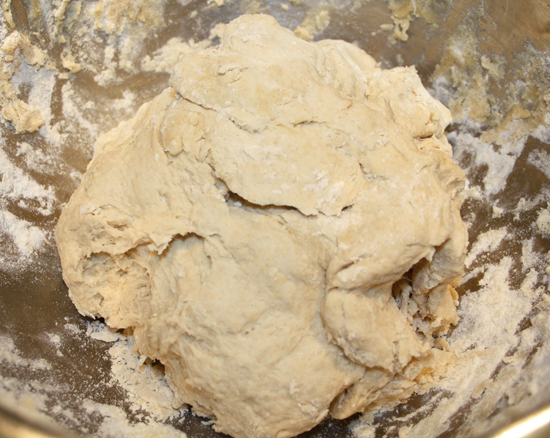 You should have a thick, slightly sticky dough than can be rolled into a ball. Remove it from the bowl onto a clean surface, then clean out the bowl and grease the sides with the sunflower or vegetable oil.

Place the Pretzel Dough back into the greased bowl and cover for cling film. You now need to leave the dough in a warm place for approx 1 hour until it doubles in size.
At this point you can also pop your Twixes in the freezer – mine worked much better with frozen ones. 🙂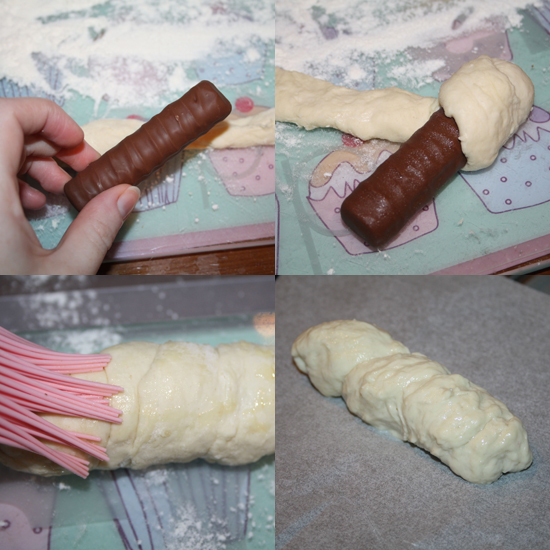 Once your dough is ready you can preheat your oven to approx 190 degrees.
Lightly flour your work surface  and hands and pull a handful of dough from the bowl. Roll into a long rope shape (about the same width as your Twix) and then wrap around a frozen Twix bar making sure to cover all ends and edges with no gaps. If you have gaps, it means the Twix is likely to melt out of them!
Lightly brush your Pretzel Twixes with melted butter then place on a greased baking tray and bake for approx 10 minutes.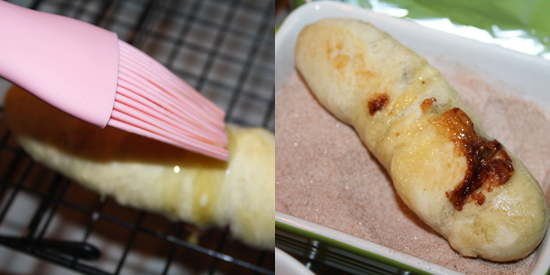 Your pretzels will still have a really light colour once they are baked, but should had a firm outer crust and not be sticky. Sometimes a bit of Twix will have melted out of any holes in the dough but as long as you packed it tight you shouldn't lose too much!
Place onto a wire rack to cool.
To finish, make your Cinnamon Sugar by mixing the ground cinnamon with the sugar in a large bowl. Brush melted butter over your slightly cooled pretzels (sparingly, as too much butter will give you clumps of sugar) then roll each pretzel in your Cinnamon Sugar.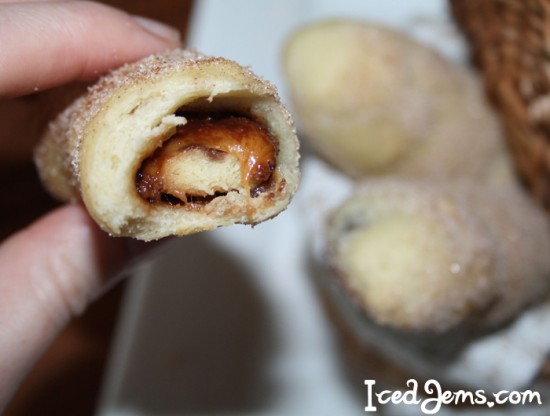 These are definitely best enjoyed still warm and the shelf life is only a day or two – not that they will last that long 😉
Enjoy!
Jem x