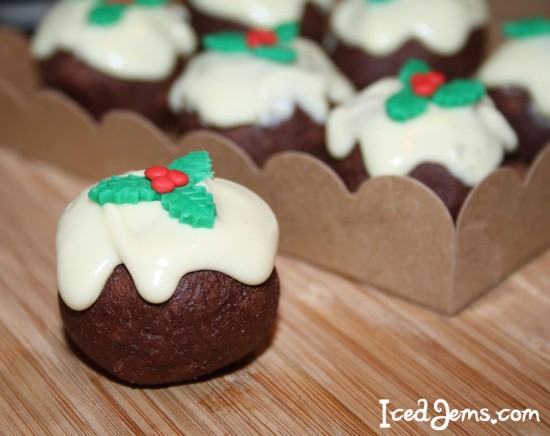 These Christmas Prosecco Truffles would be fab to make as a present and taste divine. I had some fab Prosecco in so I thought it would be a lovely recipe to try.
[fancy_header]You will (makes approx 12 truffles):[/fancy_header]
175g Dark Chocolate
55g Unsalted Butter
3 Tbsp Double Cream
1 Beaten Egg Yolk
3 Tbsp Prosecco
30g Cocoa Power
50g White Chocolate
Small Holly Plunger Cutter (set of 2 just £2.95 from www.icedjemsshop.com)
Red and Green Sugarpaste or Marzipan for small Holly Decoration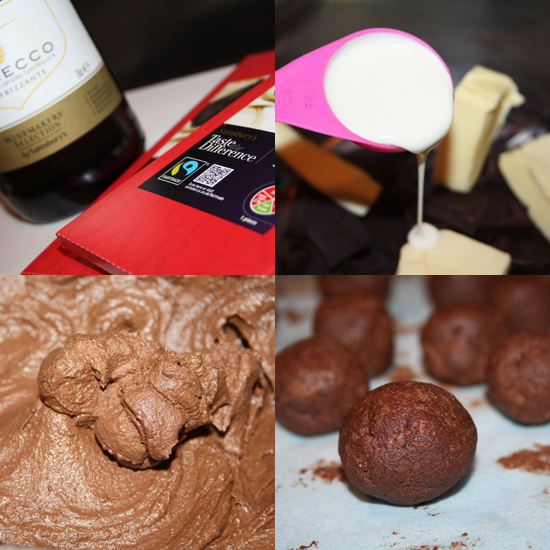 Melt your Dark Chocolate, Butter and Double cream in a saucepan over a low heat, stirring continuously. Once melted, add your egg yolk and cook for a further 2 minutes over a very low heat.
Remove from the heat and add your Prosecco, stirring well. At this point the mixture may appear to separate but this will not be a problem later on. Simply transfer to a cool container and pop in the fridge for about 30 minutes until cool (stirring occasionally).
Once fully cooled, whisk the truffle mixture for about 3 minutes until the mixture lightens and changes texture to become lighter (don't worry if the butter looks like it has separated, whisking it will bring it back to lovely thick and fluffy consistency). Chill for a further 30 minutes until truffle mixture becomes firm.
Sprinkle your cocoa powder over a work surface and your hands, and form 1 inch balls from the truffle mixture using a melon baller or your hands (the mixture will be very sticky but just keep rolling until you get ball shapes and use the cocoa powder to your advantage). Once rolled, place on a sheet of baking or wax paper.
Melt your white chocolate and drizzle a small amount over each truffle so that it melts slightly down the side to give the effect of a Christmas Pudding.
Make your Holly Decorations by rolling your Green Sugarpaste or Marzipan to to approx 5mm thickness, then cutting out Holly Leaf shapes using a plunger cutter. If you don't have a cutter, simply roll a small sausage shape and pinch the side to create a Holly Leaf shape. Roll tiny balls of Red Sugarpaste or Marzipan and stick on top of your Holly Leaves.
To finish off your truffles, add the Holly Leaf Decoration to the top of each truffle, then leave in the fridge to set for a final time.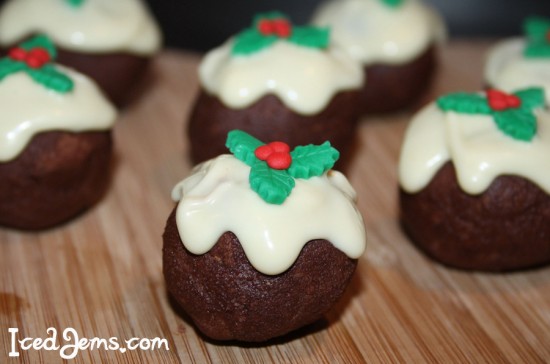 Now simply serve and enjoy. The truffles last around 2 weeks in an airtight container in the fridge.
Enjoy,
Jem x