[fblike layout="box_count" show_faces="false" action="like" font="trebuchet+ms" colorscheme="light"][tweet username="icedjemsltd" layout="vertical"]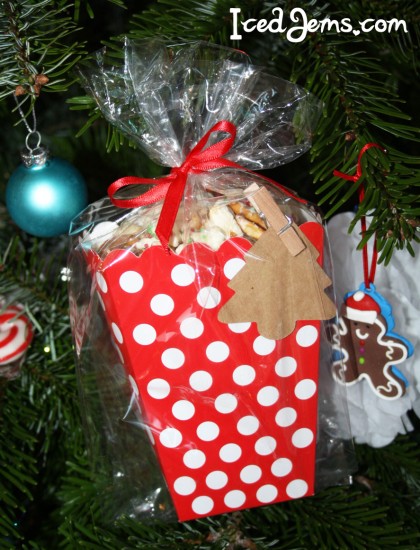 This is a such an easy homemade gift idea for Christmas, you can go wild with different flavours and even present it with a DVD for a movie night style gift.
The Treat Boxes and Cello Bags are available from my shop and they're great for filling with all kinds of treats.
I use Salted Caramel Icing Sugar for my Popcorn, it goes really well with the Pretzels! But if you wanted a something a little more Christmas Tasting, you could use regular Icing Sugar and add a bit of Ground Cinnamon!
[fancy_header]You will need (fills 1 Treat Box):[/fancy_header]
30g Plain or Sweet Popcorn (already popped)
20g Pretzels (salted is fine)
30g Salted Caramel Icing Sugar (if you don't have this, you could use plain Icing sugar or even add a bit of Cinnamon for a sightly different but still delicious flavour)!
1/2 Tbsp Water
15 – 20g Red & Green Christmas Sprinkles (£2.45 for a large pot from www.icedjemsshop.com)
20g Chocolate Chips (I used a mix of white and milk)
1 Treat Box (Just £1.99 for a pack of 8 from www.icedjemsshop.com)
1 Clear Cello Bag (£2.49 for a pack of 25 from www.icedjemsshop.com)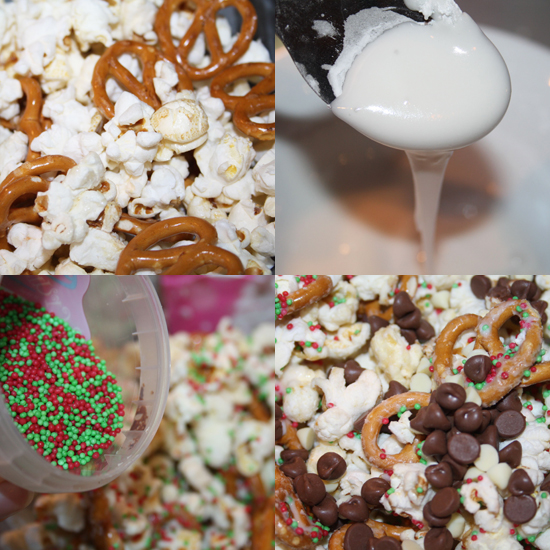 Pour your pretzels and popcorn into a large bowl.
In a smaller bowl, pour in the icing sugar and mix with the water to get a nice thick paste.
Pour the icing sugar mixture until the popcorn and pretzels and stir well to spread it throughout.
Pour in the Sprinkles and Chocolate Chips and store a final time mixing everything thoroughly.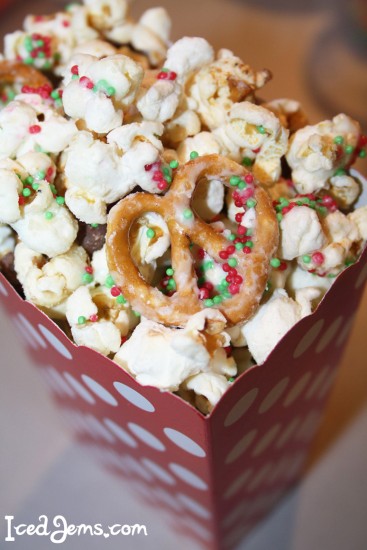 Now leave the popcorn for a short while until the icing sets, then simply pour into your treat box and give as a gift (or you could devour the entire box yourself of course….)!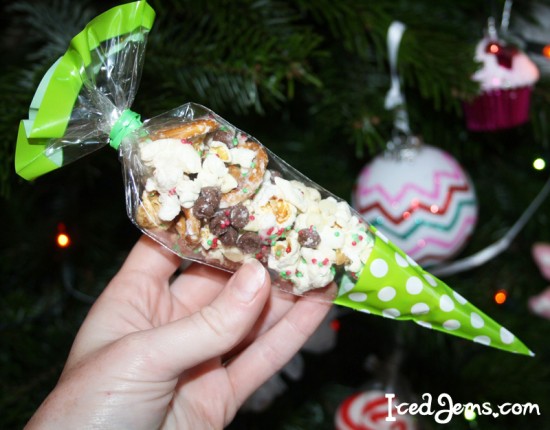 The popcorn would also look fab in the Sweet Cones from my shop too, the recipe above would fill about 3 of the sweet cones.
Enjoy! I look forward to seeing all the different flavour combinations you come up with!
Jem x