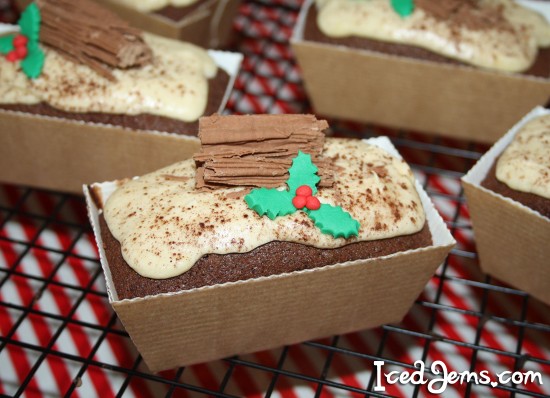 I posted a picture of these delicious Baileys Yule Log Cakes on my Facebook Page last night and apparently quite a few of you wanted to the recipe! 🙂 I've typed it up below for you, along with step by step pictures.
I can't begin to tell you how delicious these cakes are, with Baileys in the cake mixture and the frosting! The Flakes and holly decorations give it a lovely Christmas touch, but these can be enjoyed all year round.
[fancy_header]You will need (makes approx 12 Mini Cakes):[/fancy_header]
Kraft Mini Loaf Cases (£1.50 for a pack of 10 from www.icedjemsshop.com)
1 Tsp Coffee Granules
125ml Boiling Water
100g Unsalted Butter
275g Caster Sugar
2 Eggs
200g Self-Raising Flour
75g Cocoa Powder
125ml Baileys (or other Irish Cream)
For the topping
100g Unsalted Butter
200g Icing Sugar
5 Tbsp Baileys (or other Irish Cream)
Cocoa Powder to sprinkle
4 Flake Bars
Green & Red Sugarpaste for Holly Decorations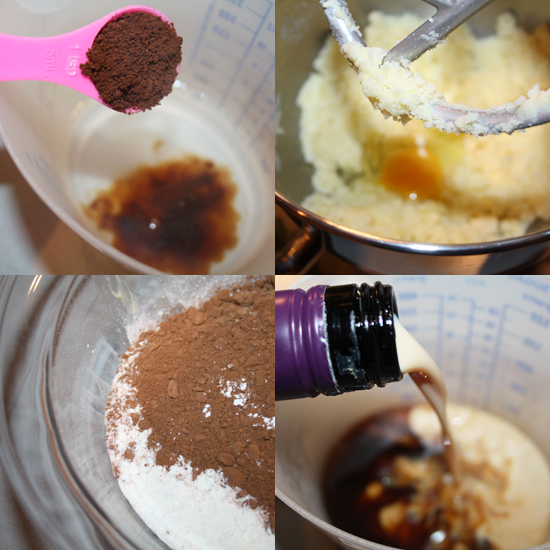 Preheat your oven to about 180 degrees and lay your Mini Loaf Cases out on a flat baking tray.
Mix the teaspoon of Coffee Granules with the boiling water and set aside to cool.
Cream together the butter and sugar in a large bowl, then add the eggs one at a time mixing well.
In a separate bowl, sift together the self-raising flour and cocoa powder, then add the Baileys to your cooled coffee mixture.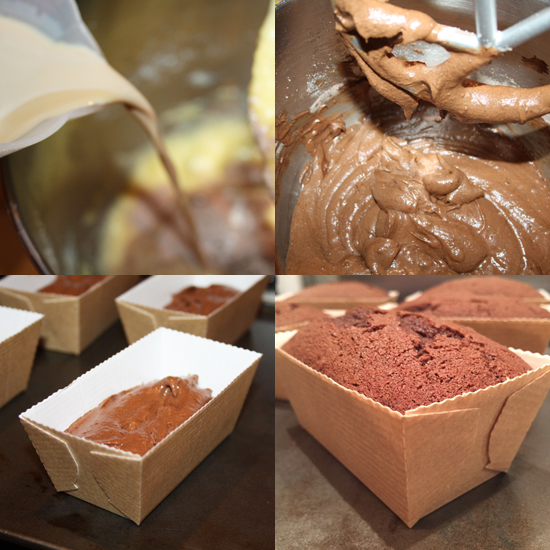 Beat alternate spoonfuls of the coffee / Baileys Mixture and the Flour / Cocoa mixture into the cake batter until well blended.
Spoon your rich cake batter into the Mini Loaf cases, until they are just over half full.
Bake in the middle of the oven for approx 15-20 minutes (until the cake springs back when pushed), then transfer to a wire rack to cool.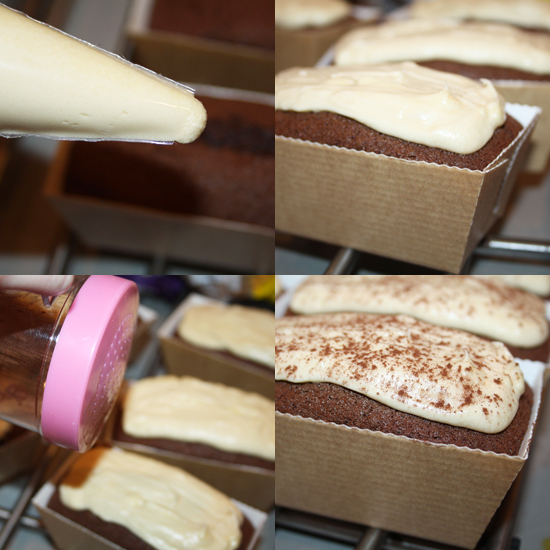 To make the delicious Baileys Frosting, beat your unsalted butter in a mixer until soft. Now add the Baileys and Icing Sugar and mix until smooth. I thoroughly recommend taste testing at this point, just to make sure it's ok! 😉
I filled a disposable piping bag with the frosting, just to make it easier to spread over the cakes. Pipe a thick amount over each cake, then smooth over with the back of a spoon.
Sprinkle a small amount of Cocoa Powder over the frosting to decorate.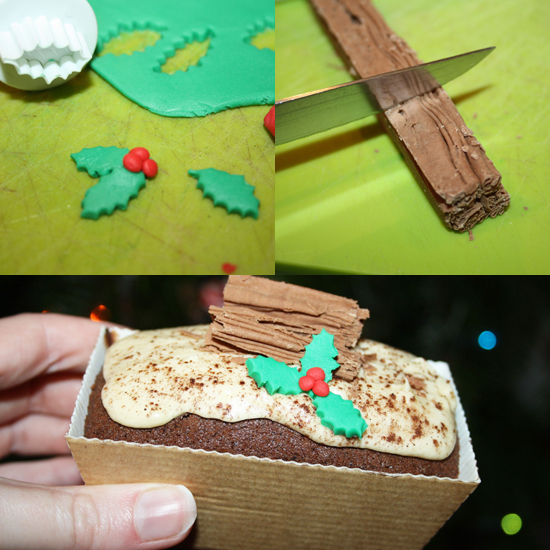 To make the fun Yule Log Decorations, roll out your Green Sugarpaste to a few mm thickness, then cut out three Holly leaf Decorations for each cake. Now simply roll three tiny balls of Red Sugarpaste for each Trio of Holly Leaves and push them all together.
Cut your Flakes into three, I find the easiest way to do this without them crumbling is to cut slightly into each edge meeting in the middle.
Now simply pop a Flake piece in the middle of each cake, followed by your Holly Decoration.
For all the goodies to make these, including the loaf cases, cutters, sprinkles and even pods to give them out in, check out our online shop here: https://www.icedjemsshop.com/product-tag/baileys-yule-logs/
Now serve and enjoy! 🙂
Jem x