[fblike layout="box_count" show_faces="false" action="like" font="trebuchet+ms" colorscheme="light"][tweet username="icedjemsltd" layout="vertical"]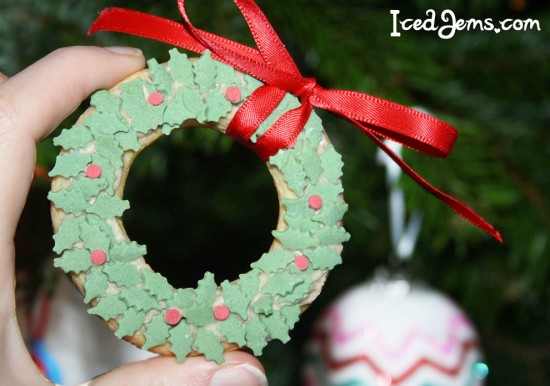 These Sugar Cookie Holly Wreaths are so cute and make a fab edible decoration for your Christmas Tree! Using my no-spread Sugar Cookie Recipe along with some festive flavoured icing and amazing Holly Leaf Sprinkles, this recipe is very easy to make!
[fancy_header]You will need (makes approx 15 cookies):[/fancy_header]
100g Unsalted Butter (at room temperature)
100g Caster Sugar
1 Egg Yolk (lightly beaten)
200 – 210g Plain Flour
1 Tsp Vanilla Essence
2 Circular Cookie Cutters ( I used a 7.5cm diameter cutter and a 4.8cm diameter cutter)
60g Sugar & Spice Flavoured icing Sugar (you can use plain but I wanted a lovely Christmas flavour)
Holly Leaf and Berries Sprinkles (available from www.icedjemsshop.com)
Red Ribbon for hanging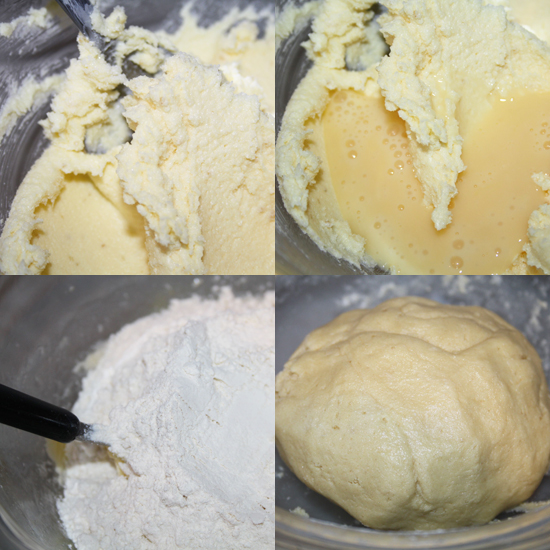 To make your delicious no-spread sugar cookies, start by creaming together your butter and sugar. Make sure you don't overdo it or you cookies might spread! Next pour in your lightly beaten egg yolk and vanilla essence and mix until well combined.
Finally add the plain flour and mix well until you have a soft cookie dough that rolls together in a ball like the picture shown above. Wrap it in some cling film and pop in the fridge for about 30 minutes until it is firmer.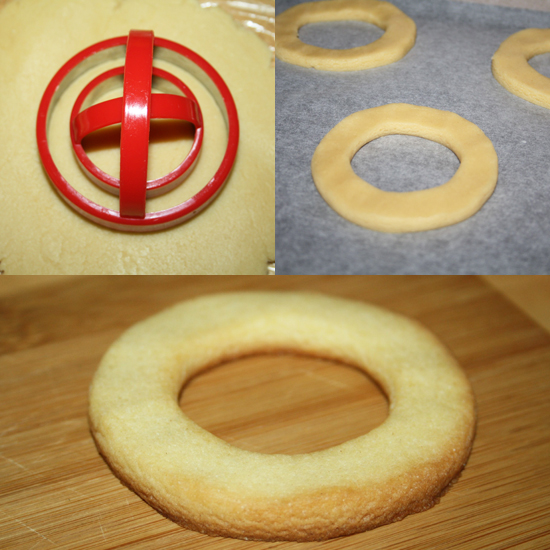 Once your cookie dough has chilled, preheat your oven to about 170 degrees and line a baking tray.
Roll out your cookie dough to approx 5mm thickness and cut out the wreath shapes by cutting out a circle with your largest cutter, then another circle inside that using your smallest cutter.
Transfer your wreath shaped cookies to the baking tray and cook in the centre of the oven for approx 8-10 minutes.
Once baked and golden in colour, transfer to a wire rack to cool.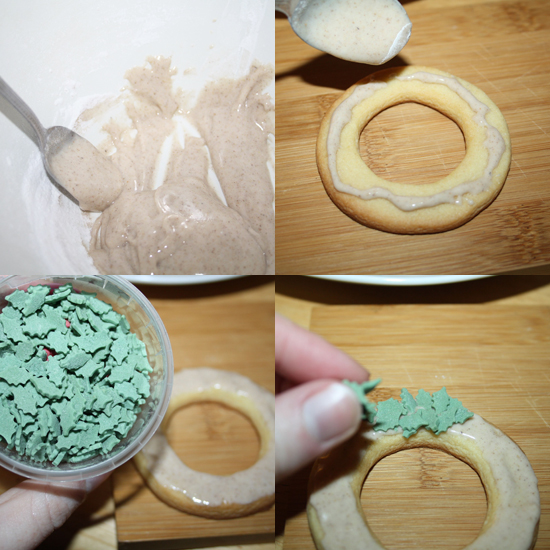 Now for the fun part – decorating your cookies!
Mix up some basic glace icing by adding a about 1tsp of water to the Sugar & Spice Icing sugar.
Using a teaspoon, drizzle a little icing sugar over each cookie and smooth out to the edges.
Grab the fantastic Holly Leaf Sprinkles and place them all over the wreath, being careful not to leave any big gaps.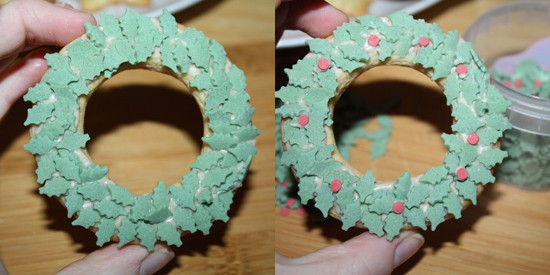 I then added a few berries from the sprinkles pot, dipping them in the glace icing before sticking down.
Now simply leave the icing to set until firm.
These cookies taste so good if you just want to eat them straight away! The Holly Sprinkles give them a lovely crunch whilst the Sugar & Spice Icing Sugar give a great Cinnamon Flavour.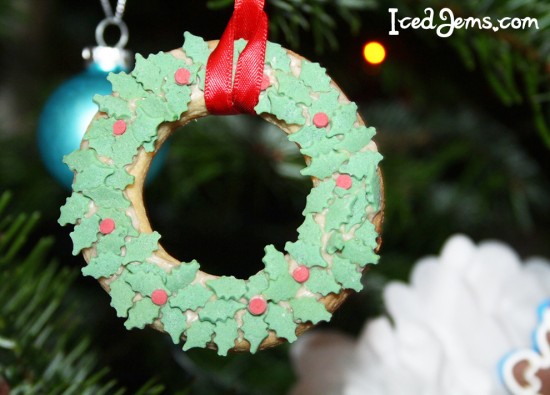 You can also hang them up as Christmas Decorations, I simply wrapped some red ribbon around the top and hung on my Christmas Tree!
Enjoy,
Jem x