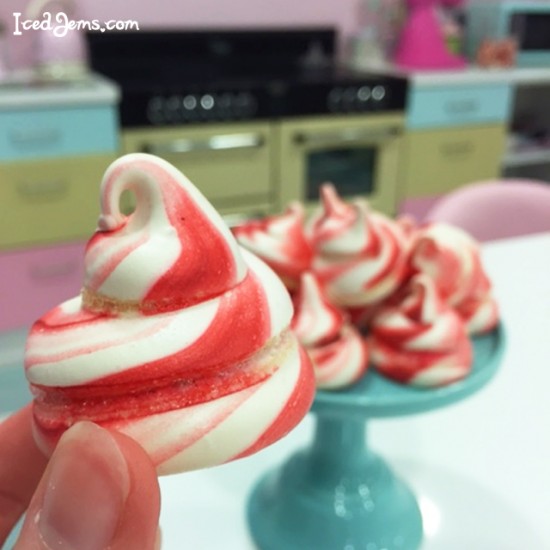 Meringue Kisses are a simple recipe once you know the common mistakes and a few tips to make them perfect!
My top tips for meringue kisses are;
Use icing sugar! It mixes in and dissolves a lot quicker and easier than its grainy counterpart – caster sugar.
Never open the oven door, unless you like you meringue kisses with cracks all over them (learnt this one the hard way).
Low and slow – the best meringues are cooked on a low temperature (100-120 degrees) for 40 minutes or so. I'm lucky enough to have a double oven, one with fan, one without. I found my meringues cooked better in the non-fan oven. Too high and you will see the meringues brown as soon as 5 minutes after you put them in.
When colouring, use pastes such as Sugarflair Food Paste Colours – as a general rule in baking, the watery food colours you can buy in mini bottles from the supermarkets, are useless. They'll water down your mixture and you'll never achieve a deep colour when using them.
Use a 2:1 Ratio, 2 parts icing sugar to 1 part egg whites.
[fancy_header]You will need (makes approx 30 meringue kisses):[/fancy_header]
150g Egg Whites (at room temperature)
300g Icing Sugar (you could use a flavoured icing sugar for getting unusual flavours)
Start by preheating your oven to 120 degrees (100 if using a fan assisted oven). Line three baking trays with greaseproof paper and set out on your worktop.
Pour your egg whites into a large bowl and mix on a low speed using the whisk attachment until you see bubbles. Now turn it up to high speed, and mix until you get stiff peaks.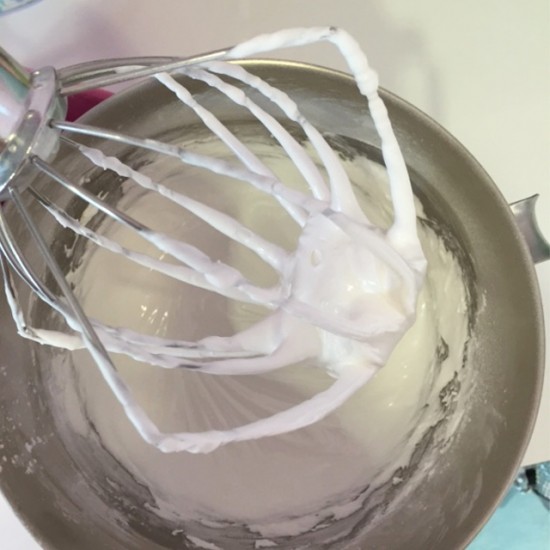 Add a large spoonful of your icing sugar to the egg whites, and mix until it returns to stiff peaks stage. Repeat until all your icing sugar has been mixed in.
Continue mixing your meringue for about 5 minutes after the last of the icing sugar has been added. You will know your meringue is ready when you pull the whisk up and a stiff peak has formed (that won't budge even if you turn it upside down)!
For the striped meringue kisses effect, I painted red food colouring into a disposable piping bag in three stripes using a paintbrush. You don't need a lot when using the paste colours.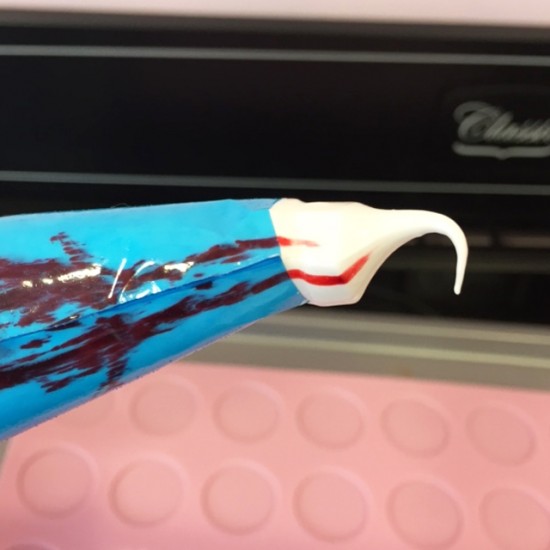 Spoon your meringue mixture into the bag, then snip off the end leaving an opening about 3cm wide. If you're confused at the macaron tray in the background here, I piped some of my kisses onto it to get perfectly even shapes! It worked a treat.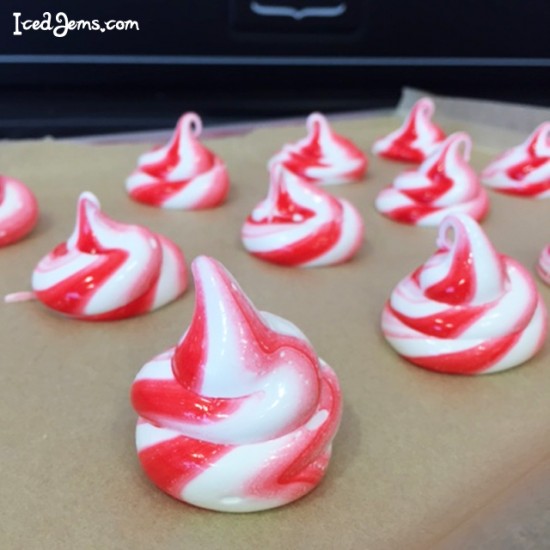 Pipe small round kisses onto your baking trays, mine were about 5-6cm diameter, I swirled the piping bag around giving a swirled effect to my kisses.
Place the baking tray in the centre of your oven and bake for around 40 minutes (but depending on your oven, they make take up to an hour). Now here's the catch, in an ideal world you would turn the oven off at the end of 40 minutes and leave the meringues in the oven until cold. But you have 2 more trays of kisses to bake! So just remove them and leave them on the tray until cool, but you can certainly leave your last batch in the turned off oven once cooked.
Now simply serve and enjoy! They should come clean off your greaseproof paper with no sticky residue left behind. These are great in eton mess, or on their own with some fresh cream or ganache!
Jem x