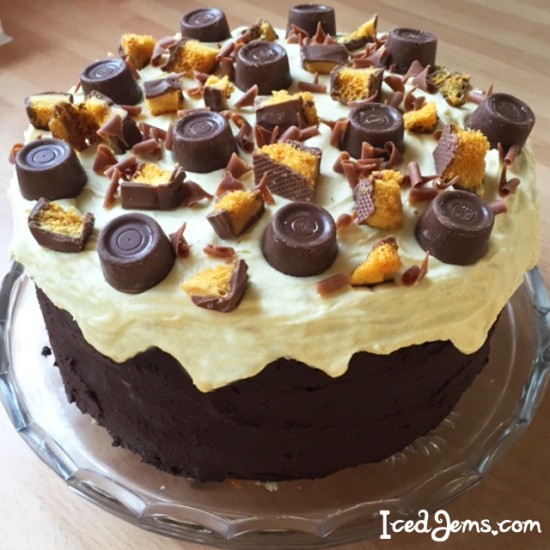 This the cake was the result of a rainy afternoon at my boyfriends house, we thought it might be fun to bake a cake together, using no fancy tools or ingredients (mainly because we were at his house and he had none! I find it really hard baking away from my kitchen and all the useful tools I've built up over the years, so this was a case of "be inspired by whatever you find in the supermarket."
Everything was mixed by hand, we didn't even have a palette knife for spreading the buttercream over the cake. The finished cake was actually really delicious, and the ingenious idea of using Rolo Puddings in the sponge mix worked out SO well!
You will need:
220g Caster Sugar
220g Unsalted Butter or Margarine
4 Medium Eggs
220g Self-Raising Flour
4 Tbsp Milk
2 70g Rolo Puddings (can be found in the yoghurt section of the supermarket, any chocolate caramel pudding would work)
To decorate:
250g Unsalted Butter (never use margarine for buttercream)
400g Icing Sugar
100g Cocoa Powder
4-5 Tbsp Milk or Single Cream
150g White Chocolate chopped (I used Milkybar)
50g Double Cream
1 Pack of Rolos
1 Crunchie Bar
Start by preheating your oven to 160 degrees, and line three 25cm round cake tins.
Cream together the butter and sugar, you must allow the butter to reach room temperature before doing this. Next add the eggs one a time, mixing well with a metal spoon or mixer.
Add the milk and self-raising flour, mix until you have a fairly thick cake batter.
Now add the 2 Rolo Puddings into the mixture and instead of thoroughly mixing it in, simply cut a knife through the mixture several times to give a marbled effect.
Pour the mixture into the cake tins, making sure to fill them about 1/2 – 2/3 full so the mixture doesn't spill over the edges when it rises. Bake in the middle of your preheated oven for approx 20-25 minutes (or until a cake tester comes out clean).
While your cakes are baking, you can make your buttercream and white chocolate ganache.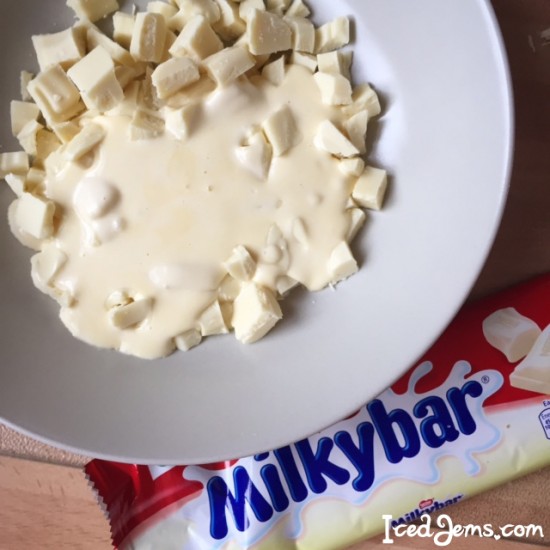 A lot of people have asked me about ganache since posting this picture on Facebook! So as a general rule, for white chocolate ganache you should use 3 parts white chocolate to 1 part cream, and for milk or dark, use 2 parts chocolate to 1 part cream.
Heat your double cream in a glass bowl over a saucepan of boiling water. Make sure you constantly stir the cream to avoid it burning.
Once reached boiling point, take off the heat and pour into a separate bowl over the white chocolate pieces. Stir thoroughly until the white chocolate completely melts and you have a thick mixture. Leave to cool and thicken further.
For the chocolate buttercream, place the unsalted butter (at room temperature), icing sugar, cocoa powder and milk in a large bowl and mix well until you have a smooth buttercream. If it seems too firm, just add a little more milk until it softens. Little tip here – if you are using a mixer, make sure you have a splash guard on or your entire kitchen will end up coated in icing sugar. If you are mixing by hand, just start slowly and build up speed once most of the icing sugar is mixed in.
Once the cakes are baked, remove from the oven and cool on a wire rack. Don't be tempted to start frosting your cakes until the sponges are completely cool! Warm sponges are extremely soft and nearly impossible to frost, not to mention your buttercream might end up melting.
When the cakes are cooled, trim off any uneven tops with a large sharp knife, this will make stacking and frosting them much easier.
Place your first sponge on a cake sand or flat plate, then spread a thick later of chocolate buttercream over the top. Place the second sponge layer on top, then repeat until all three are stacked on top of each other.
Use the remaining buttercream to coat the sides of the cake, using the flat side of a knife (or palette knife) to smooth it out.
Once the ganache has cooled and thickened, it should be easy to spread over the cake (without being so thin it drips completely over the edge). Spread over the top of the cake with a knife, feeling free to push it over the edges slightly.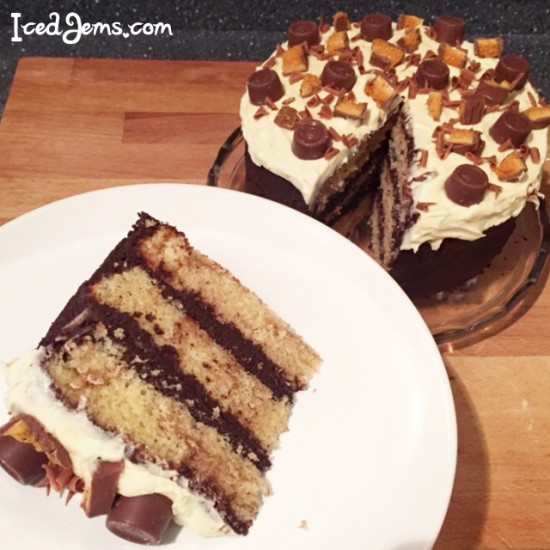 Finish by sprinkling your Crunchie Bar and Rolos on top of the ganache, then serve and enjoy!
Jem x