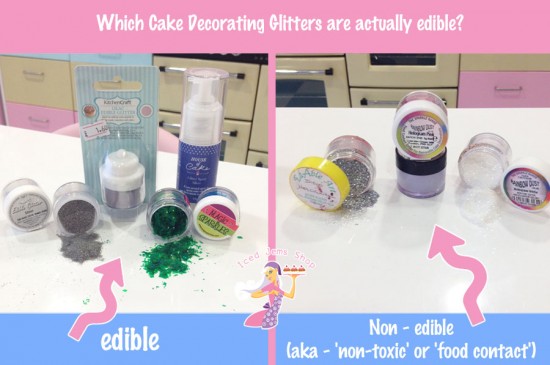 So I've wanted to write this post for a long time, as there is a lot of discussion around this subject and there doesn't seem to be a comprehensive explanation anywhere!
Firstly, the answer is yes and no depending on the brand. As someone with a cake decorating supply shop, I get asked this question a lot and fortunately I am always able to say yes, as I refuse to sell glitters that aren't edible.
However, there are a lot of brands that market their glitters to cake decorators as 'non-toxic' or 'food-contact', but these are not edible. You are supposed to remove them before you eat your cakes (someone please tell me how you would remove glitter from buttercream once its been added without ruining the whole cake?!).
The most famous case of edible glitter not actually being edible was EdAble Art Ltd. Their glitters were found to contain shredded plastic and powdered brass! They were taken to court and fined £13,000, but you will still see their glitters in a lot of cake shops so please be wary. They are usually recognisable from a yellow lid on the pot.
There are some great brands however who do a lovely range of edible glitters still that are perfectly fine to eat and use on your cakes. I've made a list below and pictured the glitters so you can see what they look like.
Edible Glitter Ranges
KitchenCraft Glitter Pots
Magic Sparkles Glitter Flakes
House of Cake Glitter Sprays
Rainbow Dust 5g Pots
Ranges that aren't edible!
EdAble Art Pots (with yellow lids)
Rainbow Dust Non-Toxic Glitter (Sparkle and Holographic Range)
My Favourite Edible Glitters!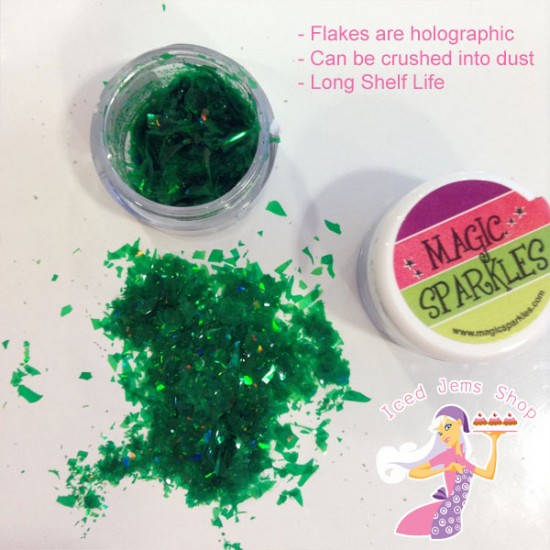 Magic Sparkles is a favourite glitter brand of mine because they are so bright and holographic. If flakes aren't your thing, they can be crushed up into dust. I sell these online and in store for £2.75 a pot.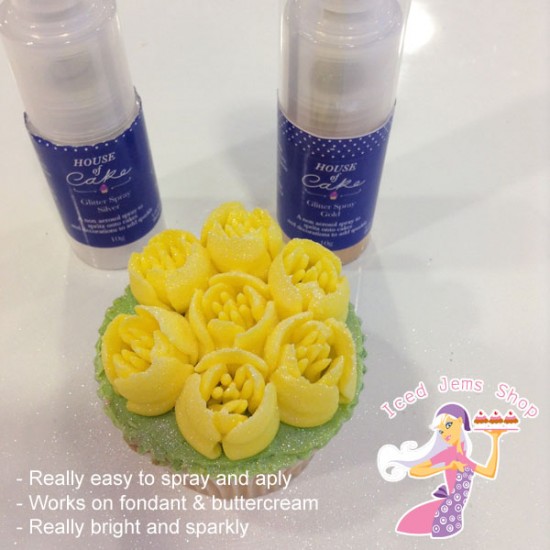 The glitter spray pumps from House of Cake are my second favourite! They are so bright and sparkly and easy to apply! As I couldn't show you the glitter by pouring out the pot, I took a photo of some sprayed onto a cupcake to give you an idea of the effect. These are a bit more expensive at £6.99, but I love mine and they give even coverage where sprinkling wouldn't. They are a much finer dust than the other glitters.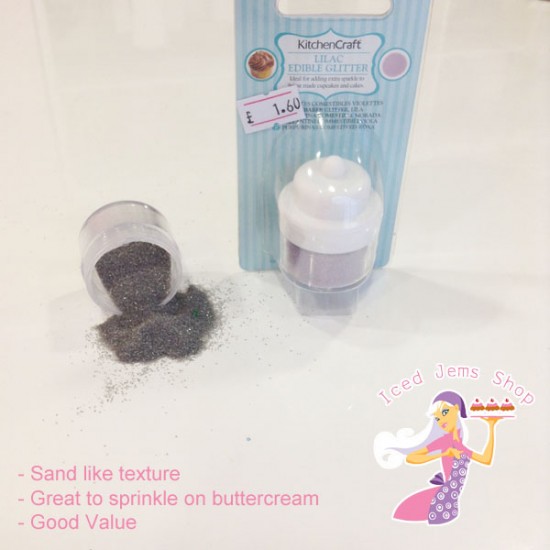 The edible glitter pots from Kitchencraft are also fab! These are a sand link consistency, you can simply sprinkle over buttercream or use with an edible glue on fondant. These are also really good value for money at just £1.60 a pot.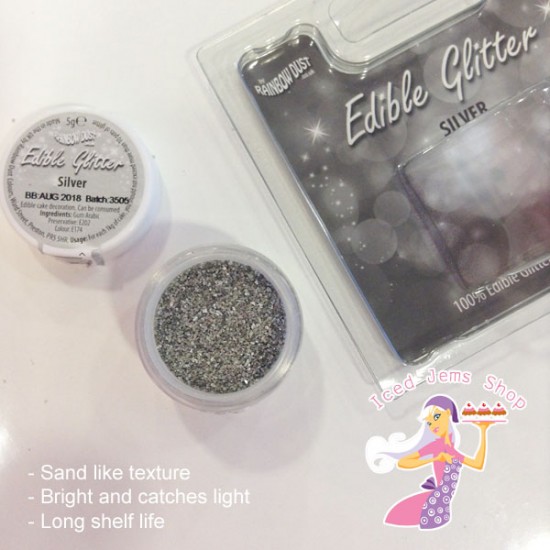 Next up is the edible glitter range from Rainbow Dust. These come last in my list because they are very similar to the Kitchencraft Pots, but not as good value for money. They also lose points for having a "non-toxic" range – in my opinion these sorts of glitters just shouldn't be marketed to cake decorators.
I hope this has been helpful for you! The rule of thumb is, if it says "non-toxic" or "food-contact" it shouldn't be eaten!
Jem x