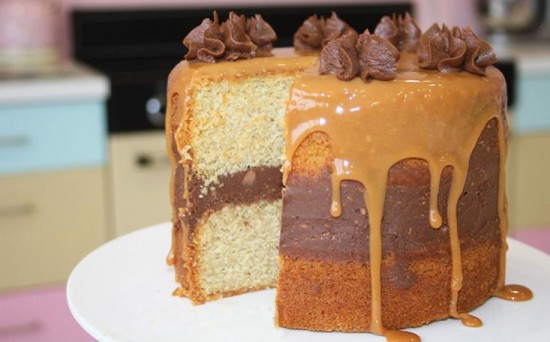 A delicious fluffy coffee flavoured sponge, filled with a rich chocolate mousse buttercream and topped with a homemade caramel drizzle.
For the 6" Coffee Cake
200g Butter
200g Caster Sugar
4 Eggs
200g Self Raising Flour
1 Teaspoon Baking Powder
2 Tbsp Coffee Granules
2 Tbsp Boiling Water
For the Chocolate Mousse Buttercream
225g Milk or Dark Chocolate
180ml Double Cream
1 Tbsp Golden Syrup
200g Stork with Butter
For the Caramel Drizzle
125g Caster Sugar
2 Tbsp Water
70g Double Cream
25g Butter
Equipment
Deep 6" Cake Tins
Disposable Piping Bag
Star Piping Nozzle (optional for decoration)
Preheat your oven to approx 170 degrees (160 for fan assisted ovens) and grease two 6" cake tins. In a small bowl, dissolve the tbsp of coffee granules into the boiling water and set aside to cool.
Cream together your Stork with Butter and Sugar until well combined (not need to soften the butter, Stork with butter is soft enough to use straight from the fridge).
Pop in your eggs and the cooled coffee mixture, then mix on a high speed for approx 2 minutes until you have a golden brown batter.
Finally add the self raising flour and baking powder, mixing for a final time until you a have thick batter. Pour the mixture into your lined cake tins, and bake in the middle of the oven for approx 30 minutes (or until a cake tester comes out clean). Remove from the baking tins and set on a wire rack to cool.
For the chocolate mousse buttercream, chop your chocolate into small chunks and set aside in a bowl, ready to pour into you hot cream later.
Heat your double cream and golden syrup in a saucepan over a low heat until bubbling. Pour in the chocolate and stir until melted, remove from heat.
Pour your chocolate mixture into a mixer bowl, and add the 200g of Stork with Butter. Mix using a whisk attachment (or using a hand mixer) until light and fluffy, then transfer to the fridge to firm for approx 30 minutes.
After 30 minutes in the fridge, remove the chocolate mousse buttercream and whisk again for a few minutes, until it becomes light and fluffy.
For the caramel drizzle, heat the caster sugar, water, double cream and Stork with butter in a small saucepan over a medium heat, stirring constantly until you have a thick caramel coloured sauce. Remove from heat and allow to cool and thicken further.
Once your coffee sponge has cooled, place onto a flat work surface and use a sharp knife to cut off any domed top leaving a perfectly flat base to stack your sponges.
Place one of the sponges on a cake stand or board, and top with your chocolate mousse buttercream (leaving a small amount to decorate the top of your cake later). Spread the mousse out to the edges of the cake using a palette knife.
Top with the second coffee sponge, and press down firmly to push the mousse out over the edges of the sponge slightly. Use a palette knife to scrape the excess mousse around the sides of the sponge.
Pour your cooled caramel drizzle over the top of the sponge, spreading over the edges with your palette knife and allowing to drip over the top of the cake.
Finish by putting the remaining mousse into a piping bag with a star piping tip, and pipe a few finishing touches on top of the caramel.