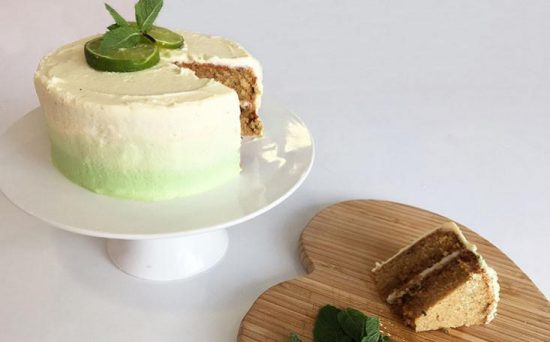 Mojito Cake (Makes a 6" Cake)
For the Sugar Syrup
150g Light Muscavado Sugar
Juice & Zest of 2 Limes
75ml of White Rum (or water for an alcohol free version)
Few Mint Leaves to infuse
For the Cake
175g Butter
175g Light Muscavado Sugar
4 Medium Eggs
20ml Milk
175g Self Raising Flour
10 Mint Leaves (chopped)
For the Frosting
300g Stork with Butter
600g Icing Sugar
Juice of 1/2 Lime
Green Food Colouring
Few Slices of Fresh Lime
Few Fresh Mint Leaves
A delicious summer twist on your regular sponge cake, this Mojito Cake is full of flavour and a definite crowd pleaser. From the mint infused sponge to the fresh lime buttercream, this will leave your mouth watering and you wanting a second slice.
Start by making your sugar syrup, as this will need time to cool and thicken before brushing over your sponge. Place the Sugar, Juice and Zest of 2 Limes and White Rum into a saucepan and heat until bubbling and starting to reduce. Take off the heat and leave to cool and become a thick syrup.
For the sponge, preheat your oven to approx 160 degrees and line and grease a 6" Round Cake Tin.
Cream together your Butter and Light Muscavado Sugar in a large bowl or stand mixer until smooth. Next add the eggs and Milk, mixing on a high speed if using a mixer until well combined.
Next add the flour and mix again until you have a smooth thick batter that it light brown in colour. Chop your mint leaves finely, then pour into the sponge and stir through.
Pour your cake batter into your tin (make sure your tin is about 3" deep or bake it in 2 separate halves). Place in the middle of your oven and bake for approx 45 minutes to an hour, or until a cake tester comes out clean. Turn out on a wire rack and cool.
Once cool, cut your cake into two layers, and trim the top to give it an even flat top. Spread the Sugar Syrup you made earlier over both layers using a pastry brush, being sure to give it a generous coating.
Make your buttercream by mixing the Stork with Butter, Icing Sugar and Lime Juice in a large bowl or stand mixer until thick and creamy. Separate into three bowls, colour one bowl a light green and another bowl a slightly darker green.
Sandwich the two layers of cake together using a thin layer of buttercream, then give your cake a crumb coat by spreading a thin layer of buttercream over all the edges of the cake.
For your final decoration, spoon a layer of darker green buttercream around the bottom ring of the cake, followed by a layer of lighter green and finally followed by a ring of white. Use a palette knife or scraper to smooth the edges out and blend the colours together to give an ombre effect.
Spread a layer of white buttercream over the top of the cake, and finish with a few slices of fresh lime and mint leaves.
Enjoy!
Jem x