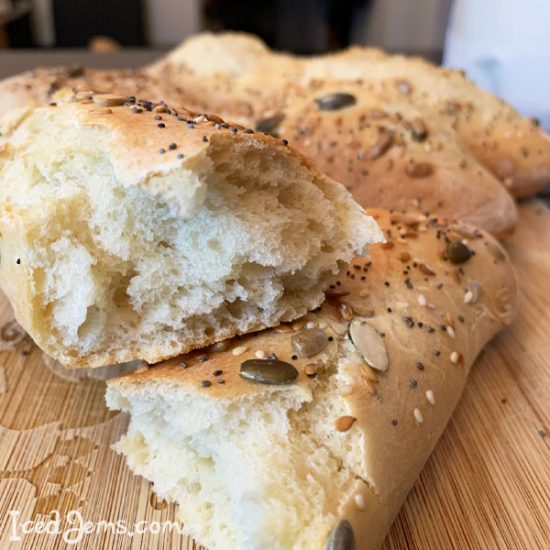 Well my Bread Baking game has been strong recently thanks to the UK lockdown. Loads of people have been struggling to get Bread Flour and Yeast, as a trade store I have access to Bakery wholesalers, so I've been able to get some basic essential ingredients and have added these onto our  shop website for sale nationally. We are doing everything we can to help at Iced Jems during this strange time, so thankyou for your continued support!
If you want to buy Flour an Yeast (in the UK) click here.
Lots of people are trying Bread Making for the first time which is so exciting, here's a really simple recipe you can use for the Bread Flour and Yeast for delicious Seeded White Baguettes. You could easily make this into smaller rolls instead, or top with oats / sesame seeds / leave plain if you prefer.
One thing to note! I did use a kMix Mixer but I could not for the life of me find a dough hook so I used my K mixer beater and it worked a treat. So if you don't have a machine with a dough hook you can use a normal mixer or knead by hand.
Ingredients (makes 4 long baguettes):
340ml Room Temperature Water
7g Dried Yeast
500g White Bread Flour
2 Tbsp Extra Virgin Olive Oil (or regular olive oil works great too)
10g Salt (any will do but I love the flakes if you can get them)
3 Tbsp Seeds (I had; Pumpkin, Sunflower, Hemp, Poppy, Chia and Flax – but any mix will do)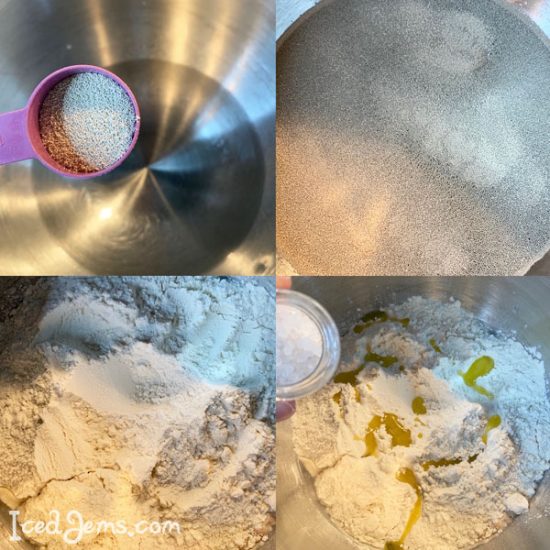 Pour 340ml room temperature water into a large mixing bowl and sprinkle the yeast on top. I leave it for a few minutes to absorb a little, but there's no need to mix it in.
Next pour over the bread flour, olive oil and salt. Mix for approx 5 minutes on a slow speed.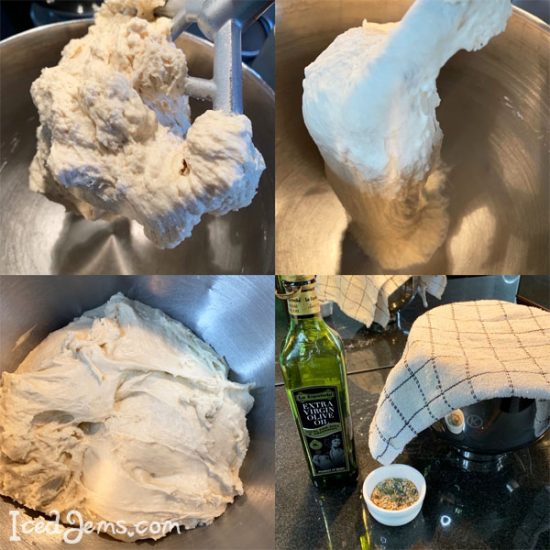 Pull all the dough from the hook (or beater) and bring to the middle of the bowl, then mix again for another 5 minutes on a slightly faster speed, until the dough becomes thick and stretchy. You should be able to stretch it without it it tearing and breaking.
Pull the dough off the hook (or beater) again and place a tea towel over the bowl and pop somewhere warmish (basically anywhere that isn't cold) for approx 1-2 hours until the dough has risen and doubled in size. As I did this in March in England and the heaters weren't on, it took the full 2 hours.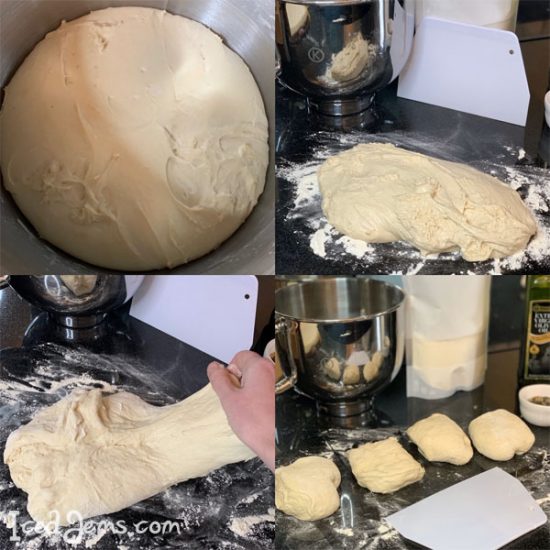 Once the dough has risen, lightly flour a surface and place the dough on top (making you've scraped every last bit from the bowl). Pull and knead the dough a few times then bring back together in a large ball. Cut into 4 equal shaped portions if you are doing baguettes (or 8 portions for smaller rolls).
Pull and knead each portion a couple of times and bring back into a ball shape before rolling into a longer sausage shape and placing on a large baking tray. Cover the tray loosely with a a tea towel and leave the baguette shapes to double in size again in a warmish area.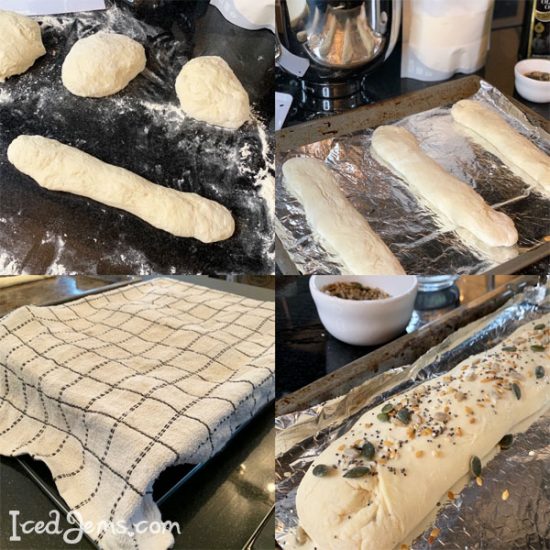 While the baguettes are proving for their final time you can preheat your oven to approx 210 degrees (for a fan assisted oven, higher for non fan). It's a well known trick that for a nice crispy bread, you can put a baking tray full of water at the bottom of your oven whilst baking to create steam and improve the finish of bread. I put this tray in now while the oven is preheating so that that it's nice and steamy once I put my baguettes in.
Once the baguettes are ready, sprinkle a little water (or olive oil) over the tops and then sprinkle over your seed mix if you are adding this. Bake for approx 18-20 minutes, but do check on them as everyones oven is different and they will be ready once lightly golden.
Place them on a cooling rack once baked, and try your best to resist eating them all in one sitting. For my first one, I dipped it in balsamic vinegar and olive oil.
Enjoy!
Jem x