Welcome to another month of #Icedjemscakeclub ! March's box has the most perfect spring-feel to it and contains goodies which can be used for a number of themes 🙂 In this box you'll find:
Birds & the Bees Sprinkle Mix
A Honeycomb Sugarcraft Mould
A Butterfly Stencil
A Bee Sugarcraft Mould
Hexagonal Cutters
Picket Fence Washi Tape
A Glitter Bee Topper
A long-awaited honeycomb mould has arrived at Iced Jems just in time for spring! Spray the mould with a small amount of cake release from about an arm's length away and fill with fondant (you can also use chocolate/candy melts/florist paste/isomalt etc). Gently peel back the mould to reveal the gorgeous honeycomb!

For best results with our beautiful new stencil, use it on fresh fondant! To create clean lines and to ensure no colour runs under the stencil, secure it down by applying a little pressure using a rolling pin. You can use dusts, paint or food colouring but for this tutorial, we used our range of lustre dusts as they blend beautifully! For more control on the smaller details, use a finer paintbrush but for large sections, you're best to use a large dusting brush.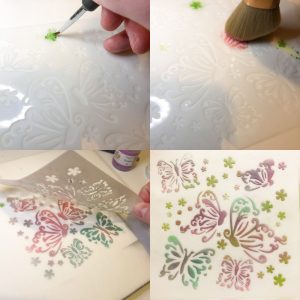 Spray a little cake release into the mould and fill with some fondant – the bees should pop right out 🙂 After allowing some time for the bees to firm up, mix up some yellow and black lustre dust with rejuvenator spirit and paint them using fine paintbrushes. These little bees look perfect on top of cupcakes, larger cakes and even cake popsicles!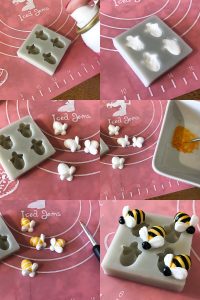 We thought this set of hexagonal cutters would fit in with this month's box perfectly. To use these cutters, roll out your fondant to about 4mm thickness and firmly press the cutters into it. For sharp & clean cuts, roll your rolling pin over it a couple of times, applying lots of pressure!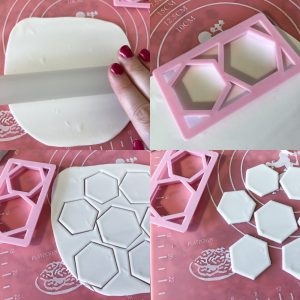 To create these beehive style cupcakes, I tinted some buttercream using melon sugarflair colouring and filled a piping bag fitted with a large round tip. I covered a cupcake with a thin layer of buttercream and piped the first ring of buttercream. Keep building up your layers until you have a beehive 🙂 Top the cupcakes with some broken pieces of honeycomb and little sugarcraft bees.
For some super quick cupcakes, tint some buttercream with party green sugarflair colouring. Fit a piping bag with a grass/hair piping tip. It's essential to cover the exposed cupcake with a thin layer of buttercream so that the buttercream has something to stick to! To pipe grass, squeeze the bag and when the strands are long enough, stop the pressure and pull the tip away. This doesn't have to be neat and tidy, in face I think it looks better when the grass is a bit more "wild"! Top with some of the sprinkles from the next mix and top with bees.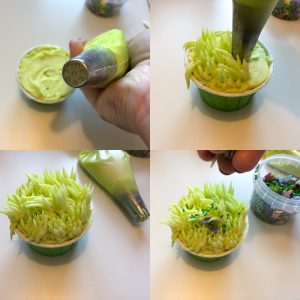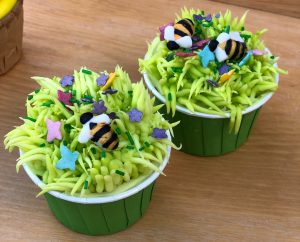 But of course, what would an Iced Jems cake club box be without a new washi tape design? This adorable self adhesive tape is the perfect width for cake drums but is also perfect for embellishing cake & treat boxes.
Another new edition to our ever-expanding glitter toppers 🙂 Our gold bee topper looks beautiful on top of cakes and really tie it all together!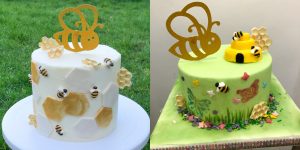 We hope you enjoy this box! Can't wait to see what you all get up to – if you share your creations on social media, make sure you use the hashtag #icedjemscakeclub so we can see what you've made!
Jem x