Happy Sunday!  Grab yourself a cuppa and get ready to sit back in awe at the talent of The Sugarpaste Fairy (and you will need to be sitting down)!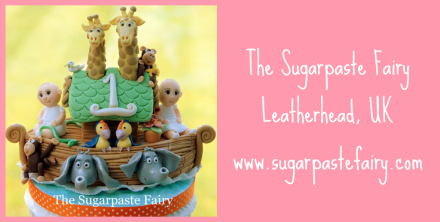 Tell me a bit about yourself: I'm originally from Toronto, Canada, but have been living in the UK for 15 years.  I've always loved art – painting, drawing, anything crafty and I wanted to study architecture, but was rubbish at Maths, so at university I did a teaching degree. Then I moved over here and taught primary school in North London for 6 years.
I tried to make my first cake for my daughters Christening and the fondant was a lot harder to use than I had thought it would be!  But over the years, and through making cakes for my 4 children (ages 2, 4, 7 and 9) I had more practice and started to learn from experience.

I've really wanted to take a course or at least some classes in cake decorating, but just never have had the time!  Now that my youngest is at nursery I'm signing up!
My friends started telling me that I should start a cake business so about 4 years ago I had some business cards printed up and called myself 'Jacquie's Cakes'.  It has grown fairly steadily since then and I get a lot of repeat orders which is lovely!  I think what I enjoy the most about it is seeing the looks on people's faces when they get their cakes.  But I'm always anxious too, just before I hand a cake off – hoping that they will like it.

My worst moments have been down to my own children ruining cakes – at around the age of 2 they've all managed to destroy at least one!  One of my daughters once stuck her finger into the middle of a photo image cake (and since there wasn't time to have it re-printed, I had to touch it up by hand with a paint brush!)  And my son grabbed the straps on one of the sugarpaste shoes I had spent hours making. just as I was leaving to deliver it!  I had to ring the lady and explain that I needed another 3 hours to 'fix' it.  Fortunately she had a toddler of her own and was very understanding!!!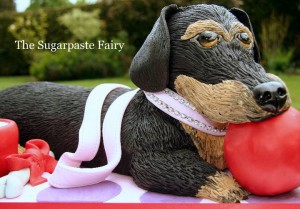 Which is your favourite cake creation?  The Jimmy Choo shoe cake – despite the toddler disaster, the LV handbag – even though it took hours to paint the design on, and it's so hard to choose because I have connection to them all in one way or another, but the T-Rex and the life-size Dachshund too.  They were for a local celebrity's twins, and the event organiser rang me on a Wednesday (with very specific requests for big, detailed cakes) for the following Sunday!  So for 3 days I did nothing else!

Until now, because the children have been little, I've only been able to do 1-2 cakes per week but now that they're all at school I've decided to have a real go of it!  I changed the business name to 'The Sugarpaste Fairy', which the children came up with. At the same time I started up my Facebook page and discovered how many amazingly talented and inspiring people there are on Facebook.  It's dangerously addictive!  And although I think it's really worthwhile and helpful to get ideas for cakes from other people, I think it's so satisfying to come up with unique designs – I'd like to do more of that in future.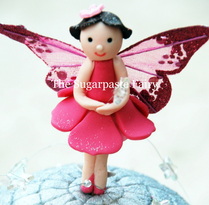 Thanks so much Jacquie for sharing your fantastic designs and story! I am still in awe over some of the detail I am seeing! You do not need to sign up for a cake class!
Make sure you check out the Sugarpaste Fairy Website and Facebook group now to keep up with the jaw-dropping designs!
Do you want to be featured on Spotlight Sunday? If you love to make and share cakes or other sweet things then we're interested! Email jemma@icedjems.com with a few details and a link to your site for a chance to be featured!
Jem x