[fblike layout="box_count" show_faces="false" action="like" font="trebuchet+ms" colorscheme="light"][tweet username="icedjemsltd" layout="vertical"][stumbleupon layout="5″]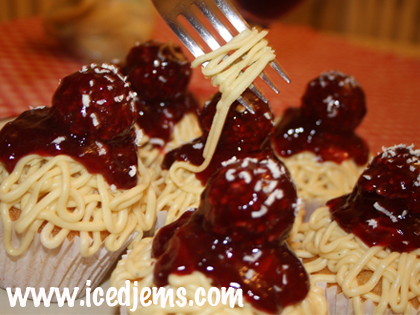 For those of you that didn't catch this tutorial on my Groupon Blog, I thought I would share this fabulous step-by-step for Faux Spaghetti Meatball Cupcakes!Now obviously these aren't real meatballs – they're Fererro Rocher covered in Jam!
[fancy_header]You will need (makes 12 cupcakes):[/fancy_header]
12 x Vanilla Cupcakes
1 Cup Vanilla Buttercream / Frosting
1/2 Tsp Cocoa Powder
12 x Fererro Rocher Chocolates
1/2 Jar Raspberry or Strawberry Jam
Tiny Amount of White Chocolate (Grated)

You will need to start by making the "Spaghetti" buttercream. To make a pasta colour, add a tiny amount of cocoa powder to vanilla buttercream and mix thoroughly. Then transfer the buttercream to a food bag.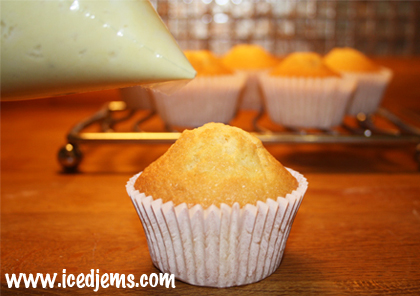 Snip off a tiny corner from the food bag to allow the buttercream through.

Then pipe all over the cupcake, don't worry about going over the edges as this adds to the effect!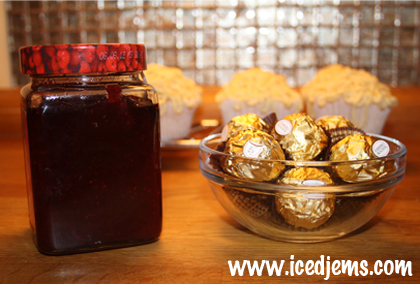 Now its time to make your meatballs!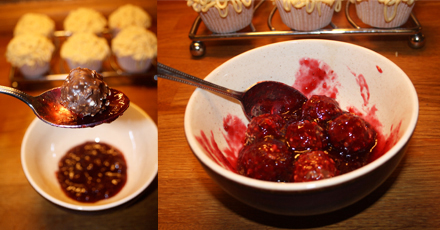 Transfer your Jam to a bowl them add the Ferrero Rocher and mix around until they are completely coated.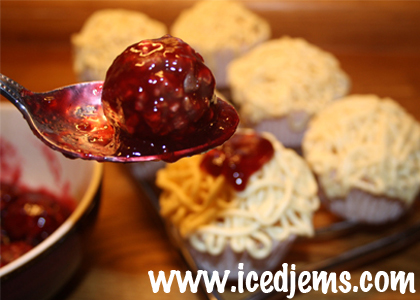 Drop a little Jam onto a cupcake then add a Jam coated Ferrero Rocher.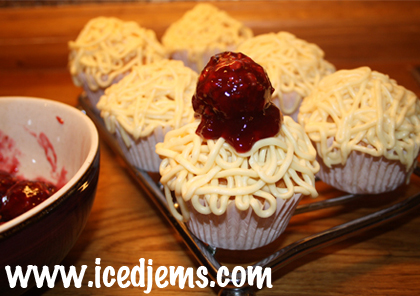 Add a little extra Jam for effect if you need to.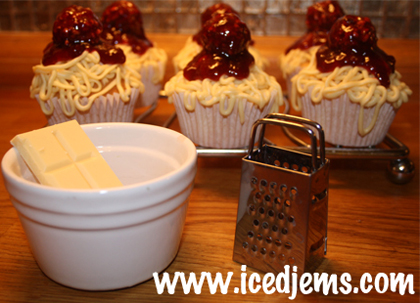 The final fun part – grate a little white chocolate on to look like parmesan!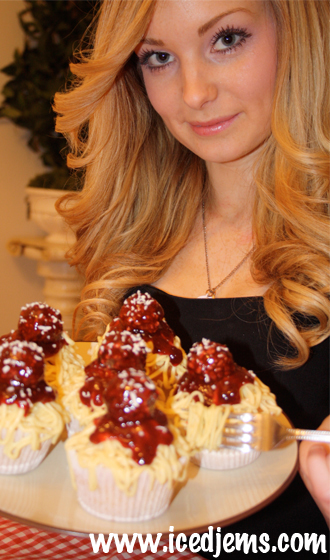 Tada! Spaghetti Meatball Cupcakes – I even piped a little leftover buttercream onto a fork to make it look extra realistic!
Happy Baking!
Jem x
[fblike layout="box_count" show_faces="false" action="like" font="trebuchet+ms" colorscheme="light"][tweet username="icedjemsltd" layout="vertical"][stumbleupon layout="5″]