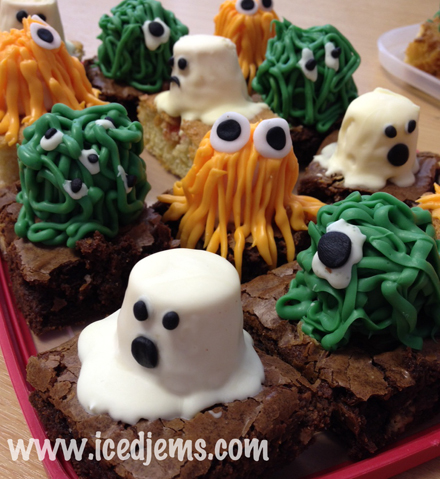 I made these awesome and simple Halloween Brownies last night ready for the weekend, what do you think? They are so simple to make! All you need is Brownies, Marshmallows and Candy Melts!
YOU WILL NEED (MAKES 20 BROWNIES):
175g Dark or Plain Chocolate
125g Butter
225g Caster Sugar
2 Tsp Vanilla Essence
2 Medium Eggs
150g Plain Flour
20 Marshmallows
Green and Orange Candy Melts
White Chocolate
Small amount of white & black fondant icing for eyes
Preheat your oven to 175 degrees. Start by chopping your Dark or Plain Chocolate into pieces.
Melt together the Butter and Dark Chocolate in a glass bowl over a saucepan of boiling water, stirring continuously with a wooden spoon to prevent any burning.
Once melted, remove from the glass bowl from the heat and pour in the Vanilla Essence and Caster Sugar. Stir gently until you have a nice thick Brownie Batter.
Next add your Eggs, mixing in more vigorously now – you should have a gloopy mixture at this point. Now pour in the plain flour and fold with a metal spoon until fully combined.
Pour the mix into a greased baking tray, and bake in the oven for approx 25 minutes. Don't be afraid to take the brownies out of the oven at this time if they are still gooey, they'll carry on cooking once you take them out and the best brownies have a gooey centre anyway!
Once your brownies are out of the oven, place on a cooling rack until cool enough to slice into squares.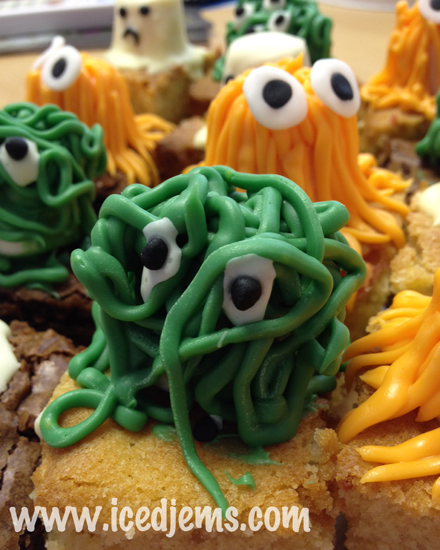 Grab a brownie and pop a marshmallow on top securing it with a little melted chocolate then decorate into Monsters or Ghosts using Candy Melts!
For the green and orange monsters, I melted the candy melts, then popped them into a ziplock bag and snipped off a tiny corner. I then piped the Candy Melts all over the Marshmallows and added Fondant Icing eyes.


They would look great at Halloween Parties or for some very lucky Trick or Treaters!
Happy Baking!
Jem x