[fblike layout="box_count" show_faces="false" action="like" font="trebuchet+ms" colorscheme="light"][tweet username="icedjemsltd" layout="vertical"][stumbleupon layout="5″]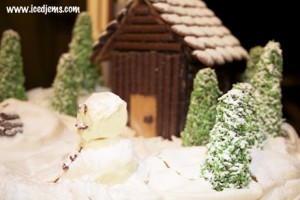 This awesome edible snow scene only uses simple techniques so can be made by the whole family! Big thanks to Chris White who was also the creative genius on this one!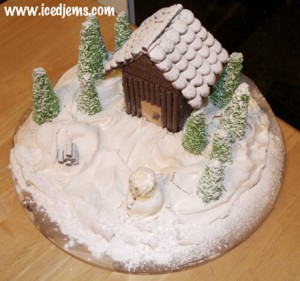 From the Meringue base, to the Matchmakers Cabin filled with Raspberries & Cream to the Ice Cream Cone Coconut Trees it's the tastiest snow scene you will ever make!
You will need:
6 Egg Whites
12 ounces (330grams) Caster Sugar
7/8 Ice Cream Cones
12oz Dark Chocolate
1 Pack Desiccated Coconut
Green Food Colouring
1 Pack Ice Cream Wafers
2 Boxes of Matchmakers or Chocolate Sticks
3 Packs of Milk Chocolate Buttons
Icing Sugar to dust
Optional: White Chocolate for a Snowman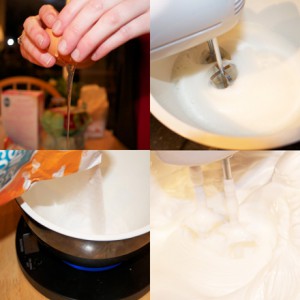 First you need to make your Meringue base, to do this whisk 6 egg whites until they form stiff peaks. Then add in the Caster Sugar a spoonful at a time, continually whisking whilst doing so.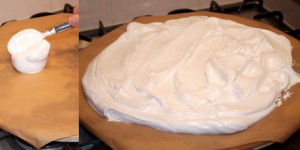 When the Meringue is nice and glossy, spoon it in a circular shape onto a baking tray (or we used a pizza stone). Don't worry about it being tidy, the messier the better, as lumps look like mounds of snow! Bake it in the oven at 150 degrees for 45 minutes, then turn off the oven and leave it in there for about 30 minutes while you make your trees and cabin.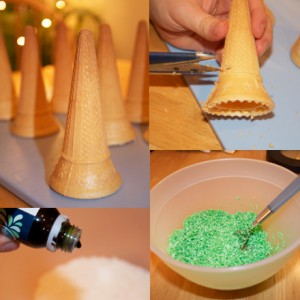 To make the yummy Christmas Trees, cut the bottom off 7 or 8 Ice Cream Cones for the base. For the decoration, colour the desiccated Coconut Green by adding a few drops of Green Food Colouring and adding it to the bowl.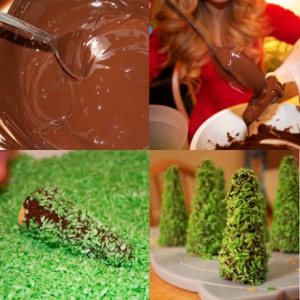 Now the fun part! Melt your half your Dark Chocolate then dip in an ice cream cone until it is completely covered. Next, roll the cone into the green coconut until covered and stand up leaving to dry.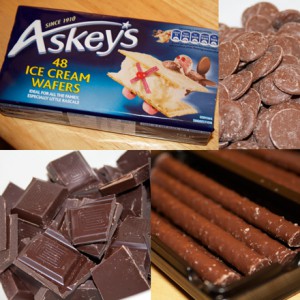 Now to make the tastiest log cabin ever! You will need the wafers, the second half of the dark chocolate, the matchmakers / chocolate sticks and the chocolate buttons. To make the four walls, put two wafers together and cover them in melted dark chocolate (so 8 wafers total). Then cover each wall in matchmakers/chocolate sticks leaving a space on one wall for a door (as shown below).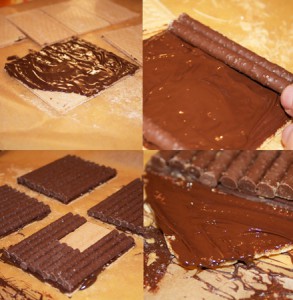 To make the roof, cover 2 sets of 2 wafers in melted dark chocolate, then layer the chocolate buttons on top to look like roof tiles, leave to set. Put your cabin together with the leftover melted chocolate but leave off the roof as we will need to fill it with cream and raspberries yet!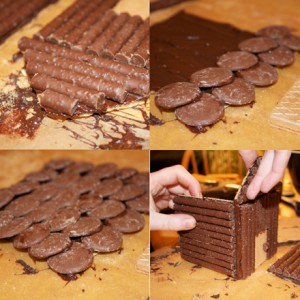 Now you can put it all together! We simply placed the Log Cabin on the Meringue and pressed down until it was firmly in place. For the Trees, simply place where you want and push down until secure. The Log Cabin would be boring on its own, so whip up some cream and Raspberries in a bowl to fill it with!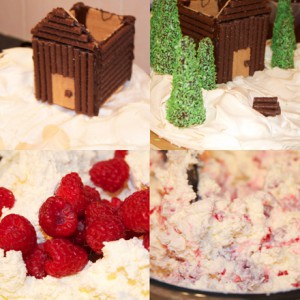 Spoon the cream and raspberry filling into the log cabin, then secure the roof on with melted chocolate! It should be looking pretty impressive by now! For a few finishing touches we added a few piled up matchmakers/chocolate sticks as logs and melted white chocolate into balls for a snowman!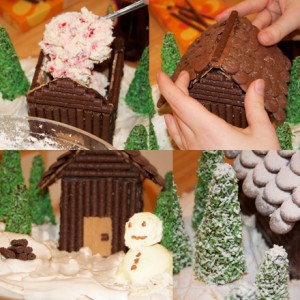 Finally, no snow scene would be complete without a fresh sprinkling of snow! Using a sieve, sprinkle Icing Sugar over the whole scene until it looks snow kissed.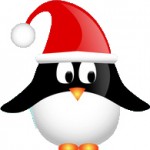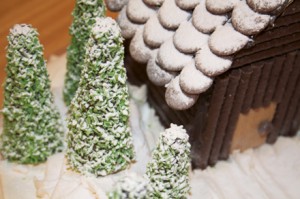 And there you have it! A beautiful snow scene, using simple techniques that tastes fantastic!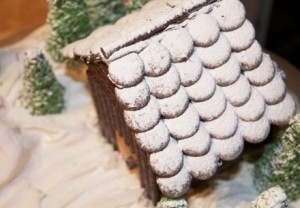 All that's left to do now is to tuck in!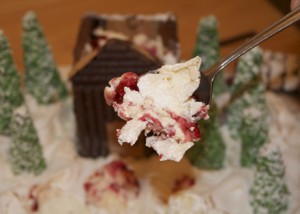 Yum!
Thanks again to Chris White my baking buddy!
Merry Christmas everyone! 🙂 Please feel free to post pictures of your Christmas Baking Projects to my Facebook Wall – I love to see them!
Jem x
[fblike layout="box_count" show_faces="false" action="like" font="trebuchet+ms" colorscheme="light"][tweet username="icedjemsltd" layout="vertical"][stumbleupon layout="5″]