[fblike layout="box_count" show_faces="false" action="like" font="trebuchet+ms" colorscheme="light"][tweet username="icedjemsltd" layout="vertical"][stumbleupon layout="5″]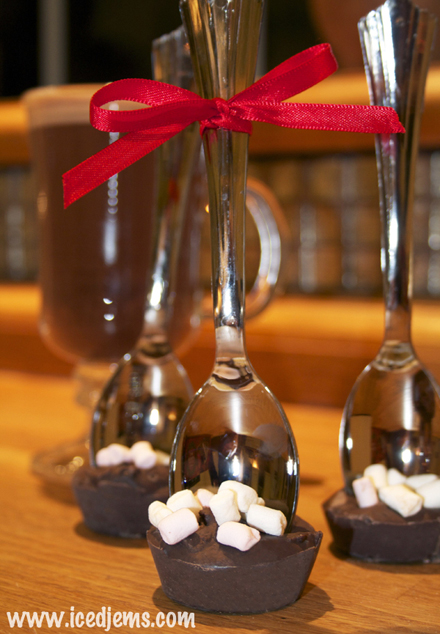 These Hot Chocolate Spoons are great for making in advance (or as gifts), the best part is all the flavour combinations you could come up with!
You should also check out my White Hot Chocolate Spoons Recipe!
Once made, heat a cup of milk and stir the spoon in for a perfect creamy Hot Chocolate!
To make 12, you will need:
8oz Dark Chocolate
1/2 Cup Icing Sugar
1/4 Cup Cocoa Powder
Mini Marshmallows
A Mini Muffin Pan or Chocolate Mould
Spoons & Ribbon (disposable spoons if you're giving these as gifts)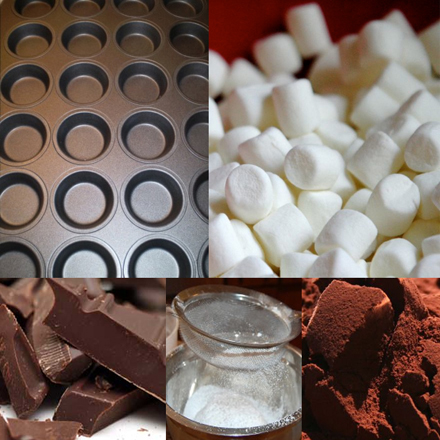 Simply melt your Chocolate in a large bowl, then stir in the Icing Sugar and Cocoa Powder until you get a thick mixture, nearly a dough like consistency.

Spoon it into your mould or mini muffin pan then stand up the spoons in the mixture before it sets (it will be thick enough for them to stand up, don't worry!)
Then sprinkle the Mini Marshmallows over and leave to set.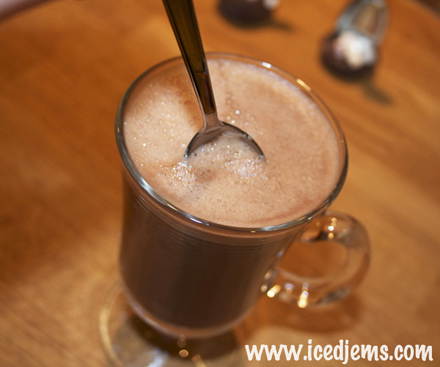 4. Now for the best part! Heat a cup of Milk then simply stir in the Hot Chocolate Spoon until fully melted and you have a creamy Hot Chocolate!
5. The great thing about these spoons are the possibilities! Why not try different flavours? Here's a few to start you off; Cinnamon Hot Chocolate, Chocolate Orange, White Chocolate, Chocolate Hazelnut…
Enjoy!
Jem x
[fblike layout="box_count" show_faces="false" action="like" font="trebuchet+ms" colorscheme="light"][tweet username="icedjemsltd" layout="vertical"][stumbleupon layout="5″]