[fblike layout="box_count" show_faces="false" action="like" font="trebuchet+ms" colorscheme="light"][tweet username="icedjemsltd" layout="vertical"][stumbleupon layout="5″]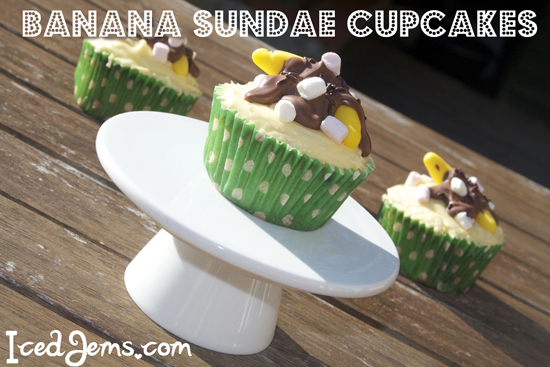 I love making these cupcakes, not only do they taste amazing but they are super cute! The mini bananas are made from fondant icing but you could use the mini foam banana sweets if you can get some!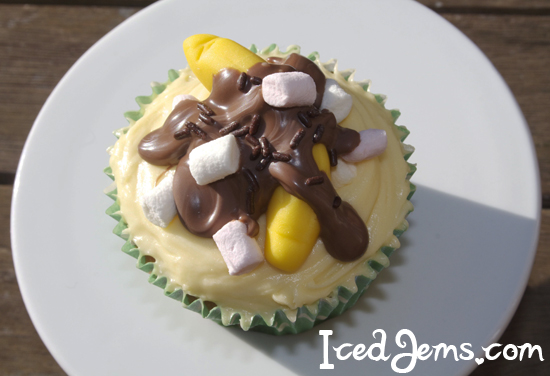 Here's the view from the top, buttercream, melted chocolate, a mini banana, marshmallows and sprinkles all top the Sundae themed Cupcake!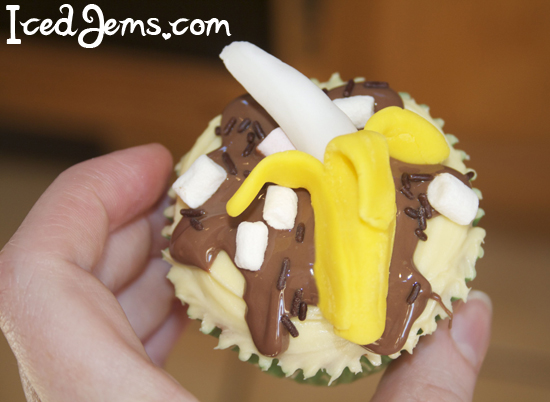 You could even make some cute peeled banana decorations, I have to give the credit to my boyfriend for thinking of this idea!
So, here's the recipe!
You will need (makes 30 cupcakes):
10oz Caster Sugar
10oz Butter
3 Eggs
2 Bananas (Ripe and Mashed)
4 Tbsp Milk
10oz Self-Raising Flour
150g Chocolate Chunks
1 Tub Vanilla Buttercream / Frosting
30 Banana Decorations (From Fondant Icing or use Foam Banana Sweets)
150g Melted Milk Chocolate
Mini Marshmallows
Chocolate Vermicelli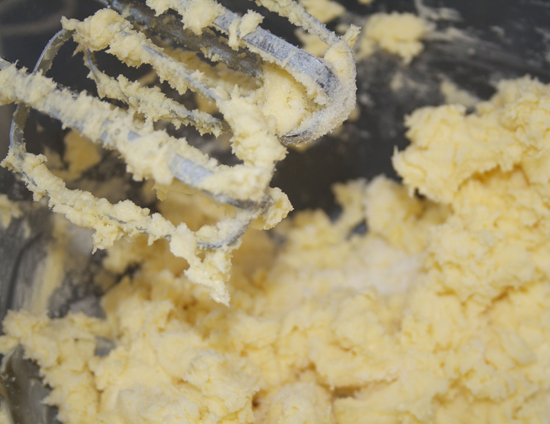 Preheat your oven to 170 degrees and line cupcake pans with paper cupcake liners. Cream together you butter and sugar until light and fluffy, use butter that has had a little while to cool (not straight from the fridge).
Mash your Bananas, then add them to your Butter Mixture along with the eggs and milk. Give a thorough mix until well combined.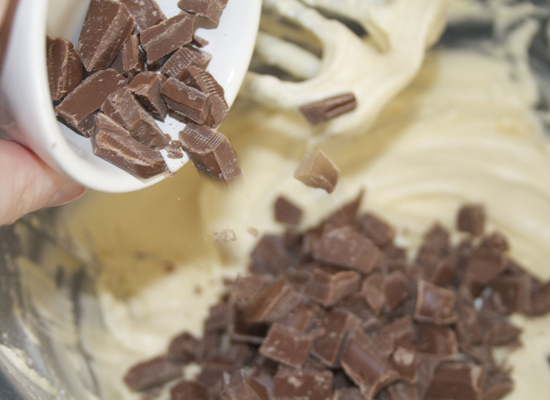 FInally add in the flour and Chocolate Chunks and give a final mix. Spoon a tablespoon of the mixture into cupcake cases and transfer to the oven for approx 2o mins.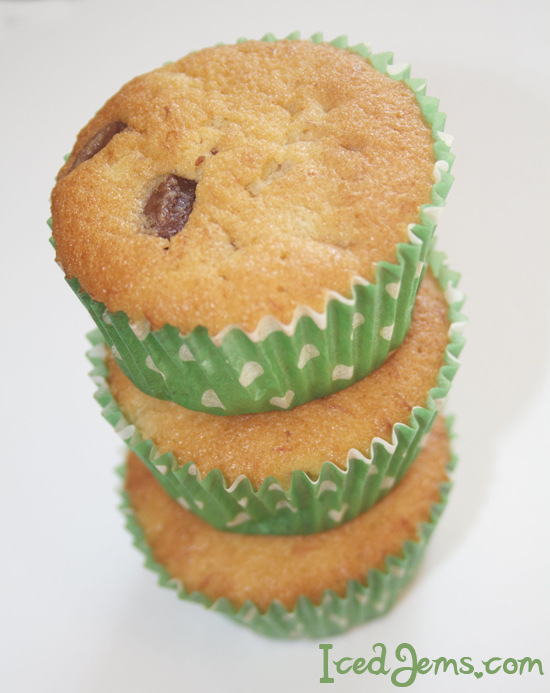 Once golden brown, remove the cupcakes from the oven and allow to cool. Make your buttercream while they are cooling (by mixing together Icing Sugar and Butter).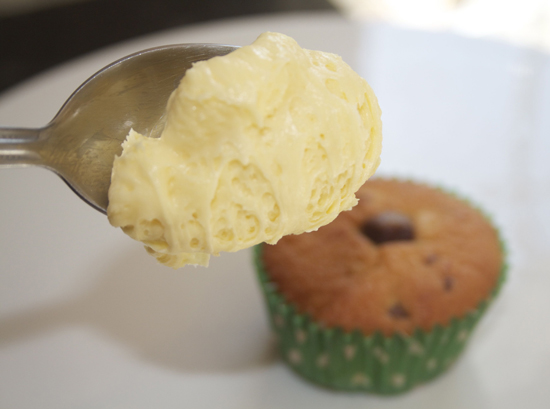 Spoon your Buttercream / Frosting over the cupcakes using a spoon. Use the back of the spoon to smooth the icing out, using circular movements to create a swirl.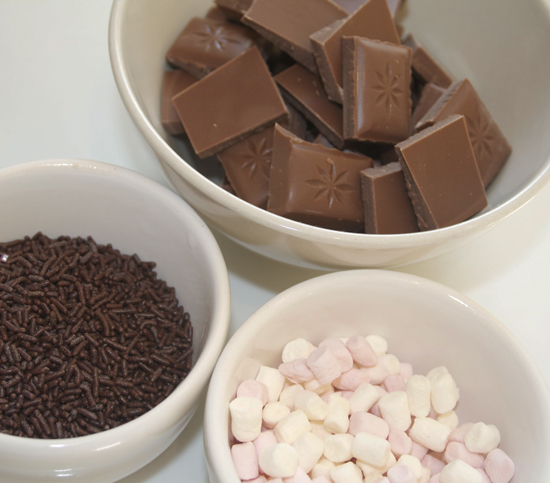 Now for the fun part! Melt your chocolate and get the Vermacelli and Mini Marshmallows ready, along with the fondant bananas or foam bananas.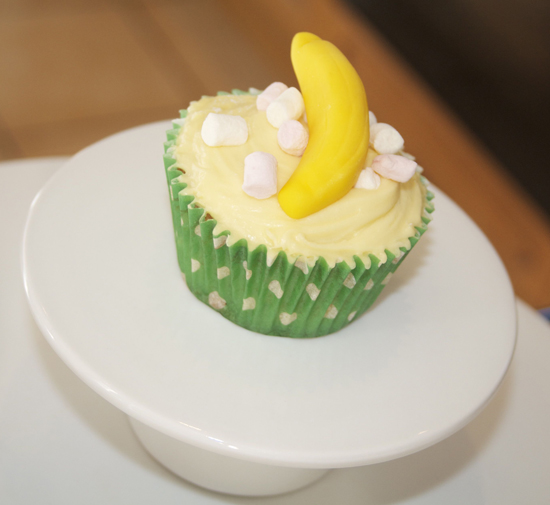 Place a banana and a few mini marshmallows on each cupcake.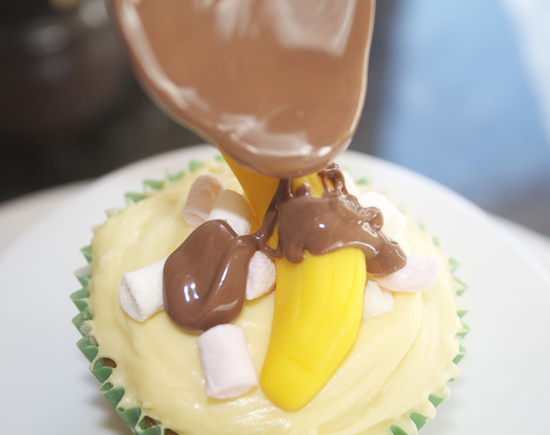 Then drizzle a teaspoon of melted chocolate over the top, sprinkling over a few more marshmallows and vermicelli before it sets!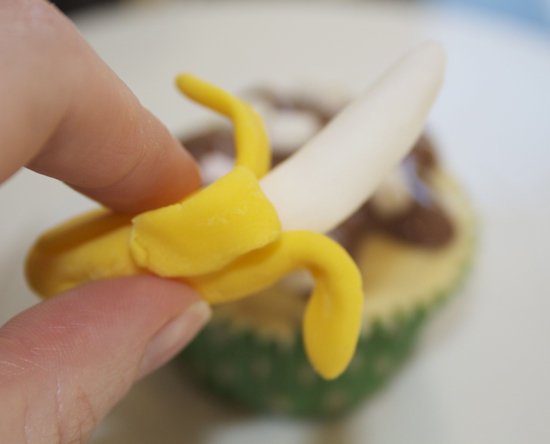 If you're thinking of making these cute peeled banana decorations, then put the melted chocolate, marshmallows and vermicelli on the cupcake first, then the banana!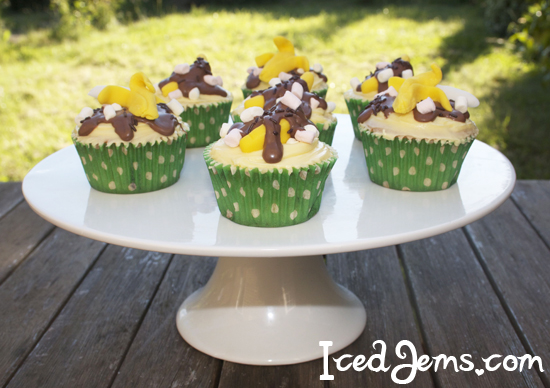 All done! They look so good and so cute! The ultimate mini dessert at a party!
Enjoy!
Jem x
[fblike layout="box_count" show_faces="false" action="like" font="trebuchet+ms" colorscheme="light"][tweet username="icedjemsltd" layout="vertical"][stumbleupon layout="5″]