[fblike layout="box_count" show_faces="false" action="like" font="trebuchet+ms" colorscheme="light"][tweet username="icedjemsltd" layout="vertical"][stumbleupon layout="5″]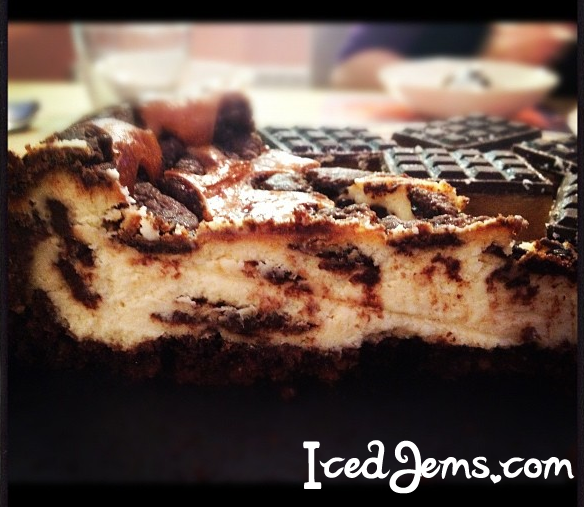 So baking my boyfriend a cheesecake every year for his birthday seems to becoming a bit of a tradition! Baked Cheesecakes are his favourite thing and I had to try and compete with the Baked White Chocolate Summer Fruits Cheesecake I made last year.
This Chocolate Chip Cheesecake has just the right amount chocolate chips and the use of digestive biscuits in the base gives it an extra chocolate boost.
[fancy_header]You Will Need:[/fancy_header]
3oog Chocolate Digestive Biscuits
150g Cup Caster Sugar
150g Cup Cocoa Powder
150g Cup Melted Butter
700g Cream Cheese (Philadelphia is best)
400g Condensed Milk
3 Eggs
2 Tsp Vanilla Essence
175g Chocolate Chips or Chocolate Drops
1 Tsp Plain Flour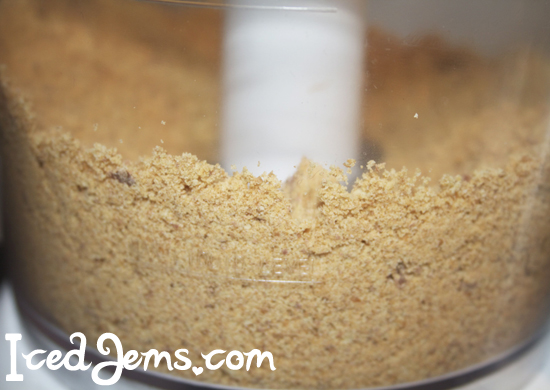 To start your cheesecake, make the chocolatey base! Start by emptying your Chocolate Digestive Biscuits into a food processor and blending until you have fine crumbs. If you don't have a food processor, you can put the biscuits in a ziplock bag and crush with the end of a rolling pin.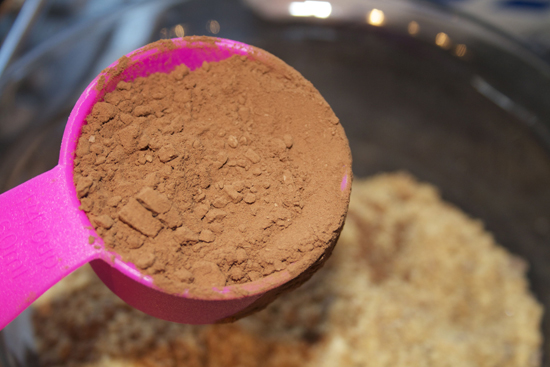 Empty the biscuit crumbs into a large bowl and pour in the Cocoa Powder.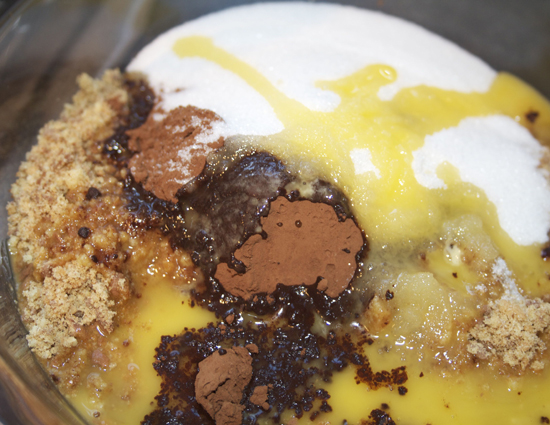 Then pour in the Caster Sugar and Melted Butter and stir until you get a sticky biscuit mix.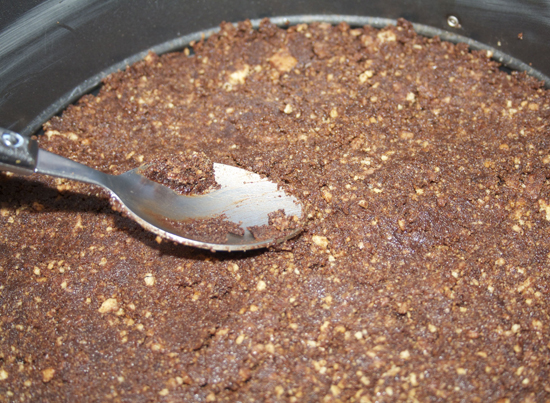 Press the mixture down into the base of a greased baking tin, saving about 1/3 of the mixture to press up the sides of the tin.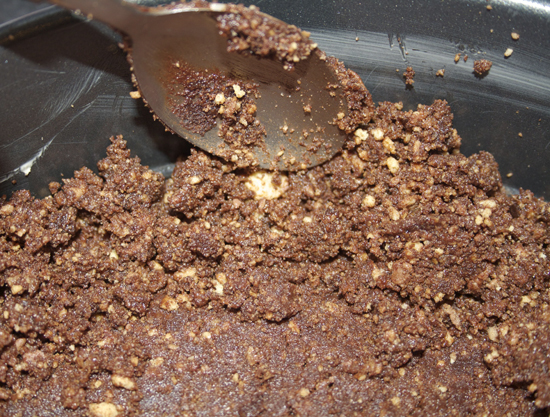 Once the base is covered, spoon the rest of the mixture around the edge and spread up the sides using the back of a spoon. Once finished, pop into the fridge to set.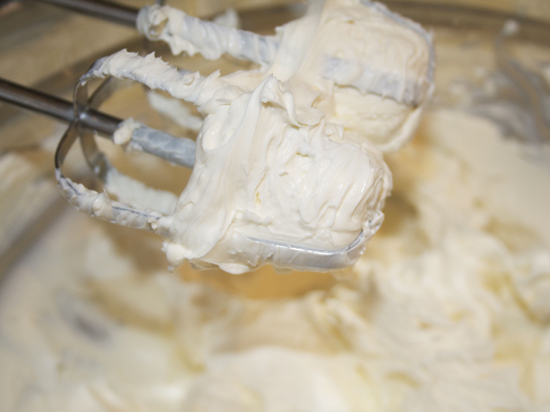 Now you can preheat your oven to 150 degrees, then beat your cream cheese in a large bowl until it is smooth.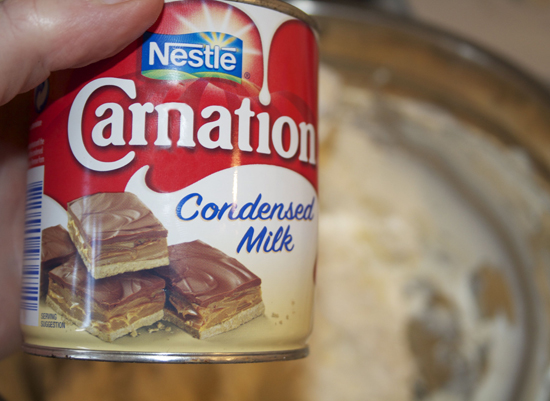 Now gradually add pour in the can of condensed milk and beat on a high speed a little at a time.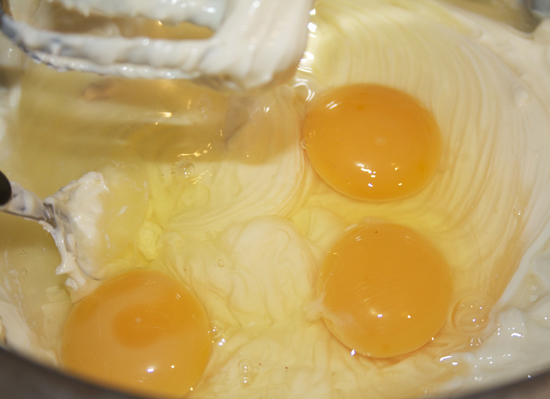 Next add in the Eggs and Vanilla Essence and mix a final time until you have a smooth cheesecake mixture. Pour in 2/3 of your chocolate chips / drops and stir in.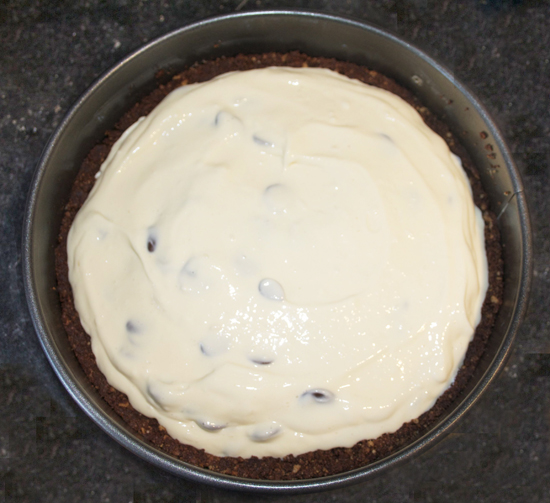 Pour the cheesecake mixture on top of the base you made earlier and smooth out with the back of a spoon.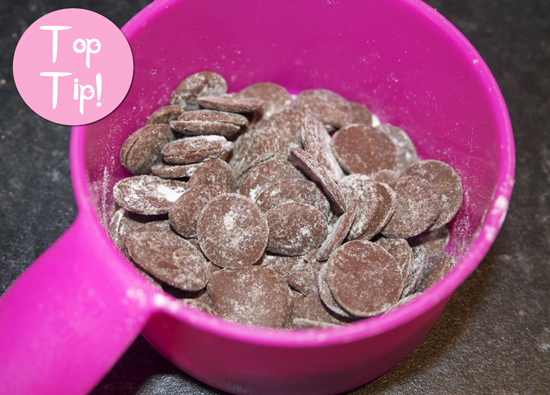 For the final 1/3 of our chocolate chips / drops, toss them in the teaspoon of flour – this will stop them sinking into the cheesecake whilst cooking.
Sprinkle the chocolate chips / drops over the top of the cheesecake and transfer to the oven. You will need to back the cheesecake for 1 hour, then turn off the oven and leave the cheesecake in for a further hour.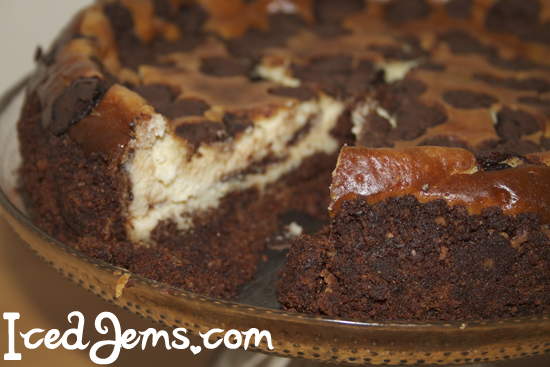 Remove from the oven and refrigerate before removing from the tin. Once nice and cold, simply pop onto a serving plate and enjoy! I got about 14 servings out of mine!
Jem x
[fblike layout="box_count" show_faces="false" action="like" font="trebuchet+ms" colorscheme="light"][tweet username="icedjemsltd" layout="vertical"][stumbleupon layout="5″]