[fblike layout="box_count" show_faces="false" action="like" font="trebuchet+ms" colorscheme="light"][tweet username="icedjemsltd" layout="vertical"][stumbleupon layout="5″]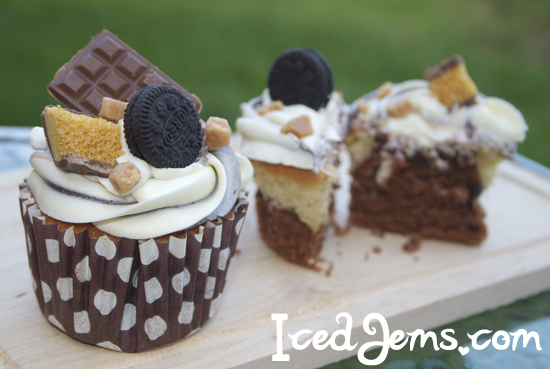 I decided to name these "Chocolate Explosion Cupcakes" because of the the way the Chocolate Sponge travels through the cake from top to bottom like lava in a volcano! From the top, they look like normal vanilla cupcakes, but as soon as you bite into them theres a pleasant surprise of chocolate sponge waiting for you – along with a few other yummy things hidden inside ;)!
[fancy_header]You Will Need (Makes 12 Cupcakes):[/fancy_header]
80z Butter or Margarine
8oz Caster Sugar
3 Eggs
2 Tbsp Condensed (or normal) milk
8oz Self-Raising Flour
1oz Cocoa Powder
100g Melted Milk Chocolate
50g Mini Marshmallows
100g Chocolate Chips
1/2 Tub Vanilla Frosting
1/2 Tub Chocolate Frosting
Mixture of Chocolate to Decorate (I used: Mini Chocolate Bars, Crunchie Bars, Mini Oreos and Fudge Pieces)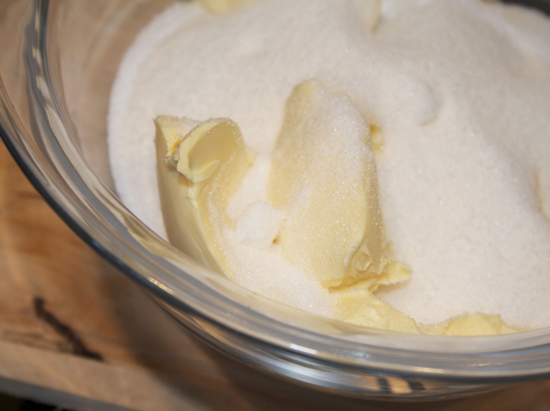 Preheat your oven to 170 degrees and start by creaming together your butter and sugar.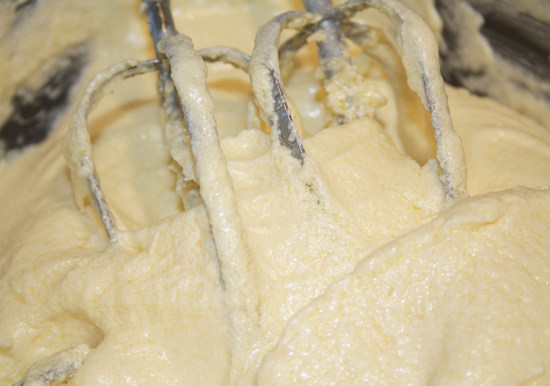 Now add in the eggs and condensed milk (or normal milk) and mix on a high speed until you have a smooth batter.
NOTE: I've always used normal milk in my cupcakes, but I ran out at the weekend and had a bit of condensed milk leftover from something else I had baked, so I put a bit in and well, the cakes tasted amazing and were a lovely texture – better than usual, so i'd recommend giving it a go!
Next mix in the self-raising flour and mix again until the cake batter is nice and thick! Then split your batter between two bowls (as half of the sponge will need to be chocolate).
For the chocolate cake batter, add in the Cocoa Powder and Melted Chocolate and stir in.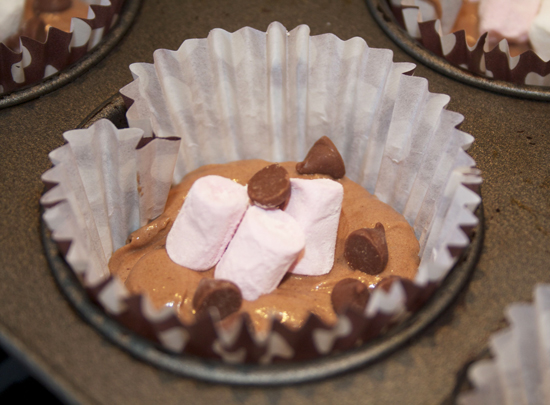 Spoon about 1 Tbsp on Chocolate Cake Batter into the bottom of each cupcake liner, then sprinkle over a few marshmallows and chocolate chips.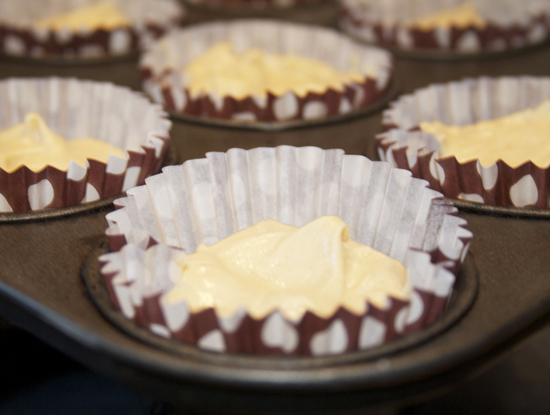 Cover with approx 1 Tbsp of the plain cupcake batter and spread to the edges of the cupcake liner using the back of spoon. Pop into the oven and bake for approx 15-18 mins until the cupcakes are golden brown.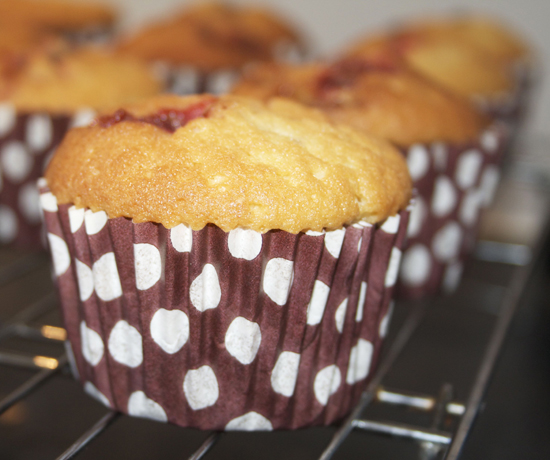 The cupcakes should have risen nicely, and might even have a few marshmallows poking through! They might still by soft / squidgy when you first take them out of the oven, but this is because of the melted marshmallows inside!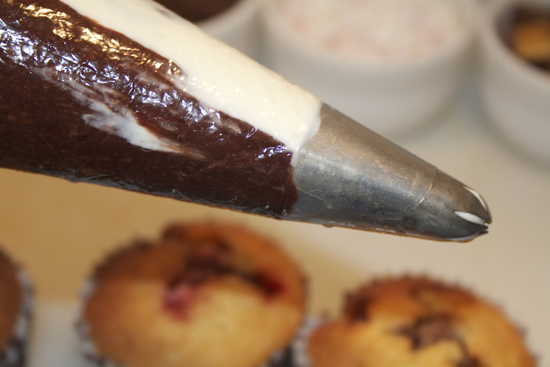 Allow the cakes to cool and prepare your toppings. For the icing, I went half and half like I did with the sponge. Simply fill a piping bag with vanilla frosting on one side and chocolate frosting on the other side!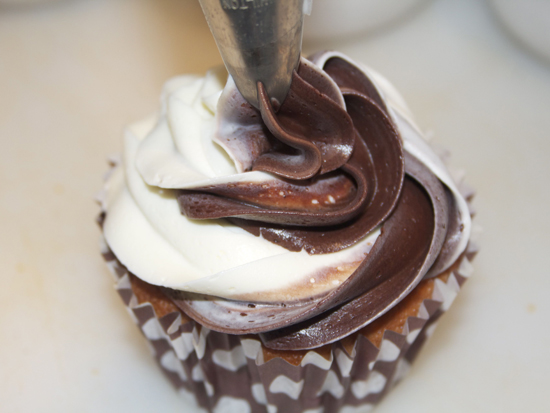 I used a Star Piping Tip and swirled the frosting onto the cupcake, starting at the outside and swirling round until reaching the middle. As you can see, because of the way I filled the piping bag – the frosting was vanilla on one side and chocolate on the other!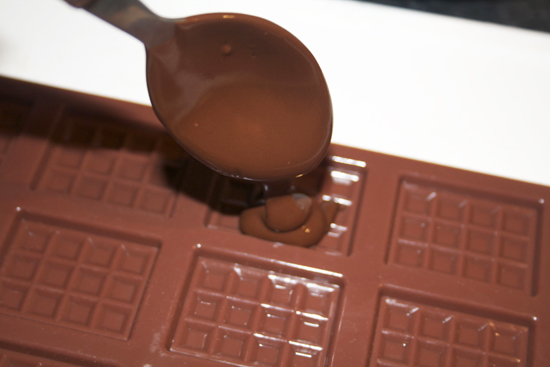 Now for your chocolate toppings! I used the Silicone Mini Chocolate Bar Mould from my shop (£3.99 plus P&P) and made cute miniature chocolate bars.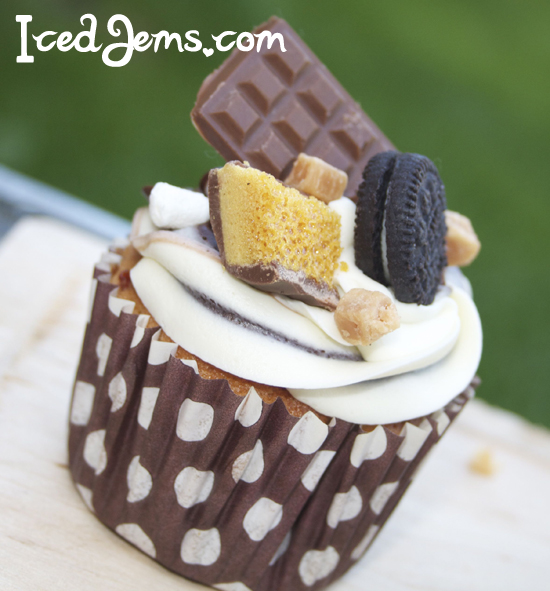 Finish the cupcake by sprinkling over various toppings in a random fashion and you're finished! Super yummy and very chocolately cupcakes perfect for any occasion!
As you can see, once you peel back the cupcake liner, the 50/50 sponge is revealed!
Jem x
[fblike layout="box_count" show_faces="false" action="like" font="trebuchet+ms" colorscheme="light"][tweet username="icedjemsltd" layout="vertical"][stumbleupon layout="5″]