[fblike layout="box_count" show_faces="false" action="like" font="trebuchet+ms" colorscheme="light"][tweet username="icedjemsltd" layout="vertical"][stumbleupon layout="5″]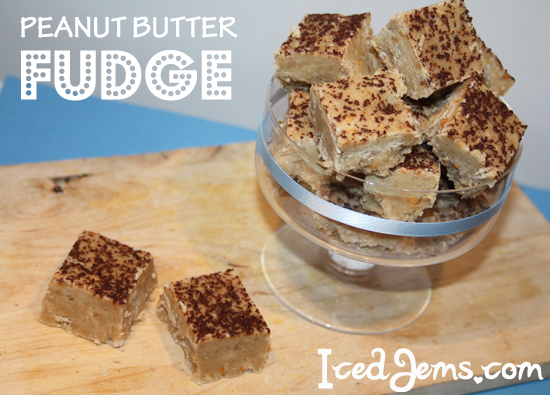 As a lover of Peanut Butter, I am excited to share this recipe and tutorial with you! I have to admit that a lot of Fudge Recipes are complicated and hard to get right, but this one is simple and so quick to make!
[fancy_header]You will need (Makes Approx 40 pieces):[/fancy_header]
450g Soft Brown Sugar
110g Unsalted Butter
125ml Milk (I used Semi-Skimmed)
200g Peanut Butter (I used Crunchy)
1 Tsp Vanilla Essence
400g Icing Sugar (Powdered Sugar)
25g Milk Chocolate for decoration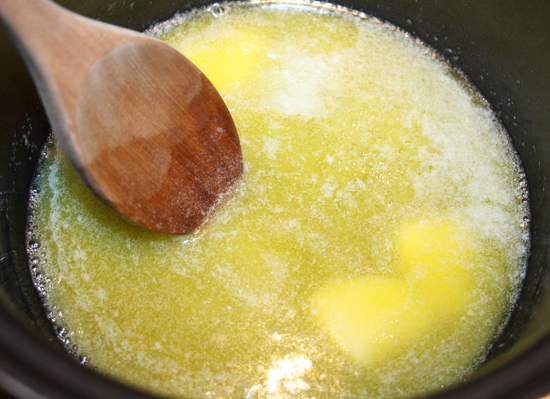 Start by melting the butter in a saucepan over a medium heat. Make sure you stir continuously with a wooden spoon until it melts.
Pour in the soft brown sugar.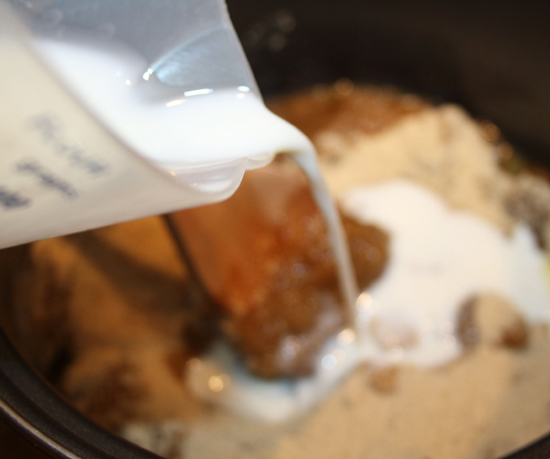 Then pour in the milk…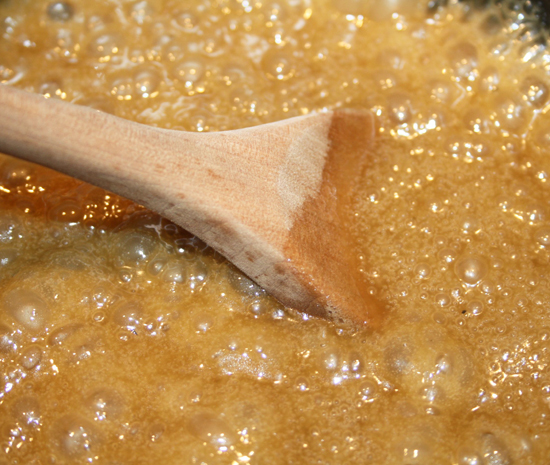 …and bring to the boil, boiling for 2 minutes and stirring continuously.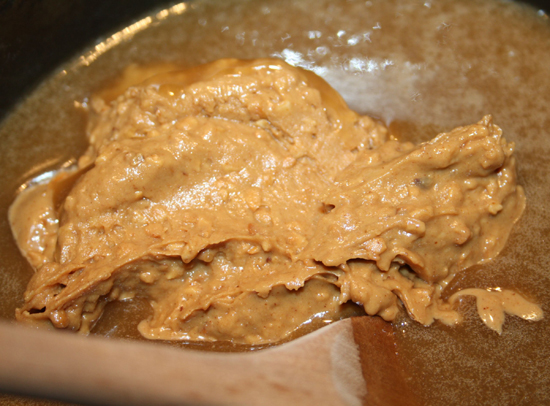 Remove from heat, then pour in the Peanut Butter and Vanilla Essence and stir until your have a thick, light brown mixture.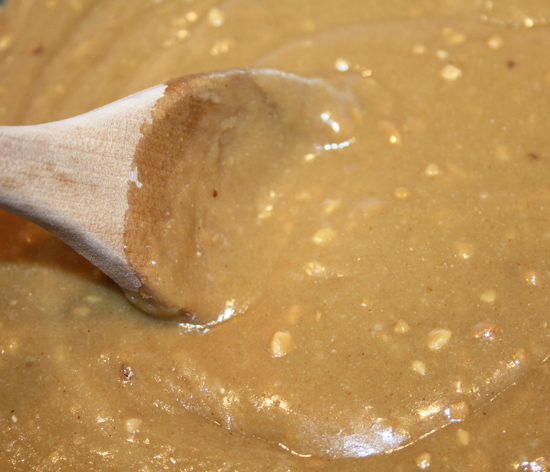 Your mixture should at this stage look like the picture shown above.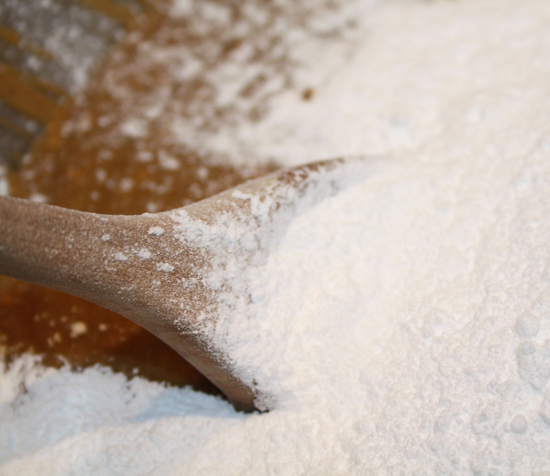 Finally stir in the Icing Sugar, it will feel very thick once you add this and you may have to use a metal spoon to do the job properly.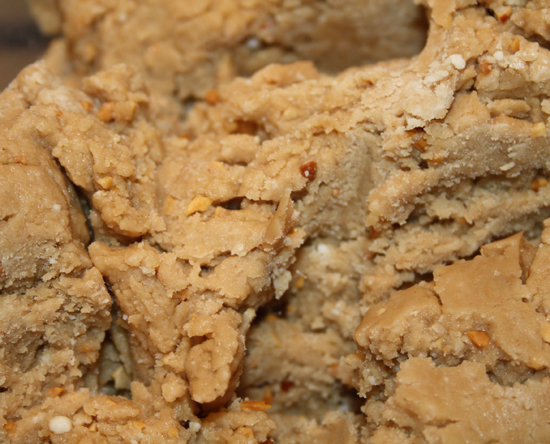 You should now have a thick dough that could even be moulded into shape.
Transfer to a lined dish, I dropped mine in then pushed down into shape.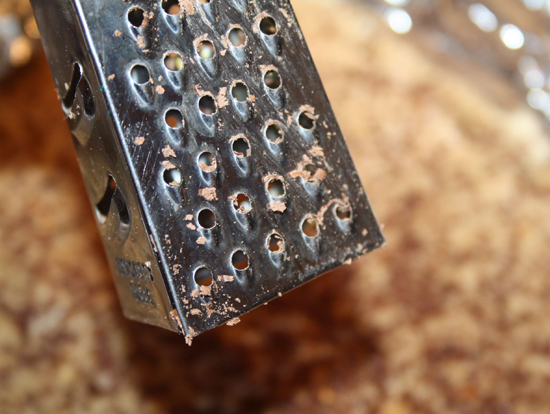 Grate the Milk Chocolate over the top of the fudge whilst still warm, this will add a nice bit of colour and decoration to it. Transfer to the fridge for 30 mins – 1 hour to set.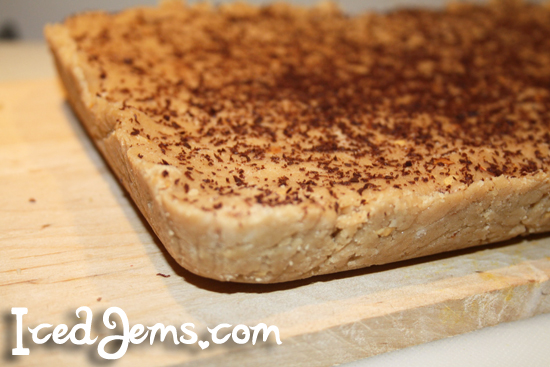 Once set, remove from the dish and place on a chopping board.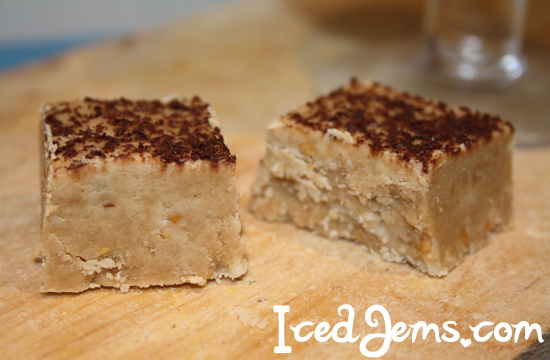 Cut into small squares with a sharp knife, the fudge should be really easy to cut through and not sticky at all.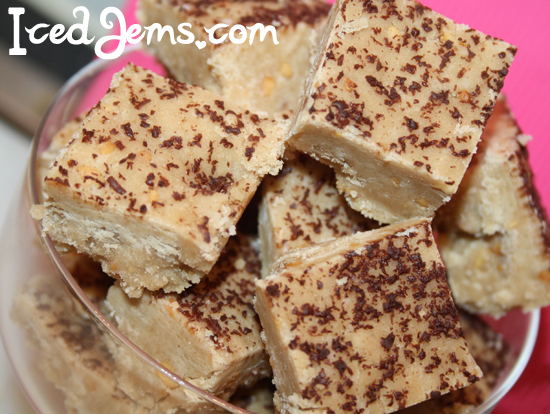 Now simply serve and enjoy! I wrapped mine up in
cello bags
and gave packs as gifts!
Jem x
[fblike layout="box_count" show_faces="false" action="like" font="trebuchet+ms" colorscheme="light"][tweet username="icedjemsltd" layout="vertical"][stumbleupon layout="5″]