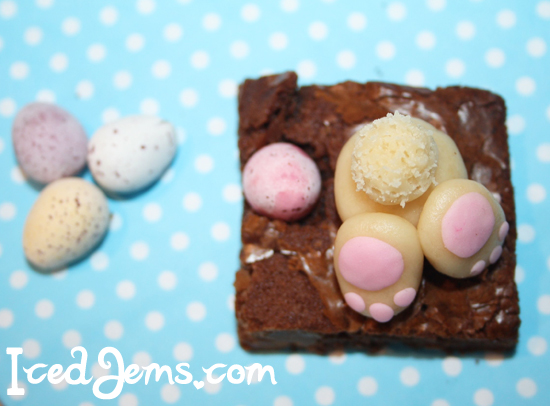 With Easter only a week away, I thought I'd whip up some delicious treats and give you a cute tutorial to follow. This recipe is extremely easy to make and you don't need any artistic abilities to be able to do the modelling! 🙂
[fancy_header]You will need (makes 20 Brownies): [/fancy_header]
175g Dark or Plain Chocolate
125g Butter
225g Caster Sugar
Few drops of Vanilla Flavouring
2 Medium Eggs
150g Plain Flour
1 Large Bag Mini Eggs
250g Marzipan or Ivory Sugarpaste if you don't like Marzipan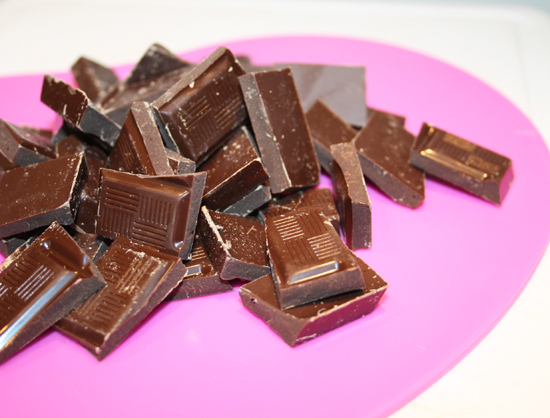 Preheat your oven to 175 degrees. Start by chopping your Dark or Plain Chocolate into pieces.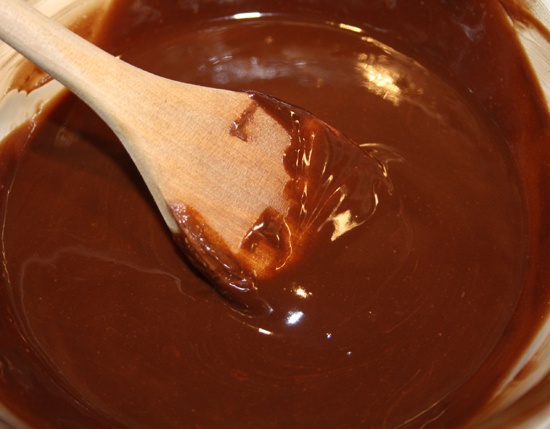 Melt together the Butter and Dark Chocolate in a glass bowl over a saucepan of boiling water, stirring continuously with a wooden spoon to prevent any burning.
Once melted, remove from the glass bowl from the heat and pour in the Vanilla Flavouring and Caster Sugar.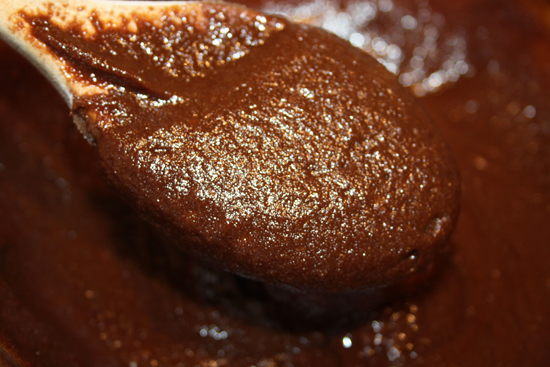 Stir gently until you have a nice thick Brownie Batter like shown above.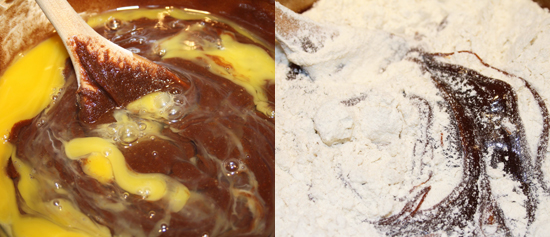 Next add your Eggs, mixing in more vigorously now – you should have a gloopy mixture at this point. Now pour in the plain flour and fold with a metal spoon until fully combined.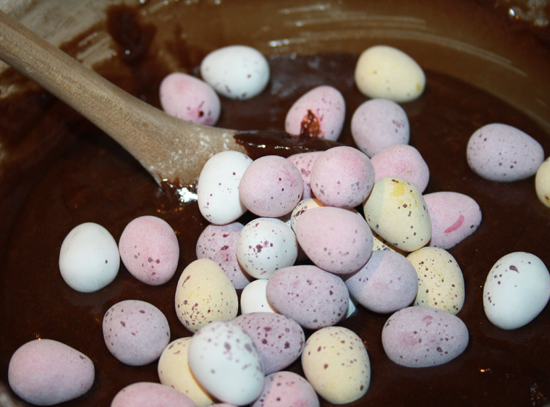 To finish the brownie mixture, pour in half the large bag of Mini Eggs and stir in.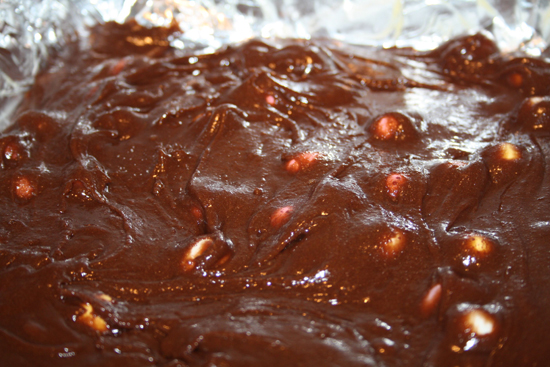 Pour the mix into a greased baking tray, and bake in the oven for approx 25 minutes. Don't be afraid to take the brownies out of the oven at this time if they are still gooey, they'll carry on cooking once you take them out and the best brownies have a gooey centre anyway!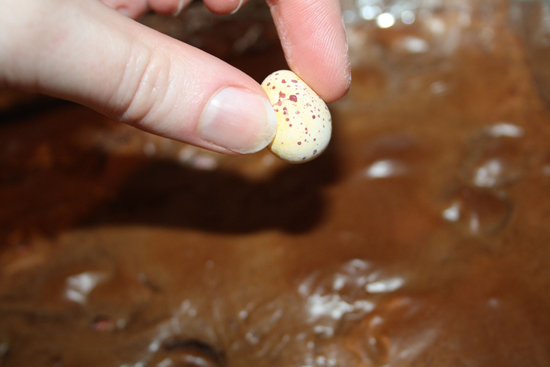 Once your brownies are out of the oven, place on a cooling rack and press a few Mini Eggs into the top so they look like they are half buried in the brownie. This is much easier to do while the brownies are still hot.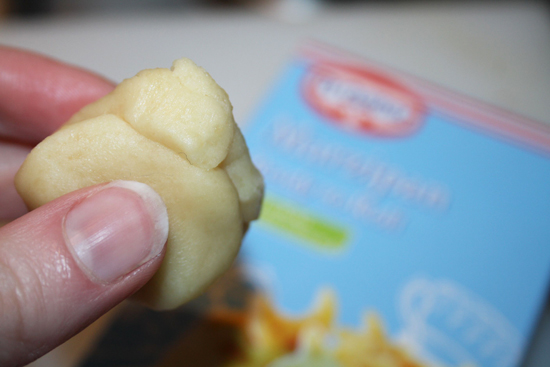 Now you can leave your brownies to fully cool and make your bunny bums!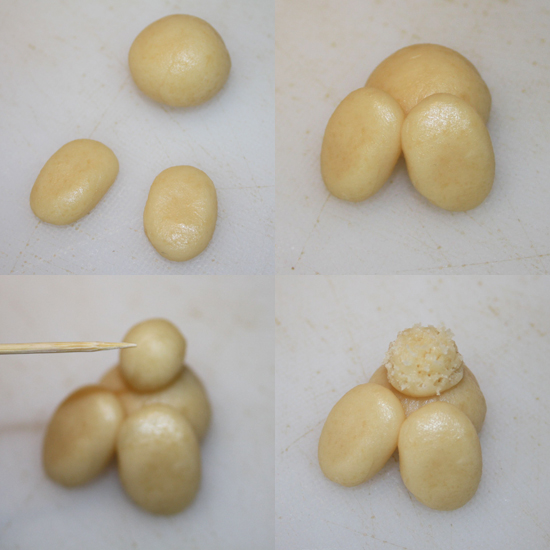 Start by making a medium sized ball of marzipan or sugarpaste and two flat oval shapes (for the feet). Stick the oval shapes to the back of the ball by pressing down gently.
Next make a second smaller ball for the tail and stick it on top of the larger ball. Using a cocktail stick, make tiny pokes all over the smaller ball to give a furry effect.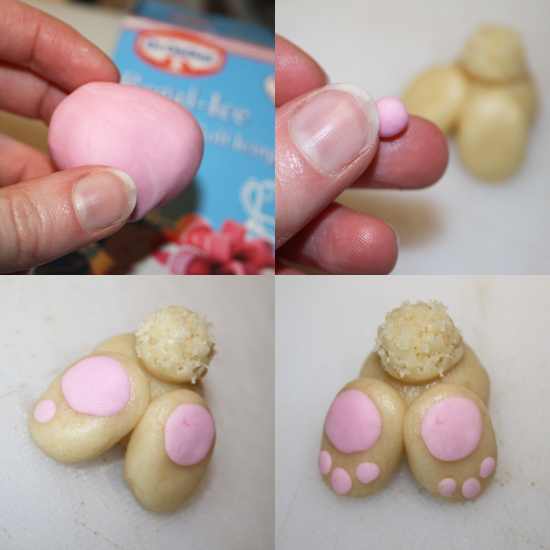 Next grab a tiny bit of pink fondant icing, and make a small ball and push it onto the top of one of the feet, flattening down until it covers the top half of the foot. Next make three tiny balls of pink fondant and press them down onto the bottom of the foot so they look like the toes. Repeat these steps for the other foot and your 'bunny bum' as I like to call it, is complete!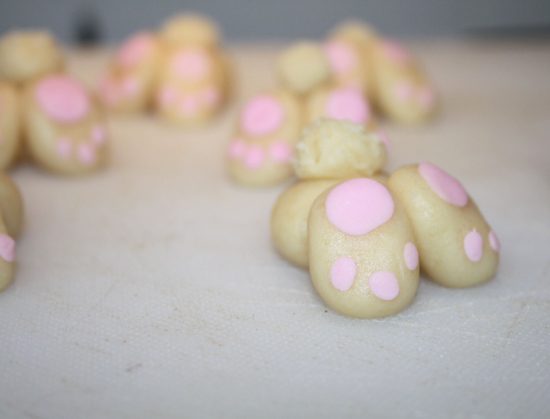 Repeat this until you have a selection of bunnies to top your brownies with.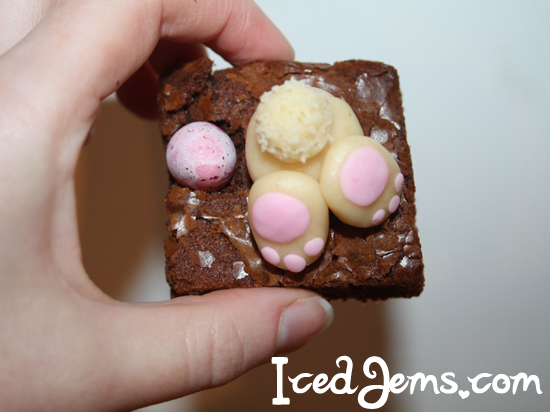 To finish, simple stick the bunny to your brownie with a little melted chocolate and finish! If you have some brownies without any eggs poking out, you can just add some eggs on top with more melted chocolate!
Happy Easter!
Jem x