[fblike layout="box_count" show_faces="false" action="like" font="trebuchet+ms" colorscheme="light"][tweet username="icedjemsltd" layout="vertical"][stumbleupon layout="5″]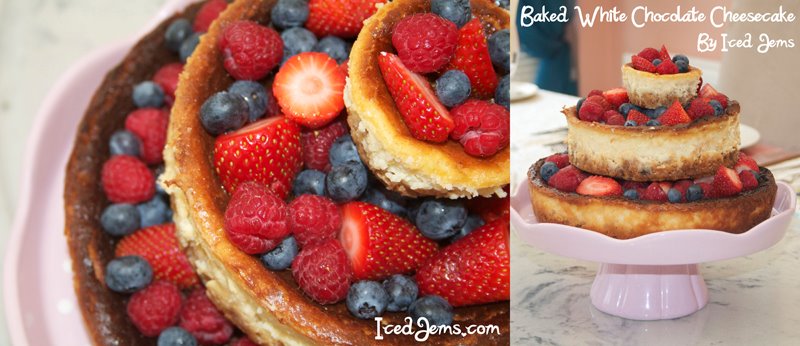 I made this White Chocolate Cheesecake over a year ago and completely forgot to share the recipe with you! But now that all the berries are back in season it's the perfect time!
The recipe below makes the tiered cheesecake shown in the pictures, but you should halve the recipe if you just want to make one layer. You will need two round spring-form tins for the tiered cake (10 inch and 6 inch), and the last tier can be made in a muffin tin.
[fancy_header]You will need:[/fancy_header]
400g (14oz) Cadbury's White Chocolate Fingers (or White Chocolate Biscuits / Cookies)
50g (2oz) unsalted butter, melted
700g (24oz) white chocolate
600ml (20fl oz) double cream
1kg (2lb 4oz) Philadelphia Cream Cheese
150g (5oz ) Caster Sugar
6 large eggs
400g (14oz) Fresh Berries (Strawberries, Raspberries and Blueberries)
Icing sugar for dusting (optional)
Crush your White Chocolate Fingers (or White Chocolate Biscuits) into fine crumbs using a food processor or by putting them in a ziplock bag and crushing them with the end of a rolling pin.
Mix in the melted butter  and stir well, the white chocolate in the biscuits will melt slightly and create a sticky mixture.
Pour the mixture into the base of your tins (and into 1 cavity of a muffin pan) and press down firmly to create the biscuit base. Transfer to the oven to chill for approx 20 minutes.
Preheat your oven to 170°C/fan 150°C/gas 3.
Put the white chocolate and  double cream in a glass bowl over a pan of simmering water, stirring continuously until the chocolate has melted. Leave to cool for a few minutes, then whisk the cream cheese, sugar and eggs then mix in the mix.

Pour the chocolate cheesecake mixture over the biscuits bases and bake. The largest tier will need approx 2 hours, the middle tier will need approx 1 hour and the small tier with in the muffin pan should only need 20 minutes. Once baked, turn off heat and leave in the oven for  for a few hours.
The cheesecakes should have sunk in the middle leaving raised edges. Now simply refrigerate until ready to serve.
Before serving, remove the cheesecakes from their pans and top the bottom layer with fruit, then place the second layer gently on top. Repeat this for the next two layers and dust with icing sugar to finish the look!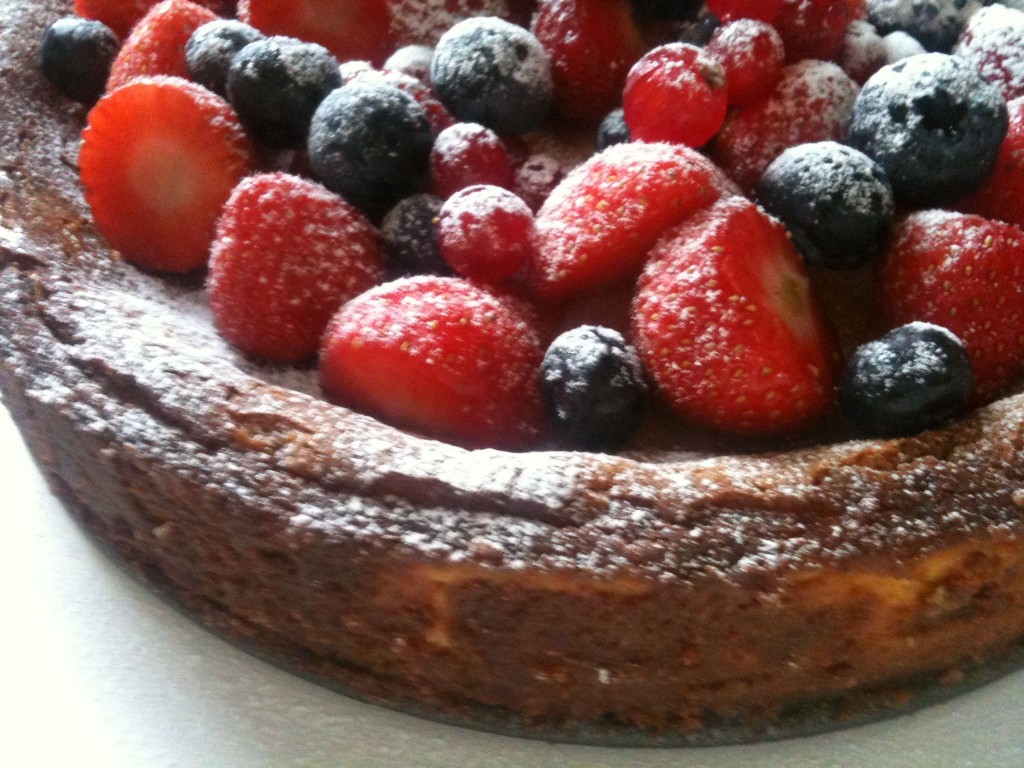 Enjoy!
Jem x
[fblike layout="box_count" show_faces="false" action="like" font="trebuchet+ms" colorscheme="light"][tweet username="icedjemsltd" layout="vertical"][stumbleupon layout="5″]