[fblike layout="box_count" show_faces="false" action="like" font="trebuchet+ms" colorscheme="light"][tweet username="icedjemsltd" layout="vertical"][stumbleupon layout="5″]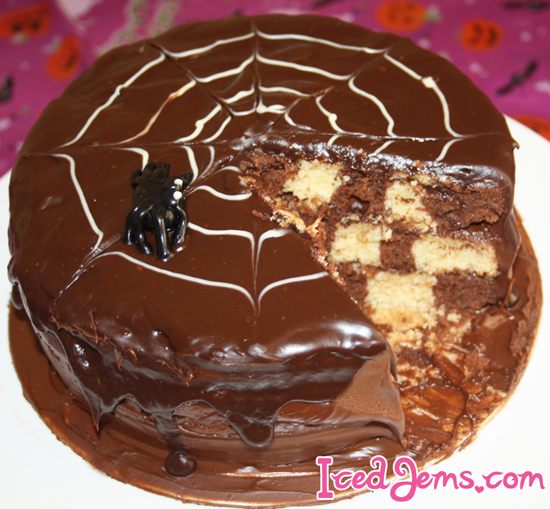 Something fun for Halloween, I made this cake with my friend Panna who wanted to make something for her work Bake off! 🙂 It's more simple than it looks and it tastes absolutely delicious!
[fancy_header]You will need:[/fancy_header]
250g Butter or Margarine
300g Icing Sugar
6 Eggs
3 Tbsp Milk
2 Tsp Vanilla Essence
375g Plain Flour
2 Tsp Baking Powder
75g Cocoa Powder
1 Jar Chocolate Spread / Nutella
250g Plain Chocolate
284ml Carton Double Cream
25g White Chocolate
Small amount of Black Fondant Icing for the Spider (optional)

Preheat the oven to 190 degrees, then line and grease 3 cake tins (approx 8 inch). Measure out the flour and Baking Powder evenly into two large bowls, adding the Cocoa Powder to one of them.
In a separate bowl, cream together the icing sugar and butter / margarine.

Add the vanilla essence and then the eggs, one at a time to the butter mixture, mixing at a high speed. You should have a thin almost batter like mixture at this point. Pour your batter mixture evenly between the bowls of flour, then add the milk to the flour and cocoa bowl.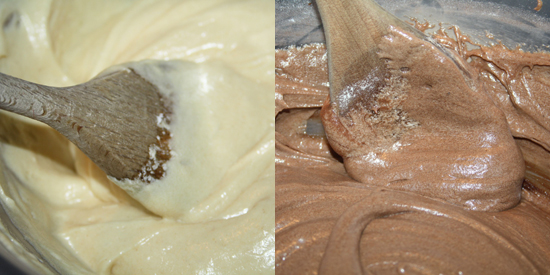 Mix both bowls well until you have a thick cake batter.

Grab two disposable piping bags and fill one with vanilla cake mixture and one with chocolate cake mixture. Snip off the ends (making sure they're even), then pipe your cake mixture in alternating rings.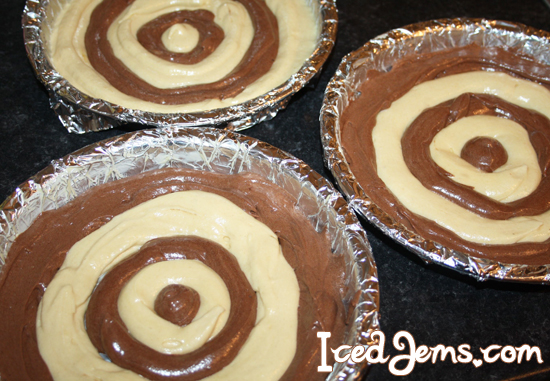 This is how you get the checkerboard pattern! Make sure two of your cake pans have chocolate rings on the outside, and one has a vanilla ring. Place in the oven and bake for 15-20 minutes (or until a skewer pushed in comes out clean).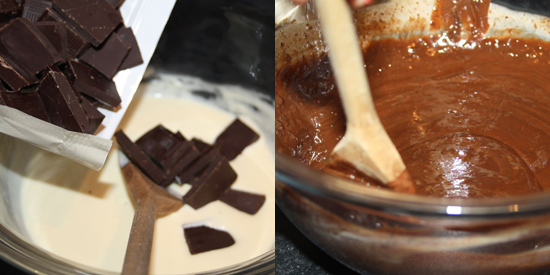 You can make the chocolate ganache to drizzle over the top of the cake while it's cooking in the oven. Heat the double cream in a glass bowl over a saucepan of boiling water until lightly bubbling. Remove from heat and empty in the chocolate pieces, stirring until they have fully melted and you have a thick chocolate ganache. Set to the side to cool.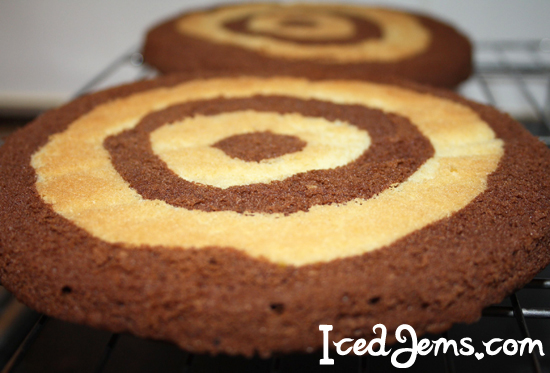 Once your cakes have cooked, remove from the oven and cake tins and leave on a wire rack to cool. You can see from above the they still have the piped rings pattern – they don't have to be perfect circles to get the effect!

Sandwich your cake layers together with thick layers of cooled ganache. Make sure you have alternating layers!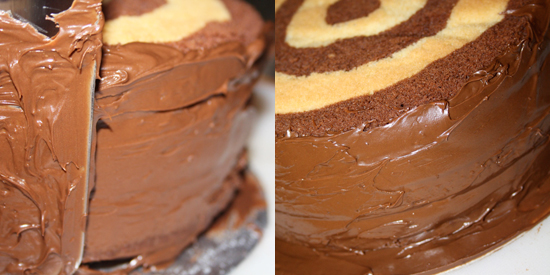 Once your cake is stacked, cover the outside in the chocolate spread. This is really easy to do if you have a large palette knife to spread it around!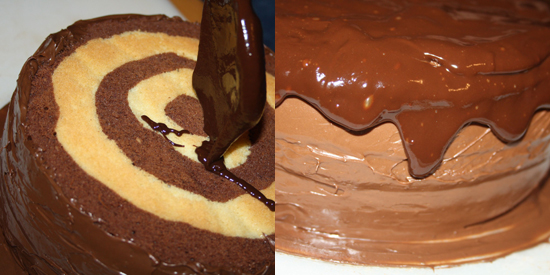 Now drizzle the ganache over the top of the cake, allowing it to spill over the edges.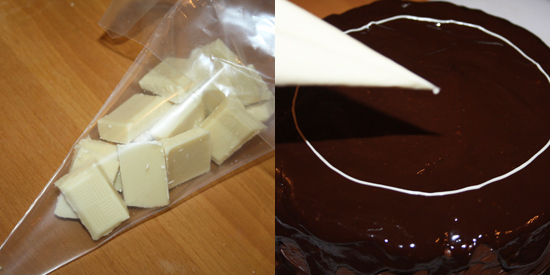 Melt the white chocolate (you can melt this in another disposable piping bag in the microwave) then snip a tiny bit from the end and pipe 4 circles on top of the ganache.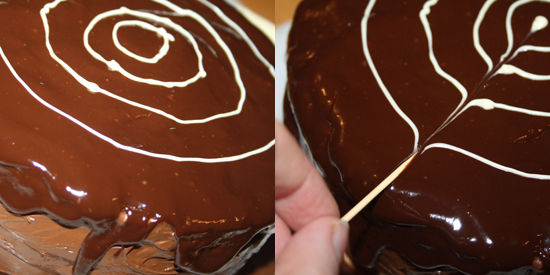 Now simply run a cocktail stick from the centre of the cake to the outer edge to make the spiderweb pattern.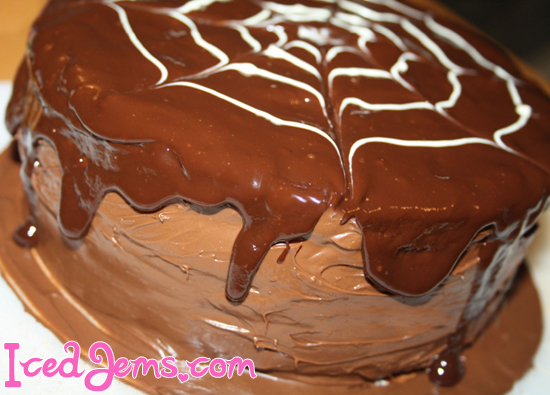 Keep doing this until you have 8 lines going through the circles.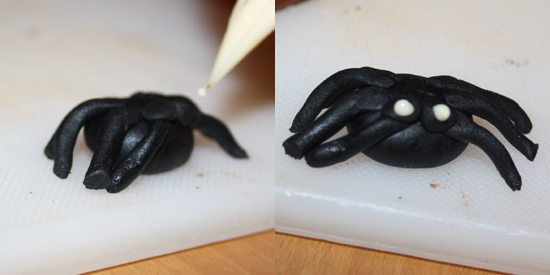 To finish off your spiderweb cake, you can make a spider out of some black fondant (with white chocolate dots for eyes). Simply place him on top and you're finished!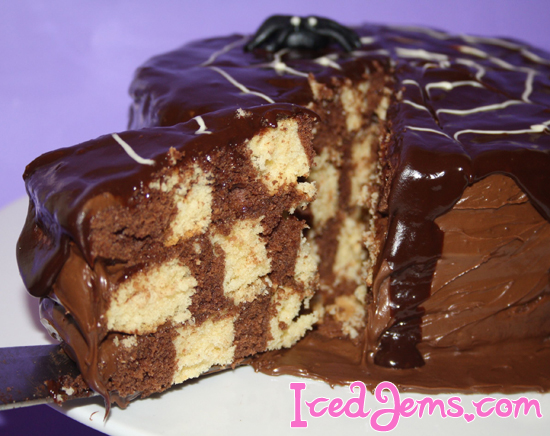 Slice and serve, your guests will be extra impressed when they see the checkerboard pattern inside!
Happy Baking!
Jem x
[fblike layout="box_count" show_faces="false" action="like" font="trebuchet+ms" colorscheme="light"][tweet username="icedjemsltd" layout="vertical"][stumbleupon layout="5″]