[fblike layout="box_count" show_faces="false" action="like" font="trebuchet+ms" colorscheme="light"][tweet username="icedjemsltd" layout="vertical"]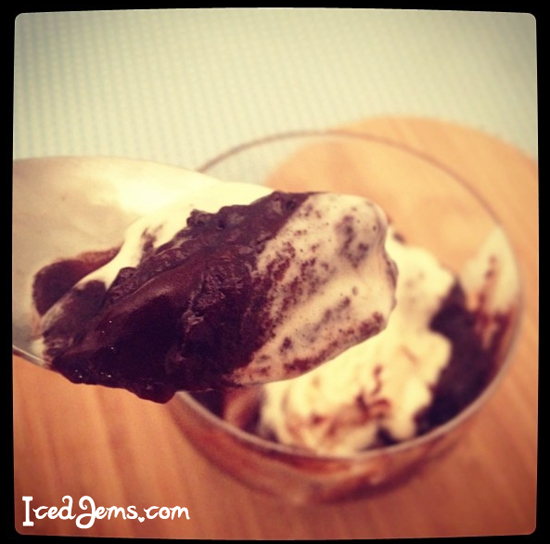 My slow cooker is a godsend for me. Forget slaving over a hot stove after a long day at work; I love just being able to chuck ingredients in my slow cooker and come home to the smell of a delicious meal ready to eat. The good news is these useful pieces of kitchen equipment can be used for breakfast, lunches and dinners and sweet treats!
Breakfast
If you don't have time to prepare breakfast in the morning rush, why not prepare it the night before in a slow cooker for a warming meal that's ready to go when you are?
Oatmeal – Using just three ingredients and taking 10 minutes to prepare, hearty oatmeal is a convenient way to start any day. Combine 6 cups water, 2 cups oats and 1 teaspoon of salt the cover and cook on low heat for around six hours while you sleep. Top with raisins, cranberries or maple syrup for added sweetness.
Main meals
If all you want to do when you step through the front door at night is put your feet up and have a well-deserved rest, here are some great slow cooker dinner recipes that will ensure your meal is ready to serve when you get home.
Beef and tomato casserole – What better than a hearty casserole to come home to after a long day? If tender beef in a rich tomato, smoked paprika and herb sauce sounds right up your street, place 1 diced onion, 2 chopped red peppers and 450g diced lean beef into the slow cooker. Mix a Schwartz beef and tomato casserole sachet with 400g chopped tomatoes and 2 tablespoons tomato purée and add to the pot. Stir, cover and cook for up to eight hours on low until the meat is tender and cooked through.
Chicken in red wine – For a great slow cooked meal that all the family can enjoy, place 10 peeled shallots, 125g button mushrooms, 8 skinless chicken thighs or drumsticks and 125g sliced and cooked bacon into the pot. Mix your Schwartz sachet contents with 300ml water and 2 tablespoons of tomato purée. Add to the pot, stir, cover and cook for eight hours on low, or until the meat is tender and cooked through.
Sweet treats
You may not have had slow cookers down as a key piece of kit in a baker's toolbox, but they can actually be used to create all sorts of desserts and puddings. The joy of a slow cooker is that you don't have to hover around the kitchen staring anxiously into the oven to check on the cake's progress. Here's a divine recipe for you for a Slow Cooker Chocolate Cake that is actually Dairy Free! This cake is absolute melt in your mouth heaven, it reminds me of those melt in the middle fondants you can buy – so rich and decadent!
[fancy_header]You will need:[/fancy_header]
– 450g / 2 Cups Caster Sugar
– 160g / 3/4 Cup Plain Flour
– 160g / 3/4 Cup Cocoa Powder
– 235ml / 1 Cup Almond Milk
– 115ml / 1/2 Cup Vegetable Oil
– 235ml / 1 Cup Boiling Water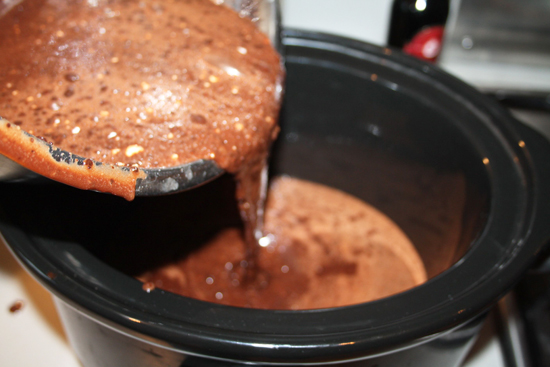 Simply mix all your dry ingredients together in a large bowl, then all your wet ingredients into another, then mix together until you have a smooth and runny chocolate mixture. Pour into your slow cooker bowl on 4 hours at a low heat, then simply serve and enjoy! The cake will be very soft and almost like a melt in the middle pudding, don't panic if it seems runny – it's supposed to be like this!
Serve with some Dairy Free ice cream such as Swedish Glace and enjoy the indulgent treat! 🙂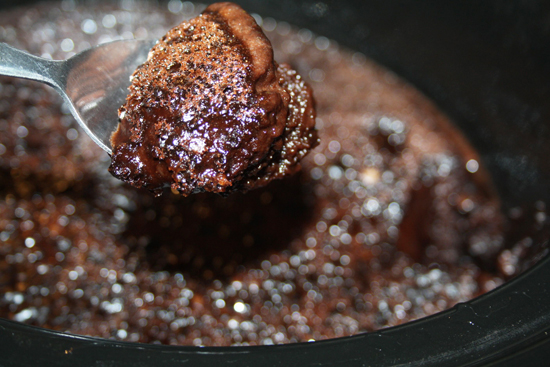 Jem x