[fblike layout="box_count" show_faces="false" action="like" font="trebuchet+ms" colorscheme="light"][tweet username="icedjemsltd" layout="vertical"]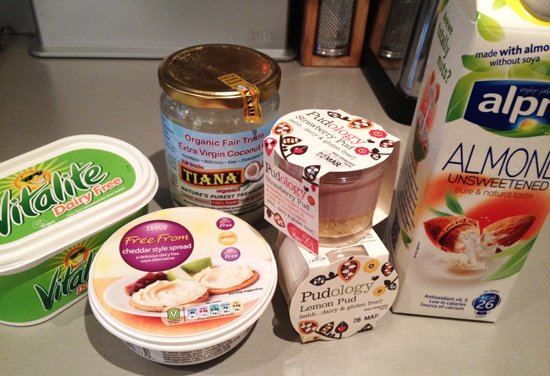 I recently made the decision to make my diet 100% Dairy Free and lots of you have been asking why and what substitutes I've used so I thought I would write a short and sweet post for you.
Firstly, the decision to go Dairy Free was because for some reason, whenever I have Dairy, I cannot stop sneezing! It sounds so silly, but I get terrible sneezing fits, to the point where my whole nose is sore, my eyes are swelled up and watery and I just can't get anything done because I'm sneezing every 5 seconds! It's such a strange allergy to have, its been building for the last few years and I had no idea what was causing it, I suspected maybe dust or Hayfever but never Dairy! Dairy also makes me wheeze like a fat kid which I can assure you is not attractive at all!
After going Dairy Free for a month in January, I noticed an improvement straight away. Less sneezing fits, my chest wasn't tight or blocked and I even had more energy! Then came February, my month of denial, where I slipped back into eating Dairy in the hope that maybe January was just a fluke, but alas the symptoms returned. So in March I knew I had to give up Dairy for good.
It was hard. So hard. I mean, I write a baking blog! Full of Butter, Cream Cheese, Frosting and every Dairy Product you could care to imagine. I didn't want to let my blog and readers down and I definitely did not want to give up Cheese. Or Milkshakes. Or butter. (The list goes on).
But after a bit of research and stocking my cupboards with what felt like every substitute going, I've been pleasantly surprised at my willpower and how exciting it has been experimenting and baking without Dairy.
I've made the decision to continue writing both Dairy filled and Dairy Free recipes for this blog, and even try out some Gluten Free, Egg Free and Healthy Recipes too. I have been overwhelmed by your support of my Free From Recipes so far and the fact that you want more makes me even more excited to get back in the kitchen and experiment! For the Dairy Filled Recipes, I fortunately have a long list of volunteers (friends and family) who are more than willing to taste test for me to make sure all the recipes are still up to scratch, so don't worry all you lucky people that can still eat dairy – there will still be lots for you to try! 🙂
The final thing I just wanted to mention, were the Dairy substitutes I have really enjoyed so far and that have been my go-to saviours in times where I thought I might crack. So for anyone wanting to try a dairy free diet, I would recommend any of the products below (these are all my genuine recommendations by the way, this isn't sponsored or endorsed by any or the brands mentioned)!
Alpro Almond Milk – Love the stuff! I know there are lots of different brands of Almond Milk available and this one probably has additives or something bad in it for you, but the tastes it great! I have it on cereal, in porridge, in homemade milkshakes and use it in baking. I tried another brand and it tasted like Marzipan which was a bit gross, so for taste and being a lot like normal milk, this is the one. (Warning – do not use in tea / coffee – it sort of separates into bits and doesn't taste great, for hot drinks I use Soya Milk).
Coconut Oil – A great Healthy Alternative to butter, plus this has about 100 other uses! I even use it on Roast Potatoes and in my frying Pan instead of Vegetable or Olive Oil. Oh and apparently if you use it on your hair before you dye it, it stops it from drying out which is pretty cool.
Vitalite – I thought I was doomed never to have nice sandwiches again when I first went Dairy Free, but was pleasantly surprised to discover Vitalite was Dairy Free. I've used it instead of butter in baking and frosting and it tastes great as a spread on toast / sandwiches.
Tesco Free From Cheddar Style Spread – Giving up cheese was going to be a major issue for me. I'm the sort of person who would organise a Cheese Night, just a whole night dedicated to different cheeses. Going cold turkey on the stuff was pretty sad. I got a tub of this spread from Tesco's not really expecting a lot, then I tasted it and was so happy! It tastes exactly like cheddar, but it's soft like cream cheese. I use it on pasta dishes and for dipping crisps etc into and there is always a tub in my fridge.
Pudology Dairy Free Puds – Obviously puddings and desserts are my thing, so having to just completely avoid that aisle of the supermarket and not be able to ever have a pudding in a restaurant (apart from sorbet) is the worst! Obviously I can bake all the Dairy Free Delights I want, but sometimes you just want to buy a treat that is ready to eat. Pudology Puds are the answer! They even do a Banoffee Pud and a Strawberry Cheesecake Pud which are incredible, I've even thought about sneaking them into restaurants with me to eat!
I'm really excited to try out lots of new Dairy Free Recipes and share them with you all, I've included a link to the ones I have done already if you would like to try them out 🙂
Healthy Chocolate and Banana Cookies
Thanks for your support! If there are any dairy free recipes you would like me to try or any other free from recipes you would like to see more of, please comment below and I will try my very best for you! Oh and if you have any Dairy Free Products you think I would like, please tell me! 🙂
Jem x
[fblike layout="box_count" show_faces="false" action="like" font="trebuchet+ms" colorscheme="light"][tweet username="icedjemsltd" layout="vertical"]