[fblike layout="box_count" show_faces="false" action="like" font="lucida+grande" colorscheme="light"][tweet username="icedjemsltd" layout="vertical" text="How to use Baking Cups"][googleplusone size="tall"]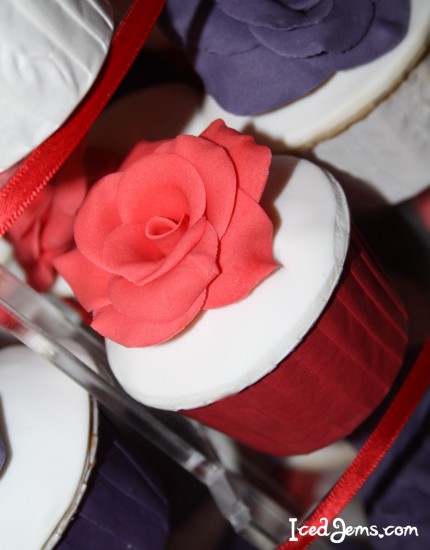 I recently made the Wedding Cupcakes for my boyfriends sister and I thought I would show you exactly how I made them so you can recreate them at home! I actually made 100 cupcakes each complete with a hand crafted sugar rose which was very time consuming but looked great when they were all displayed together!
[fancy_header]You will need (makes approx 15 cupcakes):[/fancy_header]
For the Cupcakes and Frosting
100g Unsalted Butter
200g Caster Sugar
1 heaped Teaspoon of Sugarflair Red Extra Food Colouring Paste
2 Eggs
1 Tsp Vanilla Essence
250g Plain Flour
2 Tbsp Cocoa Powder
2 Tsp Baking Powder
1/2 Tsp Bicarbonate of Soda
180ml Buttermilk
125g Unsalted Butter
125g Cream Cheese (I only use Philadelphia as others go runny)
500g Icing Sugar
For the Sugar Rose and Topper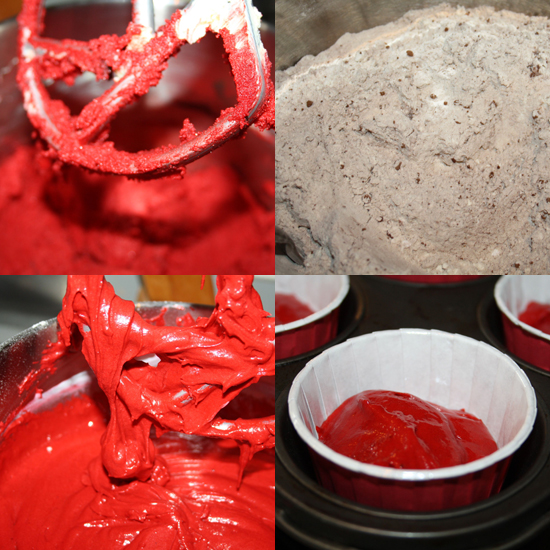 Start by heating the oven to approx 160 -170 degrees – I find using a lower temperature gives my cupcakes a great dome shape and softer sponge.
Cream together the Butter, Sugar and Red Food Colouring Paste – Sugarflair Red Extra really is the secret to getting a wonderful bright red colour and it doesn't leave a strange taste like some colourings.
Add in the eggs and vanilla essence and mix on a high speed until well combined. In a separate bowl, mix together all the dry ingredients (plain flour, cocoa powder, baking powder and bicarbonate of soda), then add to the wet mixture a little at a time, constantly mixing.
All you need to add now is the buttermilk, giving it a final mix then transferring to the baking cups. The baking cups are another factor that help you get lovely domed cupcakes, they are sturdy and strong so don't spread out too wide when cooking like normal cases. Fill them approx 1/2 to 2/3 full and transfer to oven for about 15-20 minutes – this will depend on your oven!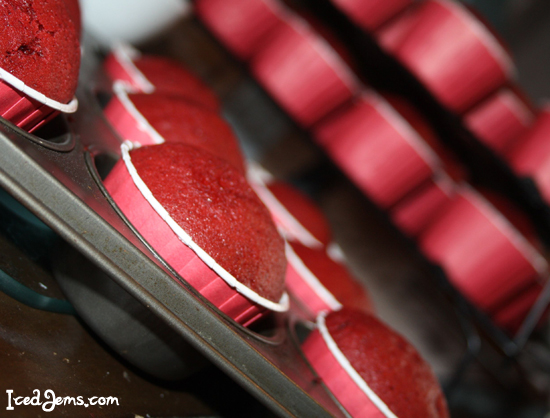 Once your cupcakes have baked, remove from the oven and transfer to a wire rack. You can see that the cupcakes here are perfectly domed and a wonderful vivid red!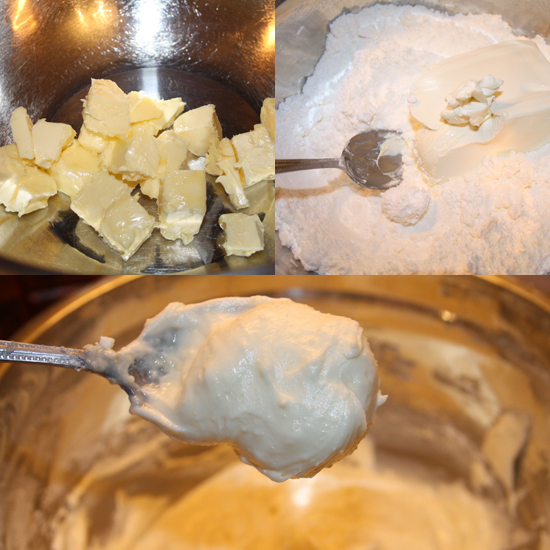 Cream Cheese Icing is probably one of the most delicious icings you can make! Simply throw the Butter, Cream Cheese and Icing Sugar into a bowl and mix on a high speed until thick and creamy! Once your cupcakes have cooled you can simply spread a layer of the frosting over each one, ensuring you don't go over the edges of the case.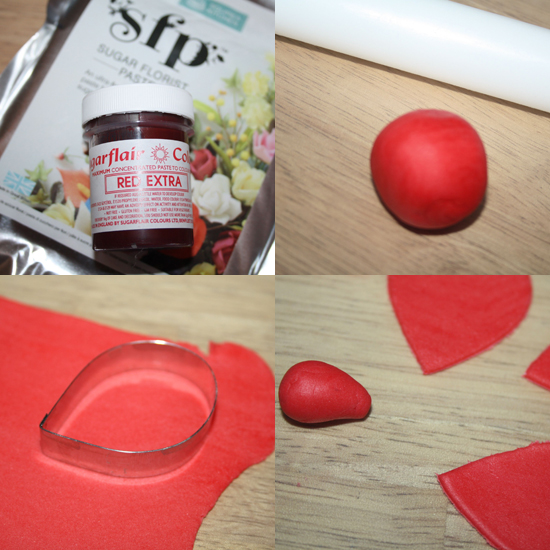 Now to decorate with some pretty sugar roses! Firstly, take 50g of your White Sugar Florist paste and roll out to approx 4/5mm thickness. Using the circle cookie cutter, cut out circles to go on top of each cupcake. Take each circle and place gently over the frosted cupcakes, pressing down smoothly until smooth.
You can now colour the remaining Florist paste red using the Sugarflair Red Extra Paste, just keep adding small amounts until you get your desired colour (alternatively you can buy pre coloured Florist paste).
Roll the red florist paste out as thin as you can, then using the smallest petal cutter from the extra large petal cutters pack, cut out 11 petals (I had to make a lot of these and tried a few different ways, but the easiest and most efficient method I found used 11 petals).
From the leftover florist paste, roll a small oval shape for the centre of the rose.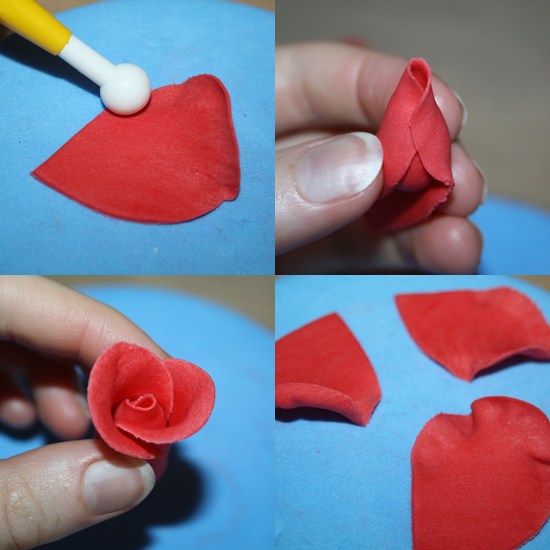 Take a petal and place it onto your petal pad, then roll the ball tool over the edges of the petal, pressing down firmly until the edge start to smooth and curl. Place the first petal around the centre you made, wrapping it completely around so the sides overlap.
The next layer will need two petals, repeat the smoothing and curling process on the petal pad, then wrap around the first layer, making sure the petal overlap.
Repeat this process again with the third layer, this time using 3 petals.
Once you have added your third layer, you can slightly pinch the centre of each petal to give a more realistic effect.
Finally you can smooth and curl the final 5 petals, then wrap them around the rose, pinching the centre of each petal to finish. You can also chop off the bottom of your rose now if you want your rose to lie flat against a surface (I left mine as I used it to tilt the roses on each cupcake to face a certain way).
Now simply add the rose to each cupcake by wetting the bottom slightly and placing on top the white florist paste circle you placed on earlier.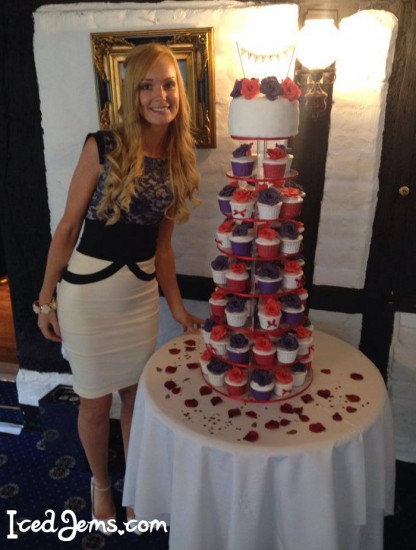 Here is me with the full tower of cupcakes I did and the sugar roses in all their glory! I can safely say I never want to make another sugar rose again though!
Happy Baking!
Jem x