[fblike layout="box_count" show_faces="false" action="like" font="trebuchet+ms" colorscheme="light"][tweet username="icedjemsltd" layout="vertical"]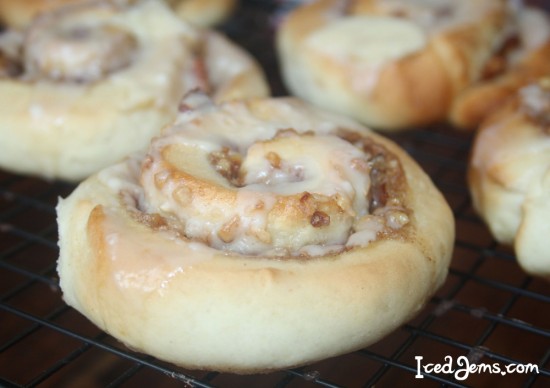 These amazing rolls are full of flavour and don't take as long as you would think! Having a brand new bottle of Clark's Maple Syrup to get using, I knew I had to make something combining Cinnamon and Nuts for a festive feel. I added chopped Pecans and Hazelnuts to mine for a fantastic texture and flavour.
[fancy_header]You will need (makes approx 12 rolls):[/fancy_header]
200ml Warm Water
1.5 Tbsp Powdered Yeast
70g Caster Sugar
2 Tbsp Vegetable Oil
1 Egg
460g Plain Flour
For the Cinnamon Nut Filling
50g Brown Sugar
50g Caster Sugar
40g Melted Butter
0.5 Tbsp Ground Cinnamon
50g Chopped Nuts (I used Hazelnuts and Pecans)
2 Tbsp Clarks Maple Syrup
For the Glaze
170g Icing Sugar
60ml Double Cream (Single Cream would work too)
60ml Clarks Maple Syrup
2 Tbsp Melted Butter
Phew, that's the ingredients list done! It looks like a lot in that list, but I promise you these delicious rolls will be whipped up in no time!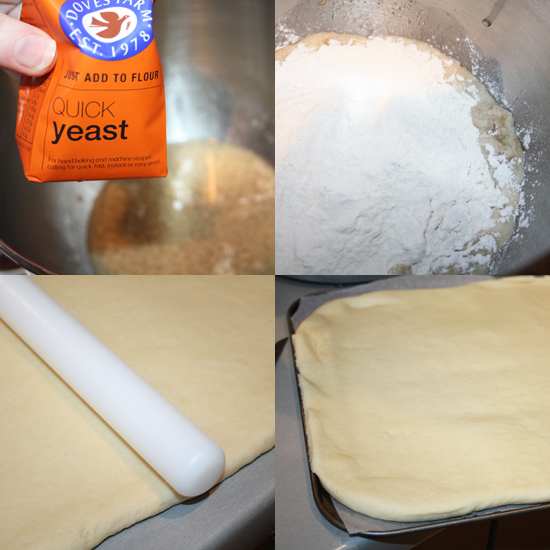 Start by reheating your oven to approx 170 degrees (mine is fan assisted).
Pour your warm water into a large bowl, followed by the Sugar, Vegetable Oil and Yeast, then give it a stir and leave for about 10 minutes.
Once your 10 minutes are up, add your eggs and the plain flour and mix into a thick dough. I used my Kenwood Kmix with the dough hook, so it only took a couple of minutes, but it would take longer mixing by hand.
Finish the dough by kneading by hand until it is smooth enough to roll out flat.
Roll into a long rectangle about 1cm thick and be sure to trim off any uneven sides.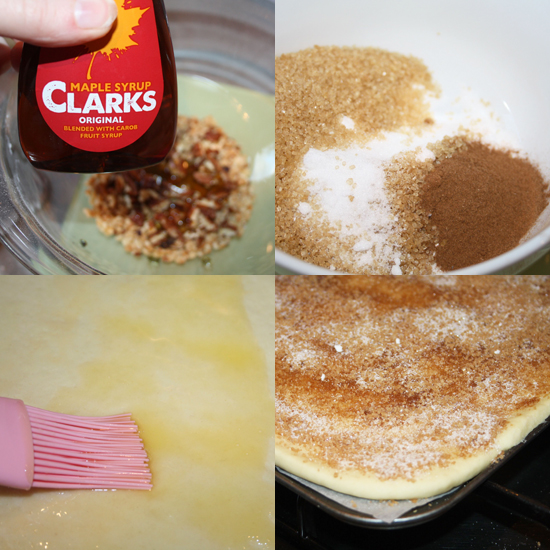 Now is the time for the epic filling! Start by mixing the chopped nuts and Maple Syrup in a bowl.
In another bowl, mix together the Brown Sugar, Caster Sugar and Ground Cinnamon.
Spread the melted butter all over your rolled out dough going right to the edges, don't be afraid to use it all!
Next pour over the Cinnamon Sugar Mixture and again spread right to the edges.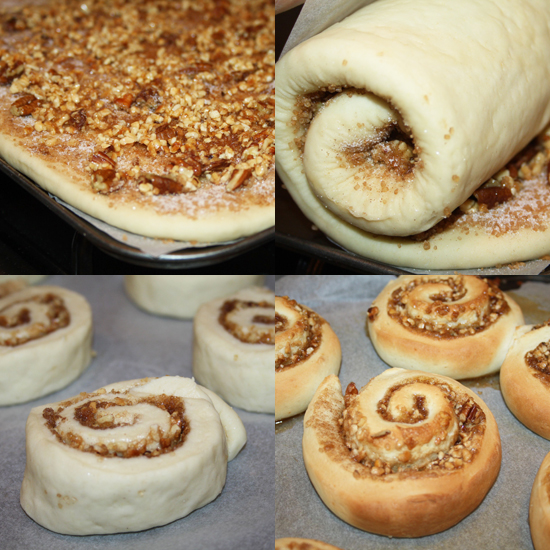 Sprinkle over your chopped nuts, making sure you evenly distribute them over the dough. Now simply roll your dough tightly until it looks like a swiss roll.
Cut slices of the roll off, about 2.5cm width and set them on a lined baking tray, I got about 12 from my mixture.
Leave in a warm place for about 15 minutes to rise, they won't rise loads or double in size but they will grow a bit!
Transfer to the oven and bake for about 12-14 minutes, they do start to brown very quickly so definitely keep an eye on them.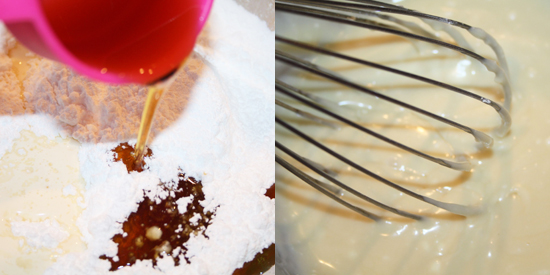 Make your glaze while the rolls are in the oven, as you will want to pour it over while they are still warm!
Pour the icing sugar, cream, maple syrup and melted butter into a large bowl and whisk until you have a thick glaze.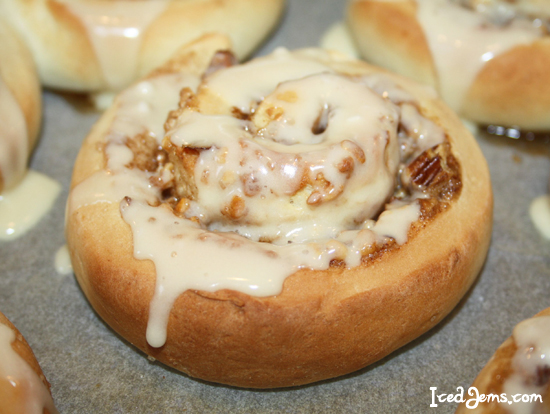 Once the rolls are out of the oven, pour about a tablespoon of glaze over each one and watch it drizzle and melt over the edges.
These are pretty amazing to eat while they are still warm, I ate about 3 straight from the oven (purely for taste testing purposes of course)!
Enjoy!
Jem x