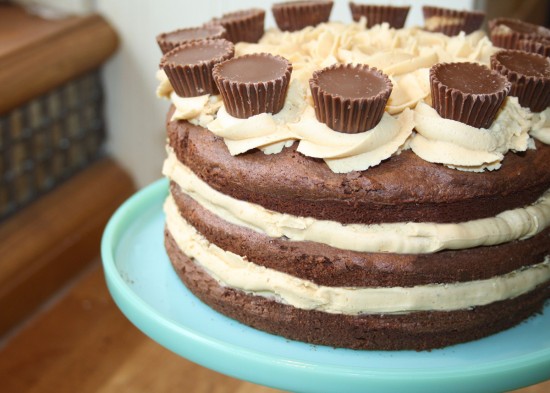 I'm very excited to share this latest recipe with you! As part of a fun collaboration with Stork I made this show stopping Peanut Butter Brownie Cake that anyone can easily recreate at home.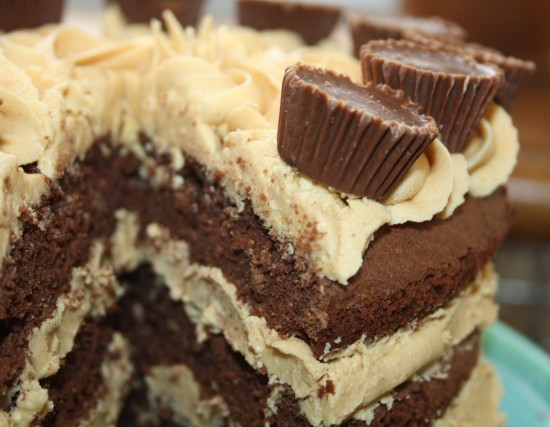 A rich chocolate brownie sponge layered with peanut butter frosting and topped with Peanut Butter Cups, who could say no?!
I've found that Stork is great for stopping cupcakes sinking, a few bakers I know were having this problem until they switched to Stork Margarine.
So onto the simple recipe, I hope you like it, as always please feel free to share pictures of your creations with me on Facebook and Twitter.
You will need (serves 10-12):
175g Stork with Butter
300g Plain or Dark Chocolate
300g Caster Sugar
4 Medium Eggs (lightly whisked)
200g Plain Flour
For the frosting and decoration:
225g Stork with Butter
300g Smooth Peanut Butter
250g Icing Sugar
Approx. 12 Mini Peanut Butter Cups
Optional extra – 100g chopped Peanut Butter Cups

Preheat your oven to 170 degrees (fan assisted) and grease your round cake tins. Melt your chocolate and Stork with Butter in a glass bowl over a saucepan of boiling water, stirring continuously with a wooden spoon.

Pour your melted chocolate mixture into a large bowl, then add your sugar and lightly whisked eggs, mixing until you have a thick and gooey consistency.

Add the plain flour giving it a final stir, then pour into your three round cake tins and bake for approx. 25 minutes.

Once cooked through, remove the brownies from the oven tip out onto a wire rack to cool.

For the delicious Peanut Butter frosting, place the Peanut Butter and Stork with Butter together in a large bowl and mix until soft.

Add the icing sugar to the butter mixture, and mix a final time until you have a smooth frosting. Transfer half of the frosting into a disposable piping bag with the 2D Piping Tip.

Place the first cooled sponge brownie onto a plate or cake stand and cover with a thick layer of the peanut butter frosting using a palette knife of back of a spoon. Place the second sponge brownie on top of this and repeat.

Once all the sponge brownies are stacked, pipe small rose decorations over the top of the cake. Simply pipe the icing in a small circular motion, starting in the middle and swirling outwards until you have a small rose shape.

Finish the look by pushing Peanut Butter Cups into the piped rose around the outside edge of the cake.

If you want to give your cake another coating of indulgent Peanut Butter Cups, press your additional chopped Peanut Butter Cups into the buttercream in-between the layers of the cake, going all the way round until completely covered.
The recipe: bakewithstork.co/PeanutButterBrownie
Jem x
PS – This blog post is sponsored by Stork, but all my opinions are honest and my own (I really have used Stork for years)!