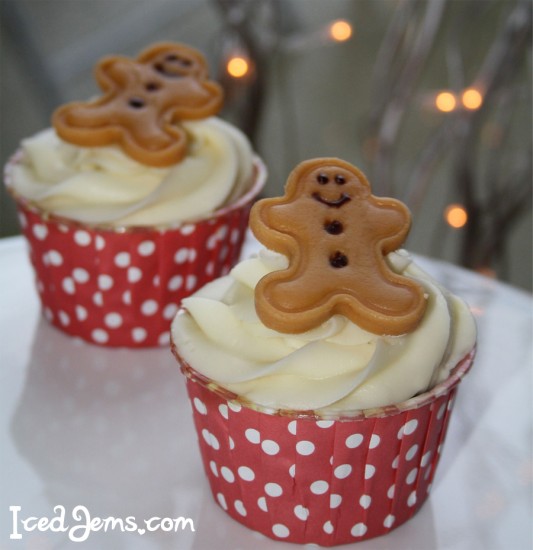 These Gingerbread Flavour Cupcakes have a wonderfully festive flavour, complimented by a beautiful cream cheese frosting.
[fancy_header]You will need (makes 12 cupcakes):[/fancy_header]
175g / 6oz Butter or Margarine
175g / 6oz Caster Sugar
2 Medium Eggs
3 Tbsp Milk or Cream
175g / 60z Plain Flour
1/2 tsp Baking Powder
3 Tbsp Black Treacle (you can use Golden Syrup if you have none)
2 Tbsp Ground Cinnamon
2 Tbsp Ground Ginger
1/2 tsp Ground Nutmeg
For the frosting
200g Cream Cheese
70g Unsalted Butter
400g Icing Sugar
To decorate
50g Fudge Pieces
few pieces of dark chocolate for decorating

Preheat the oven to 160 degrees and line a muffin pan with baking cups or cupcake liners.
Cream together your butter and sugar until light and fluffy, then add in the eggs and milk and mix well.
Sift together your flour, baking powder and spices, then pour into the wet mixture and mix on a medium speed until well combined.
Finally add the dark black treacle and mix a final time to get a smooth brown mixture.
Transfer to the cupcake cases and fill them approximately 2/3 full, bake in the middle of the oven for approx 15 minutes or until cupcakes spring back when you push the middle.
Remove from the oven and leave to cool on a wire rack.
To make the cream cheese frosting, ensure you butter has reached room temperature, then mix with the cream cheese.
Pour in the icing sugar and mix well until you have a light fluffy frosting, and transfer to a piping bag with a 2D Closed Star tip. Pipe the cream cheese frosting onto the cupcakes in a circular motion, starting from the outside and finishing in the middle of the cupcake.
To make the gingerbread man decorations, warm your fudge pieces slightly for a few seconds in the microwave, then roll all the pieces together like you would a cookie dough. Use a gingerbread man plunger cutter to cut a shape out of the fudge, then decorate with melted chocolate and place on top of you frosted cupcake.