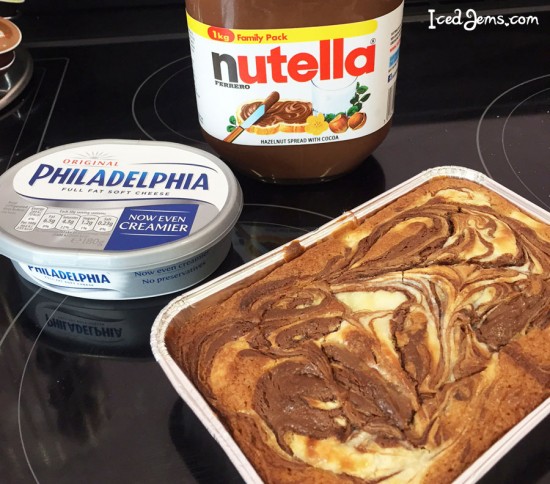 Thank you for your wonderful response to this on Social Media yesterday! It seems you would most definitely like the recipe so I have typed it up for you below!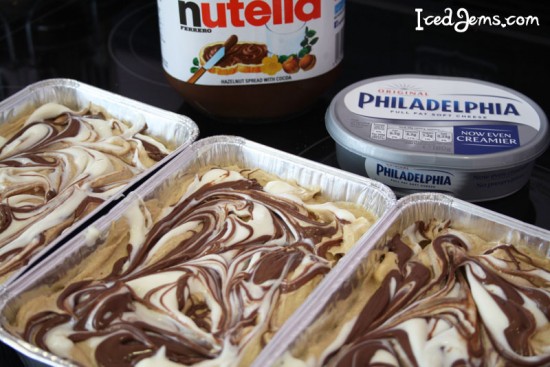 This is one of those bakes that combines a whole range of my favourite things; Nutella, Cream Cheese and White Chocolate. Blondies are the white chocolate version of brownies incase you didn't know! Imagine a gorgeous gooey sponge with a swirl of Nutella and Baked Cream Cheese throughout.
[fancy_header]You will need (makes three 12.5cm x 18.5cm trays):[/fancy_header]
175g Butter or Margarine
300g Light Brown Sugar
3 Eggs
200g Plain Flour
1 Tsp Baking Powder
100g White Chocolate
80g Cream Cheese
30g Caster Sugar
100g Nutella
Disposable Baking Trays (perfect for giving your blondies as gifts, £1.50 for 8 from Iced Jems)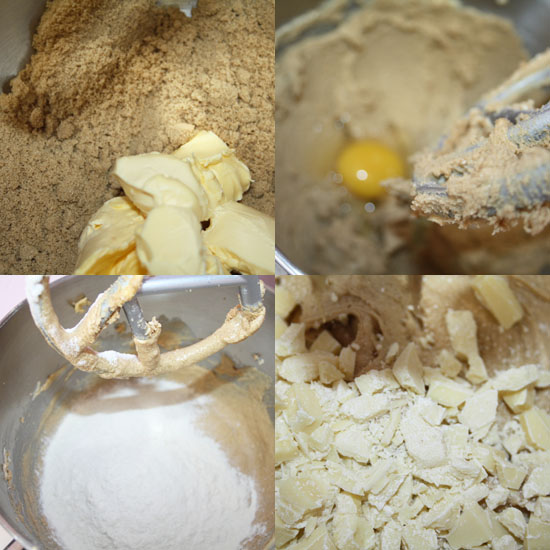 Start by preheating your oven to approx 160 degrees, you don't want to cook your blondies much higher than this as the cream cheese on top will start to burn. I used the fab disposable baking trays from shop, as they are great for wrapping up and giving as gifts!
Cream together your butter and light brown sugar (either in a mixer or with a wooden spoon). Then beat in the eggs one by one until well combined.
Next add your flour and mix on a slow speed until you have a thick blondie batter.
Chop your white chocolate into chunks (or you can use chips if you prefer, but I like a heartier chunk in mine), and pour into the batter, folding in so the chunks are well distributed.
Pour your blondie batter into your trays and spread the batter right up to the edges using the back of a spoon.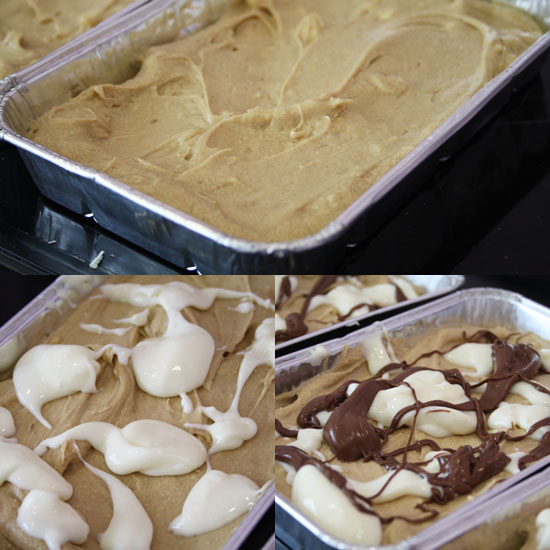 Mix your cream cheese and caster sugar together with a spoon until the consistency is much more liquid like. Use a spoon to drop the cream cheese all over your blondie trays in random dollops.
If it's a cold day, microwave your Nutella until it is a soft consistency like your cream cheese was. Then drop this on top of your cream cheese dollops!
Now simply use a knife to cut through the blondies, swirling the Nutella and Cream Cheese through the batter and creating a pretty pattern.
Pop your trays into the oven and bake for approx 20-25 mins. Once baked and a cake tester comes out clean, remove from the oven and place on a wire rack to cool.
Now simply serve and enjoy!
Jem x