My latest recipe! This basic recipe for Scones can be used to make a whole range of different flavours, my recipe shows you how to make the following flavours; Plain, Double Chocolate, Fresh Strawberry and Cheese & Chive.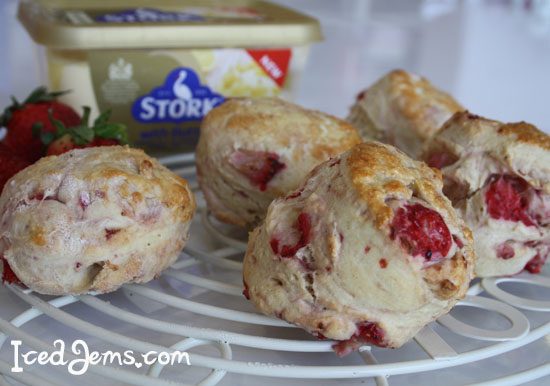 Plain Scones (Makes 4 Scones)
175g Self Raising Flour
pinch of salt
1/2 tsp Baking Powder
45g Stork with Butter
1 & 1/2 Tbsp Sugar
90ml Buttermilk
1/2 Tsp Vanilla Essence
Beaten Egg to glaze
Heat your oven to 200C and place a flat Baking Tray on the middle shelf to warm.
Sift your Flour, Salt and Baking Powder into a large bowl, then rub in the Stork with Butter, using your fingertips to make a breadcrumb consistency. You can se the Stork with Butter straight from the fridge. Stir in the sugar, making sure it is well combined.
Pour your Buttermilk into a small glass and heat for approx 20 seconds in the microwave until lukewarm. **If you don't have Buttermilk, you can actually make your own by adding 1/3 Tbsp of White Wine Vinegar to 90ml of Semi Skimmed Milk.**
Add the Vanilla Essence to your Buttermilk, then pour both into your breadcrumb mixture. Mix together by cutting through the mixture with a knife, repeating until you have a thick dough.
Pour the dough out onto a lightly floured work surface, and knead lightly until the dough sticks together and can be formed into a thick round shape to cut your scones from.
Take a 5cm round cutter and cut out scones approx 4cm deep. Remove your hot tray from the oven and line with baking paper. Place the scones onto your tray, then brush with a little egg.
Bake for approx 10 minutes in the centre of the oven, then remove and cool on a wire rack.
These delicious and simple scones are best enjoyed warm and served with Clotted Cream and Jam.
Strawberry Scones
Add 50g Chopped Fresh Strawberries to the Scone Mixture before turning out onto
a surface and kneading. Add a little extra flour when kneading the dough, as the
Strawberries will make the dough sticky.
Chocolate Scones
Omit 25g of the Self Raising Flour and replace with 25g of Cocoa Powder. Add 50g of Chopped White Chocolate before turning out onto a surface and kneading. Serve with clotted cream and chocolate spread.
Cheese & Chive Scones
Omit the Sugar and Vanilla in the recipe. Add 75g Grated Cheese, 1 Tbsp Freshly Chopped Chives and a pinch of pepper before turning out onto a surface and kneading. Add a tiny bit of grated cheese on top of each scone after glazing with egg and before baking. Serve with butter.
Enjoy!
Jem x