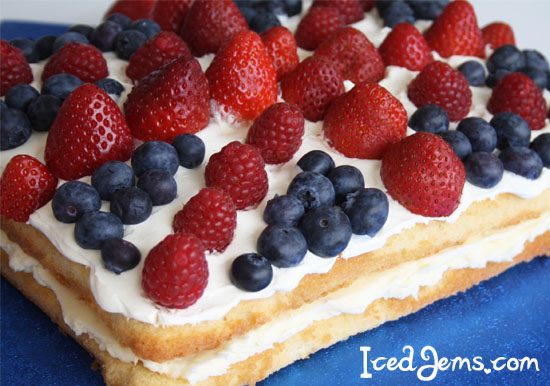 This is truly a delicious cake! The super light sponge and fresh cream topping makes it perfect for Summer! Really simple to make, yet eye catching and impressive at parties.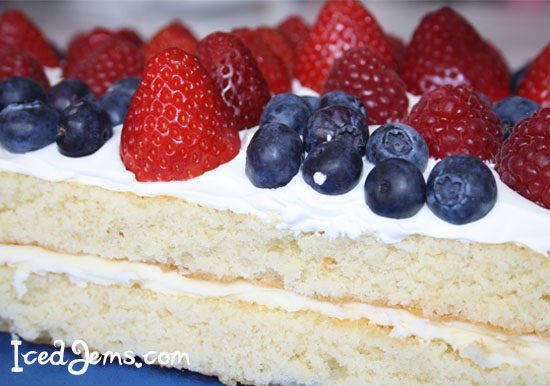 A wonderful British classic made with a super light and fluffy sponge, served with fresh cream, fresh berries and filled with light buttercream.
Serves 10-12
Ingredients
200g Butter
200g Caster Sugar
3 Medium Eggs
1 Tsp Vanilla
2 Tbsp Milk
200g Self Raising Flour
For the Buttercream
150g Butter
300g Icing Sugar
1/2 Tsp Vanilla Essence
For the Topping
200ml Double Cream
Fresh Berries; Strawberries, Raspberries and Blueberries
Start by pre heating the oven to 150C, a low oven temperature for this recipe will ensure an even rise on your bake and a light colour. Line a large rectangular baking tray with foil or baking parchment.
Weigh your Butter in a large bowl, and whisk until lighter in colour and fluffier in texture. Add the Caster Sugar and cream together.
Whisk your eggs in a separate large bowl until light and bubbly, then pour into your butter and sugar mixture. Add the vanilla and milk, then mix on a high speed until you have a thin cake batter. If your mixture seems to have separated at this point, not to worry, It's completely normal and will come together once your flour has been added.
Pour in the flour and mix a final time time until you have a beautiful light cake batter ready to bake.
Spoon onto your lined baking tray and spread out right to the edges, you can drop the tray onto your work surface a few times to release any air bubbles in the mixture. Bake in the middle of the oven for apron 30 minutes, or a cake tester comes out clean.
Once golden brown, remove from the oven and cool on a wire rack.
To make your buttercream filling, whisk the 150g Butter until light in colour, then add the icing sugar and vanilla essence and mix until creamy. The buttercream should be soft and spreadable.
For the topping, pour your double cream into a large bowl, and whisk using a hand mixer or stand mixer until the cream forms soft peaks and can be spooned onto your cake without running over the edges. This will take a good few minutes if you are whisking by hand.
Cut your rectangle sponge in half, creating two smaller cakes. Then spread the buttercream on top of one cake, spreading it out right to the edges. Place the second cake on top of the buttercream, and press down gently securing in place.
Top the second layer with fresh cream, then arrange your berries in a Union Jack Shape as shown in the photo.
Now simply slice, serve and enjoy! If not eating your cake straight away, then store in the fridge.
Enjoy!
Jem x