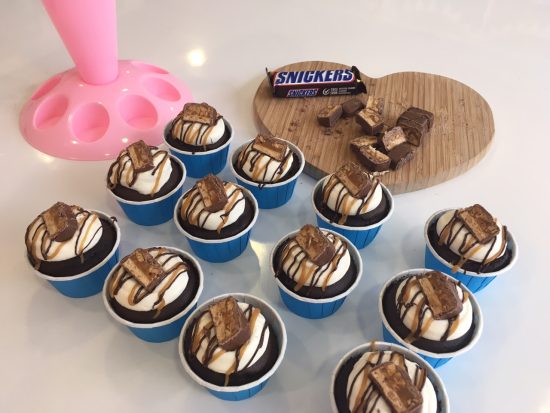 These Snickers cupcakes are a real crowd pleaser and the hidden caramel centre is sure to make everyone smile.
I made a little video showing how I decorate mine, the full recipe is below! Hope you like them 🙂
YOU WILL NEED (MAKES APPROX 12 CUPCAKES):
50g Cocoa Powder
120ml Boiling Water
200g Caster Sugar
3 Eggs
150ml Olive Oil (or Melted Coconut oil if you want to be healthier)
2 Tsp Vanilla Extract
150g Self Raising Flour
For the Caramel
100g Dark Brown Sugar
100g Butter
1 Can (approx 397g) Condensed Milk
For the Topping
100g Unsalted Butter
200g Icing Sugar
Vanilla Extract
Dark or Milk Chocolate (Melted)
Few Snickers Bat for decoration
Optional: Few chopped peanuts to decorate
Start by preheating your oven to approx 170 degrees and laying out your baking cups onto a baking or cupcake tray.
You will need to make a chocolate paste first, by mixing the boiling water and cocoa powder in a large bowl.
In a separate bowl, mix together the Caster Sugar, Eggs , Olive Oil and Vanilla Extract until you have a thick yellow mixture that looks like a runny custard.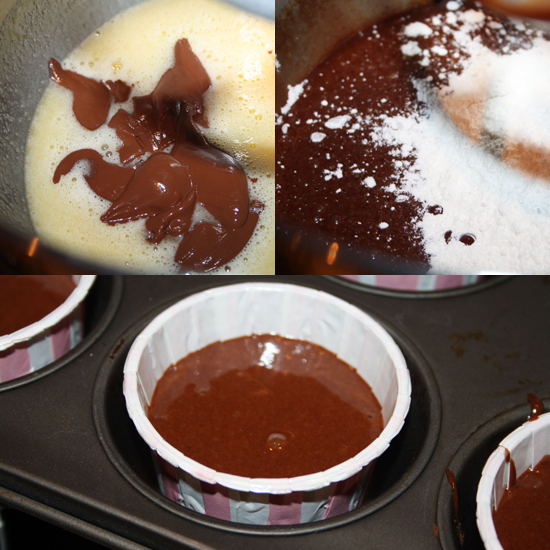 Mix your chocolate paste into the yellow mixture until it becomes a deep rich brown colour. Then add the self raising flour and baking powder and mix until you have a fairly runny chocolate cake mixture.
Pour into your baking cups until they are approximately 2/3 full and bake in the centre of the oven for about 20 minutes. The cupcakes will still be lovely and moist when you take them out of the oven.
Allow your cupcakes to cool on a metal rack while you prepare the toppings and fillings.
For the Caramel Filling and drizzle, melt the 100g Butter and Sugar in a saucepan over a medium heat, stirring until the sugar is dissolved. Turn up the heat and add the can of condensed milk, stirring and boiling until the mixture starts to brown and bubble up. Remove from the heat and leave to cool.
For the Buttercream frosting, mix together the Butter and Icing Sugar until creamy. Add the Vanilla extract (and also a little milk if it isn't smooth) and place into a piping bag with a Large Round Piping Tip.
Melt a little Dark or Milk Chocolate into a disposable piping bag and snip off the end leaving a small hole to pipe out of.
Now for the fun part! Once the caramel has cooled enough to not burn your hands, place it into a piping bag with a Cupcake Filling Nozzle. Inject caramel into the centres of the cupcakes, simply by inserting the nozzle into the top and squeezing out whilst lifting gently.
Pipe a topping of buttercream onto each cupcake using the Large Round Nozzle, simply start in the middle and the frosting will push outwards towards the edge of the cupcake.
Drizzle over the leftover caramel and melted chocolate, then top with chopped pieces of Snickers Bar and chopped Peanuts!
Now eat and enjoy!
Jem x