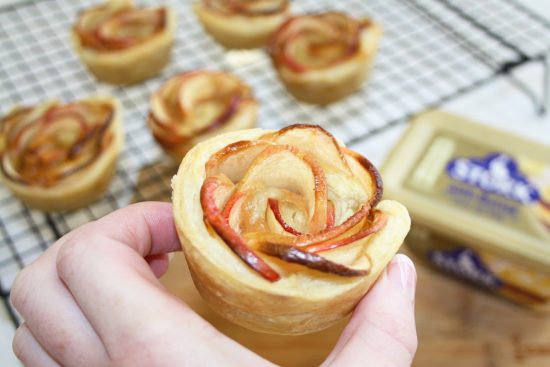 The perfect Autumn Recipe that will be sure to wow everyone you make them for! This recipe is really easy to follow, from making your own simple rough puff pastry, to creating Rose style mini tarts that look show stopping.
For the Apple and Caramel Filling (makes 12)
3 Apples thinly sliced
Bowl of Water with squeeze of lemon juice
50g Dark Brown Sugar
50g Stork with Butter
Half Can (200g) Condensed Milk
For the Rough Puff Pastry
250g Strong Plain Flour
1/2 tsp Sea Salt
250g Unsalted Butter
about 130ml Cold Water
Core your apples and slice thinly into semi-circle shapes (make sure you leave the skin on). Place slices into a bowl a water with a squeeze of lemon juice, then microwave for about 5 minutes or until the slices are soft and flexible.
For the Rough Puff Pastry, sift the flour and salt into a bowl, then chop the Butter into small chunks into the bowl. Rub together lightly, but don't completely mix in the Butter.
Make a well in the bowl and pour about 3/4 of your water in, mix with your hands until you get a thick dough. If it seems too dry or flaky, add the rest of the water. Cover the bowl with cling film and pop in the fridge for 20 minutes or so.
While your dough is resting, make your caramel filling by heating the Butter and sugar in a saucepan until dissolved. Then add the condensed milk and bring to the boil until golden brown, stirring constantly. Remove from heat and leave to cool and thicken.
Once the dough has chilled, knead on a lightly floured surface and form into a rough rectangle. Roll the dough out until it is about 3 times wider, only roll the dough in one direction. You should see streaks of the Butter with Butter like a marble effect, this is good.
Fold the top and bottom of the pastry into the centre (they should overlap), and roll out again to 3 times the width, but this time change the direction of your roll and go up instead of across. Fold up again then cover with cling film and chill for another 20 minutes.
Preheat your oven to approx. 160 degrees and grease a cupcake tray. Remove the dough from the fridge and roll out thinly (approx. 2/3mm). Cut your dough into approx. 12 long rectangular strips.
Grab your caramel and spoon or brush a layer across each of the pastry strips. Place on slices of apple so they cover the top half of the strip of pastry and overlap each other. Fold the bottom half of the strip of pastry over the apple slices, then roll up from one end to the other, creating your rose effect.
Place each pastry rose into a cupcake cavity in a cupcake pan, then bake for approx. 20 mins or until the pastry is golden brown.
Enjoy,
Jem x